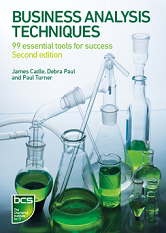 Business Analysis Techniques: 99 Essential Tools for Success
Business Analysis Techniques: 99 Essential Tools for Success
Editor/Author Cadle, James, Paul, Debra and Turner, Paul
Publication Year: 2014
Publisher: BCS, The Chartered Institute for IT

Single-User Purchase Price: $53.99

Unlimited-User Purchase Price: $80.98
ISBN: 978-1-78-017273-6
Category: Business, Finance & Economics - Business
Image Count: 131
Book Status: Available
Table of Contents
The role of the business analyst is to formulate options for a way forward and produce business cases setting out conclusions and recommendations. This professional discipline requires the widest possible array of tools and the ability to use each when and where it is needed.
This book is found in the following Credo Collections:
Table of Contents
List of figures and tables
Authors
List of abbreviations
Preface
1. BUSINESS STRATEGY AND OBJECTIVES
2. INVESTIGATE SITUATION
3. CONSIDER PERSPECTIVES
4. ANALYSE NEEDS
5. EVALUATE OPTIONS
6. DEFINE REQUIREMENTS
7. MANAGE CHANGE
Postscript – which techniques do I really need?