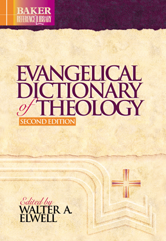 Evangelical Dictionary of Theology
Evangelical Dictionary of Theology
Editor/Author Elwell, Walter A.
Publication Year: 2013
Publisher: Baker Publishing Group

Single-User Purchase Price: $59.99

Unlimited-User Purchase Price: Not Available
ISBN: 978-0-80-102075-9
Category: Religion & Theology - Christianity
Book Status: Available
Table of Contents
A rich resource of theological, biblical, philosophical, historical, and contemporary ethical information and insight
Table of Contents
Preface to the Second Edition
Preface to the First Edition
Abbreviations
Contributors
Aa
Abaddon
Abba
Abelard, Peter (1079-1142)
Abolitionism
Abomination of Desolation
Abortion
Abraham
Abraham's Bosom
Absolution
Abyss
Accommodation
Accountability
Accountability, Age Of
Active Obedience of Christ
Acts of Uniformity
Adam
Adam, the Last
Adiaphora, Adiaphorists
Administration, Gift Of
Adonai
Adoption
Adoptionism
Adultery
Advent
Adventism
Advent of Christ
Advocate
Aeon
Affliction
Affusion
African Theology
Agape
Age, Ages
Age, This
Age of Accountability
Age of Mankind
Aging, Christian View Of
Agnosticism
Agricola, Johann (ca. 1494-1566).
À Kempis, Thomas
Albertus Magnus (1193-1280).
Albigenses
Alcohol, Drinking Of
Alcuin (ca. 735-804).
Alexander, Archibald (1772-1851).
Alexander of Hales (ca. 1170-1245).
Alexandrian Theology
Allegorical Sense of Scripture
Allegory
Alleine, Joseph (1634-1668).
Alleluia, Alleluiah
Allen, Richard (1760-1831).
Alloiosis
All Saints Day
Almighty
Alms, Almsgiving
Alpha and Omega
Altar
Althaus, Paul (1888-1966).
Altizer, Thomas J. J.
Ambrose (ca. 340-397).
Amen
Americanism
Ames, William (1576-1633).
Amillennialism
Amish
Von Amsdorf, Nicholas (1483-1565).
Amyraldianism
Amyraut, Moise (1596-1664).
Anabaptism
Anagogical Sense of Scripture
Anakephaliosis
Analogia Fidei
Analogy
Analogy of Faith
Anathema
Ancient of Days
Anderson, Robert (1841-1918).
Andover Controversy
Andreae, James (1528-1590).
Angel
Angel of the Lord
Anglican Communion
Anglo-Catholicism
Annihilationism
Anoint, Anointing
Anselm of Canterbury (1033-1109).
Anthropology
Anthropomorphism
Anthroposophy
Antichrist
Anticlericalism
Antinomianism
Antiochene Theology
Antipedobaptism
Anti-semitism
Antitrinitarianism
Antitype
Antony of Egypt (ca. 251-356).
Anxiety
Apocalyptic
Apocrypha, New Testament
Apocrypha, Old Testament
Apokatastasis
Apollinarianism
Apollyon
Apologetics
Apophatic Theology
Apostasy
Apostle, Apostleship
Apostles' Creed
Apostleship, Gift Of
Apostolic Fathers
Apostolic Succession
Aquinas, Thomas
Archangel
Archbishop
Archdeacon
Archeology and Theology
Aristotle, Aristotelianism
Arius, Arianism
Ark of the Covenant
Armageddon
Arminianism
Arminius, James (1560-1609).
Armstrongism
Arnold, Eberhard
Art, Christian
Articles, Thirty-Nine
Articles of Religion
Asbury, Francis (1745-1816).
Ascension Day
Ascension of Christ
Ascetic Theology
Aseity of God
Ash Wednesday
Asian Theology
Aspersion
Assumption of Mary
Assurance
Astrology
Athanasian Creed
Athanasius (ca. 296-373).
Atheism
Atheism, Christian
Athenagoras (second century).
Atonement
Atonement, Day Of
Atonement, Extent Of
Atonement, Limited
Atonement, Theories Of
Attributes, Communication Of
Attributes of God
Auburn Affirmation (1924).
Auburn Declaration (1837).
Aufklärung
Augsburg Confession (1530).
Augustine of Canterbury (d. 604?).
Augustine of Hippo (354-430).
Aulén Gustaf Emanuel Hildebrand (1879-1978).
Authority in the Church
Authority of the Bible
Auxiliary Bishop
Averroes (1126-1198).
Awakenings, Great
Azusa Street Revival
Bb
Baal-Zebub
Babylon
Backsliding
Baillie, John (1886-1960).
Balfour Declaration (1917).
Von Balthasar Hans Urs (1905-1988).
Bampton Lectures
Banquet, Messianic
Baptism
Baptism, Believers'
Baptism, Infant
Baptism, Lay
Baptism, Modes Of
Baptismal Regeneration
Baptism for the Dead
Baptism of Jesus
Baptism of the Spirit
Baptist Tradition, The
Barclay, Robert (1648-1690).
Barclay, William (1907-1978).
Barmen Declaration Of (1934).
Barnes, Albert (1798-1870).
Barnhouse Donald Grey (1895-1960).
Barth, Karl (1886-1968).
Basel, First Confession Of (1534).
Basil the Great (ca. 330-379).
Baur Ferdinand Christian (1792-1860).
Bavinck, Herman (1854-1921).
Baxter, Richard (1615-1691).
Beatification
Beatific Vision
Beelzebub, Beelzebul
Begotten
Being
Belgic Confession (1561).
Belief, Believe
Believer
Believers' Baptism
Bellarmine, Robert (1542-1621).
Benedict of Nursia (ca. 480-547).
Benediction
Bengel Johann Albrecht (1687-1752).
Berdyaev Nikolai Aleksandrovich (1874-1948).
Berkeley, George (1685-1753).
Berkhof, Louis (1873-1957).
Berkouwer Gerrit Cornelis (b. 1903).
Bernard of Clairvaux (1090-1153).
Beza, Theodore (1519-1605).
Bible
Bible, Authority Of
Bible, Canon Of
Bible, Inerrancy and Infallibility Of
Bible, Inspiration Of
Bible, Interpretation Of
Biblical Criticism
Biblical Theology Movement
Bioethics
Birth Control
Birth, New
Bishop
Black Theology
Blasphemy
Blasphemy against the Holy Spirit
Bloesch Donald G (b. 1928).
Blood
Blood, Sacrificial Aspects Of
Boasting
Bodily Presence
Bodily Resurrection
Bodily Resurrection of Christ
Body, Biblical View of The
Body and Soul
Body of Christ
Body, Soul, and Spirit
Boehme, Jakob (1575-1624).
Boethius, Anicius Manlius Torquatus Severinus (ca. 480-524).
Bogomils
Bohemian Brethren (Unitas Fratrum).
Bonaventure (1221-1274).
Bonhoeffer, Dietrich (1906-1945).
Book of Common Order
Book of Common Prayer
Book of Concord
Book of Life
Booth, Catherine (1829-1890).
Booth, William (1829-1912).
Born Again
Bossuet Jacques Bénigne (1627-1704).
Boston, Thomas (1676-1732).
Bottomless Pit
Bousset, Wilhelm (1865-1920).
Branch
Breaking of Bread
Brethren of the Common Life
Bride of Christ
British Israelitism
Brother
Brother Lawrence (1611-1691).
Brown William Adams (1865-1943).
Bruce Frederick Fyvie (1910-1990).
Bruderhof
Brunner Heinrich Emil (1889-1966).
Buber, Martin (1878-1965).
Bucer, Martin (1491-1551).
Buchman, Frank
Bulgakov Sergei Nikolaevich (1870-1944).
Bullinger Johann Heinrich (1504-1575).
Bultmann, Rudolf (1884-1976).
Bunyan, John (1628-1688).
Burial, Christian
Burnt Offering
Bushnell, Horace (1802-1876).
Butler, Joseph (1692-1752).
Cc
Caird, John (1820-1898).
de Vio Cajetan Thomas (1469-1534).
Calixtus (Kallisen) George (1586-1656).
Call, Calling
Calovius, Abraham (1612-1686).
Calvin, John (1509-1564).
Calvinism
Calvinistic Methodism
Cambridge Platform (1648).
Cambridge Platonism
Campbell, Alexander (1788-1866).
Campbell John McLeod (1800-1872).
Campbell, Thomas
Campbellites
Camp Meetings
Canon
Canonization
Canon Law
Canon of the Bible
Capital Punishment
Capito Wolfgang Fabricius (1478-1541).
Cappadocian Fathers
Cardinal
Cardinal Virtues, Seven
Care
Von Carlstadt Andreas Bodenstein (1477-1541).
Carnell Edward John (1919-1967).
Caroline Divines
Carter Charles Webb (b. 1905).
Case Shirley Jackson (1872-1947).
Cassian, John (ca. 360-435).
Casuistry
Cataphatic Theology
Catechisms
Catechist
Catechumen
Cathari
Catholic
Catholic Church, Roman
Catholicism, Liberal
Cause, Causation
Celibacy
Cereal Offering
Ceremonial Law
Chafer Lewis Sperry (1871-1952).
Chalcedon, Council Of (451).
Chambers, Oswald (1874-1917).
Channing William Ellery (1780-1842).
Charismata
Charismatic Movement
Chasten, Chastisement
Chemnitz, Martin (1522-1586).
Cherub, Cherubim
Chesterton Gilbert Keith (1874-1936).
Chicago School of Theology
Chicago Statement on Biblical Inerrancy
Chief Priest
Chiliasm
Choose, Chosen
Chrism
Christ, Jesus
Christ, Offices Of
Christening
Christian
Christian Calendar
Christian Ethics
Christian Feminism
Christianity and Culture
Christianity and Religions
Christian Liberty
Christians, Names Of
Christian Science
Christian Socialism
Christian Year
Christmas
Christology
Chrysostom, John (ca. 347-407).
Church
Church, Authority in The
Church and State
Church Councils
Church Discipline
Church Government
Church Growth Movement
Church of Christ, Scientist
Church Officers
Church of Jesus Christ of Latter-Day Saints
Civil Disobedience
Civil Law and Justice in Bible Times
Civil Religion
Civil Righteousness
Civil Rights
Clark Gordon Haddon (1902-1985).
Cleanness, Uncleanness
Clement of Alexandria (ca. 150-ca. 215).
Clement of Rome
Clergy
Clergy, Secular
Cloud of Unknowing, The (ca. 1370).
Coadjutor Bishop
Cobb John B. Jr. (b. 1925).
Cocceius, Johannes (1603-1669).
Cohabitation
Coke, Thomas (1747-1814).
Collegialism
Comforter
Command, Commandment
Commandment, the New
Commission, Great
Common Grace
Common Order, Book Of
Common Prayer, Book Of
Communication of Attributes, Communicatio Idiomatum
Communicatio Operationum
Communion, Holy
Communion of Saints
Communitarianism, Community of Goods
Comparative Religion
Conciliarism
Concomitance
Concord, Book Of (1580).
Concord, Formula Of (1577).
Concursus
Condemnation
Conditional Immortality
Cone James H (b. 1938).
Confessing Church
Confession
Confession of 1967
Confessions of Faith
Confirmation
Congregationalism
Conscience
Conscientious Objection
Consensus Tigurinus
Consistent Eschatology
Constantinople, First Council Of (381).
Constantinople, Second Council Of (553).
Constantinople, Third Council Of (681).
Constructive Theology
Consubstantiation
Consummation of the Age
Contextualization of Theology
Contingency Argument for God
Contingent Being
Continuous Creation
Contraception
Contra-Remonstrants
Contribution, Gift Of
Conversion
Cooperation, Ecclesiastical
Correction
Cosmological Argument for God
Councils, Church
Counter-reformation
Covenant
Covenant, New
Covenant of Grace
Covenant of Redemption
Covenant of Works
Covenant Theology
Creation, Continuous
Creation, Doctrine Of
Creation, New; Creature, New
Creationism
Creed, Creeds
Cremation
Criminal Law and Punishment in Bible Times
Crisis Theology
Cross, Crucifixion
Cross, Theology of The
Crown
Crucifixion
Crypto-Calvinism
Cudworth, Ralph (1617-1688).
Cullmann, Oscar (1902-1999).
Cults
Culture and Christianity
Curate
Curse
Cyprian (200-258).
Cyril of Alexandria (d. 444).
Cyril of Jerusalem (ca. 310-387).
Dd
Dabney Robert Lewis (1820-1898).
Daly, Mary (b. 1928).
Damnation
Darby John Nelson (1800-1882).
Dark Night of the Soul
Day
Day of Atonement
Day of Christ, God, the Lord
Days, Last
Deacon, Deaconess
Dead, Abode of The
Dead, Prayers for The
Deadly Sins, Seven
Dead Sea Scrolls
Dean
Death
Death, Second
Death of Christ
Death of God Theology
Death Penalty
Decalogue
Decrees of God
Defilement
Deism
Deity of Christ
Deliverance, Deliverer
Deluge
Demiurge
Demon, Demonization
Demythologization
Denney, James (1856-1917).
Denominationalism
Deontological Ethics
Depravity, Total
Derrida, Jacques
Descartes, René (1596-1650).
Descent into Hell (Hades)
Design, Argument From
Despair
Determinism
Devil
Devil Ransom Theory
Devotio Moderna
Diadem
Dialectical Theology
Dichotomy
Diocese
Dionysius the Pseudo-areopagite
Discerning of Spirits
Disciple
Discipleship Movement
Discipline, Church
Discrimination
Dispensation, Dispensationalism
Divine Presence
Divinity of Christ
Divorce
Docetism
Dodd Charles Harold (1884-1973).
Doddridge, Philip (1702-1751).
Dogma
Dogmatics
Von Döllinger Johann Joseph Ignaz (1799-1890).
Dominic, Dominicans
Donatism
Doorkeeper
Dooyeweerd, Herman (1894-1977).
Dorner Isaac August (1809-1884).
Dort Synod Of (1618-1619).
Double Predestination
Double Procession of the Holy Spirit
Doubt, Religious
Downgrade Controversy
Doxology
Drechsel, Thomas
Drink Offering
Drunkenness
Dualism
Dulia
Duns Scotus John (1266-1308).
Duty
Dwight, Timothy (1752-1817).
Ee
Earth, Age Of
Earth, New
Easter
Ebeling, Gerhard (b. 1912).
Ebionites
Ecclesia
Eck, Johann (1486-1543).
Eckhart, Meister
Ecology
Ecumenical Councils
Ecumenism
Eddy Mary Baker (1821-1910).
Edwards, Jonathan (1703-1758).
Effectual Calling
Efficacious Grace
Egotism
El
Elder
Elect, Election
El-Eloe-Israel
El Elyon
Elements, Elemental Spirits
Elijah
Ellul, Jacques (1912-1994).
Elohim
El Shaddai
Elyah
Emanation
Ember Days
Emerson Ralph Waldo (1803-1882).
Emmanuel
Emotion
Empiricism
Encratites
End of the World
Energumen
The Enlightenment
Environment
Envy
Ephesus, Council Of (431).
Epicureanism
Epiphany
Episcopacy
Episcopius, Simon (1583-1643).
Epistemology
Equiprobabilism
Erasmus, Desiderius (1466?-1536).
Erastianism
Erickson Millard J (b. 1932).
Erigena John Scotus (810-877).
Erlangen School of Theology
Error in the Bible
Eschatology
Essence
Essenes
Esthetics, Christian View Of
Eternal Generation
Eternality of God
Eternal Life
Eternal Punishment
Eternal Security of the Believer
Eternal Sin
Eternal State
Eternity
Ethical Systems, Christian
Ethics, Biblical
Ethics, Sexual
Ethics, Situation
Ethics, Social
Eucharist
Eugenics
Eusebius of Caesarea (ca. 265-ca. 339).
Euthanasia
Eutychianism
Evangelicalism
Evangelism
Evangelism, Gift Of
Eve
Evening Prayer, Evensong
Everlasting Life
Everlasting Punishment
Evidences of Christianity
Evil
Evil, Problem Of
Evil One
Evil Spirits
Evolution
Exaltation of Jesus Christ
Ex Cathedra
Excommunication
Exemplarism
Exhortation
Exhortation, Gift Of
Existence
Existence of God, Arguments For
Existentialism
Ex Nihilo, Creatio
Ex Opere Operato
Exorcism
Exorcist
Expediency
Experience, Theology Of
Expiation
External Calling
Extra Ecclesiam Nulla Salus
Extreme Unction
Ff
Fairbairn Andrew Martin (1838-1912).
Faith
Faith, Gift Of
Faithfulness
Faith Healing
Fall of the Human Race
False Christs
Farrar Frederic William (1831-1903).
Farrer Austin Marsden (1904-1968).
Fast, Fasting
Fate, Fatalism
Father, God As
Fathers, Church
Feasts and Festivals, Christian
Feasts and Festivals, Old Testament
Febronianism
Federal Theology
Feeling, Theology Of
Felix Culpa
Fellowship
Fellowship Offering
Feminism, Feminist Theology
Feminism, Christian
Fénelon, Francois de Salignac de La Mothe (1651-1715).
Festivals
Fideism
Filioque
Final State
Finney Charles Grandison (1792-1875).
Fire, Lake Of
Firstborn
First Day of the Week
First Resurrection
Five Points of Calvinism
Five Ways
Fixed Feast
Flacius, Matthias (1520-1575).
Flesh
Flood
Florovsky, Georges (1893-1979).
Followers of the Way
Foot Washing
Foreknowledge
Forensic Righteousness
Foreordination
Forgiveness
Form Criticism
Formula of Concord
Fornication
Forsyth Peter Taylor (1848-1921).
Fortitude
Fortunate Fall
Fosdick Harry Emerson (1878-1969).
Foucault, Michel
Fourfold Sense of Scripture
Four Spiritual Laws, The
Fox, George (1624-1691).
Franciscan Order
Francis of Assisi (1182-1226).
Francke August Hermann (1663-1727).
Freedom, Christian
Freedom, Free Will, and Determinism
Freewill Offering
Frei Hans Wilhelm (1922-1988).
Friend
Friends, Society Of
Friends of God (Ger. Gottesfreunde).
Fullness of Time
Fundamentalism
Fundamentals, The
Gg
Gadamer, Hans-Georg (b. 1900).
Gaebelein Arno Clemens (1861-1945).
Gallican Articles, Four (1682).
Gallic Confession (1559).
Gallicanism
Gap Theory
Gehenna
General Revelation
Generation, Eternal
Genetic Engineering
Genevan Catechism (1537).
Gerhard, Johann (1582-1637).
German Christians
Ghost, Holy
Gifts, Spiritual
Gilkey Langdon Brown (b. 1919).
Gill, John (1697-1771).
Gladden, Washington (1836-1918).
Glorification
Glory
Glory, Theology Of
Glossolalia
Gnesio-Lutherans
Gnosticism
God, Arguments for the Existence Of
God, Attributes Of
God, Doctrine Of
God, Names Of
Godliness
Gogarten, Friedrich (1887-1967).
Golden Rule
Gomarus, Francis (1563-1641).
Good, the Good, Goodness
Good Friday
Good News
Good Works
Gore, Charles (1853-1932).
Gospel
Gospel, Social Implications Of
Government
Government, Church
Government, Gift Of
Governmental Theory of the Atonement
Grace
Grace, Means Of
Grain Offering
Great Awakenings
Great Commission
Great Schism
Great Tribulation
Grebel, Conrad (ca. 1498-1526).
Gregory I the Great (540-604).
Gregory of Nazianzus (ca. 329-ca. 389).
Gregory of Nyssa (ca. 335-ca. 394).
Gregory Palamas (1296-1359).
Griffith Thomas William Henry (1861-1924).
Groningen Theology
Groote, Gerard (1340-1384).
Grotius, Hugo (1583-1645).
Guardian Angel
Guilt
Guilt Offering
Gutiérrez Gustavo (b. 1928).
Guyon, Madame (1648-1717).
Hh
Hades
Halfway Covenant (1662).
Hallelujah
Halloween (All Hallows Eve).
Hands, Laying on Of
Happiness
Hardening, Hardness of Heart
Harnack, Adolf (1851-1930).
Harris, Howel
Hartshorne, Charles (b. 1897).
Hate
Hauerwas, Stanley (b. 1940).
Head, Headship
Headlam Arthur Cayley (1862-1947).
Heal, Healing
Healing, Gift Of
Heart
Heaven
The Heavenlies
Heavens, New
Heave Offering
Hedonism
Hegel Georg Wilhelm Friedrich (1770-1831).
Heidegger, Martin (1889-1976).
Heidelberg Catechism (1563).
Heilsgeschichte
Heim, Karl (1874-1958).
Heir
Hell
Helps, Gift Of
Helvetic Confessions
Hengstenberg Ernst Wilhelm (1802-1869).
Henry Carl Ferdinand Howard (b. 1913).
Heresy
Hermas, Shepherd Of
Hermeneutic, New
Hermeneutics
Hermetic Literature
Herrnhut
Hesychasm
Hibbert Lectures
Hick John Harwood (b. 1922).
Hierarchy
High Church Movement
Higher Criticism
High Priest
Hilary of Poitiers (ca. 315-368).
Hinnom, Valley Of
Hippolytus (ca. 170-ca. 236).
Historical Theology
Historie and Geschichte
History of Religion School
History of Salvation
Hocking William Ernest (1873-1966).
Hodge Archibald Alexander (1823-1886).
Hodge, Charles (1797-1878).
Hofman, Melchior
Von Hofmann Johann Christian Konrad (1810-1877).
Holiness
Holiness Movement, American
Holiness of God
Holiness of the Christian
Holl, Karl (1866-1926).
Holocaust, The
Holy Communion
Holy Ghost
Holy of Holies
Holy Saturday
Holy Spirit
Holy Week
Homoousios
Homosexuality
Honest to God Debate
Hooker, Richard (1554-1600).
Hope
Hope, Theology Of
Hosts, Lord Of
Household Salvation
House of God
Hubmaier, Balthasar (ca. 1480-1528).
Hügel, Friedrich Von
Humanism
Humanism, Christian
Humanity of Christ
Hume, David (1711-1776).
Humiliation of Jesus Christ
Humility
Hus, Jan (ca. 1372-1415).
Hutchinson, Anne (1591-1643).
Hyperdulia
Hypostasis
Hypostatic Union
Ii
"I Am" Sayings
Ibn Rushd
Icon
Idealism
Identification with Christ
Idolatry
Ignatius of Antioch
Ignatius of Loyola (1491-1556).
Ignorance
Illumination (1)
Illuminative Way, The (Lat. Via Illuminativa).
Illyricus
Image of God
Images, Veneration Of
Imago Dei
Imitation of Christ
Immaculate Conception
Immanence of God
Immanuel
Immersion
Imminence
Immortality
Immortality, Conditional
Immutability of God
Impanation (Lat. impanare, "to embody in bread").
Impassibility of God
Impeccability of Christ
Imprecatory Psalms
Imputation
Incarnation (Lat. in and carō stem carn, meaning "flesh").
Inclusive Language
Indian Theology
Indulgences
Inerrancy and Infallibility of the Bible
Infallibility
Infant Baptism
Infant Salvation
Infralapsarianism (Lat. for "after the fall," sometimes designated "sublapsarianism").
Inheritance
Inheritance of Adam's Sin
Iniquity
Inner Light
Inner Man (Gr. ho esō anthrōpos).
Inspiration, Plenary
Inspiration, Verbal
Inspiration of the Bible
Integrative Theology
Intercession
Intercession of Christ
Intermediate State
Internal Calling
Internal Testimony of the Holy Spirit
Interpretation of the Bible
Interpretation of Tongues, Gift Of
Invisible Church
Invocation of Saints
Irenaeus (ca. 130-ca. 200).
Irish Articles (1615).
Ironside Henry Allen (1876-1951).
Irresistible Grace
Irving, Edward (1792-1834).
Israel, New
Israel and Prophecy
Issy, Articles Of (1695).
Jj
Jah
Jahweh
Jansen Cornelius Otto (1558-1638).
Jansenism
Jaspers, Karl (1883-1969).
Jealousy
Jehovah
Jehovah's Witnesses
Jerome (ca. 347-419).
Jerusalem
Jerusalem, New
Jesuits
Jesus Christ
Jesus Prayer
Jesus Seminar
Jocz, Jakób (1906-1983).
John, Theology Of
John of the Cross (1542-1591).
John the Baptist
Jones, Griffith
Jones Rufus Matthew (1863-1948).
Joy
Judaism
Judaizers
Judgment
Judgment, Last
Judgment of Nations
Judgment Seat
Julian of Norwich (ca. 1342-ca. 1417).
Jüngel Eberhard (b. 1934).
Justice
Justification
Justin Martyr (ca. 100-ca. 165).
Justitia Civilis
Kk
Kabbalah (Heb. qābal, "to receive tradition").
Kagawa, Toyohiko (1888-1960).
Kähler, Martin (1835-1912).
Kant, Immanuel (1724-1804).
Kaufman Gordon D (b. 1925).
Keble, John (1792-1866).
Kempis, Thomas À
Kenosis, Kenotic Theology
Kerygma
Keswick Convention
Keys of the Kingdom
Kierkegaard, Søren (1813-1855).
King, Christ As
King Martin Luther Jr. (1929-1968).
Kingdom of Christ, God, Heaven
Kingsley, Charles (1819-1875).
Kneel, Kneeling
Knowledge
Knowledge, Gift Of
Knox, John (1514?-1572).
Koinonia
Konzequent Eschatologie
Kraemer, Hendrik (1888-1965).
Kulturkampf
Küng Hans (b. 1928).
Kuyper, Abraham (1837-1920).
Ll
Labor
Lactantius (ca. 240-ca. 320).
Lake of Fire
Lamb of God
Landmarkism
Language about God
Last Adam, The
Last Day, Days
Last Judgment
Last Supper
Last Times
Latimer, Hugh (ca. 1485-1555).
Latitudinarianism
Latria
Latter Days
Latter-Day Saints
Laud, William (1573-1645).
Lauds
Lausanne Covenant
Law, Biblical Concept Of
Law, William (1686-1761).
Law and Grace
Law and Justice in Ancient Times
Lawless One
Lawrence, Brother
Laying on of Hands
Leadership, Gift Of
Leibniz Gottfried Wilhelm (1646-1716).
Leipzig Disputation (1519).
Lent
Leo I, the Great
Lessing Gotthold Ephraim (1729-1781).
Levinas, Emmanuel
Lewis Clive Staples (1898-1963).
Lex Talionis
Liberal Evangelicalism
Liberalism, Theological
Liberation Theology
Liberty, Christian
Liberty, Religious
Liddon Henry Parry (1829-1890).
Lie, Lying
Life
Life, Book Of
Life, Everlasting
Light
Likeness of God
Limbo
Limited Atonement
Lindbeck, George (b. 1927).
Literalism
Literal Sense of Scripture
Liturgical Year
Liturgies
Lloyd-Jones David Martyn (1899-1981).
Locke, John (1632-1704).
Logical Positivism
Logos
Logos Spermatikos
Loisy Alfred Firmin (1857-1940).
Lollards
Lombard, Peter
Lonergan Bernard Joseph Francis (1904-1984).
Lord
Lord, Jesus as
Lord of Hosts
Lord's Day
Lord's Prayer
Lord's Supper
Lord's Supper, Views Of
Love
Love Feast
Lovingkindness
Low Church
Lucifer
Luke, Theology Of
Lust
Luther, Martin (1483-1546).
Lutheran Tradition
Luther's Small Catechism
Lux, Mundi
Lying
Mm
MacDonald, George (1824-1905).
Machen John Gresham (1881-1937).
MacKinnon Donald Mackenzie (1913-1994).
Mackintosh Hugh Ross (1870-1936).
Macquarrie, John (b. 1919).
Magnificat
Majoristic Controversy
Major Orders
Man, Natural
Man, Old and New
Man, Son Of
Mandaeans
Mani (216-276).
Manichaeism
Mankind, Doctrine Of
Mankind, Origin Of
Man of Lawlessness
Man of Sin
Manson Thomas Walter (1893-1958).
Many
Marburg Colloquy (1529).
Marcion (d. ca. 160).
Mariology
Marion, Jean-Luc
Maritain, Jacques (1882-1973).
Mark, Theology Of
Mark of the Beast
Marpeck, Pilgram
Marriage, Marriage Customs in Bible Times
Marriage, Theology Of
Marriage Feast of the Lamb
Marrow Controversy
Martyr, Justin
Martyr, Peter
Mary, Assumption Of
Mary, the Blessed Virgin
Mascall Eric Lionel (1905-1993).
Mass
Mathews, Shailer (1863-1941).
Matins
Matter
Matthew, Theology Of
Maundy Thursday
Maurice John Frederick Denison (1805-1872).
May Laws
McFague, Sallie (b. 1933).
McGiffert Arthur Cushman (1861-1933).
McGrath Alister E (b. 1953).
M'cheyne Robert Murray (1813-1843).
McPherson Aimee Semple (1890-1944).
Means of Grace
Meat Offering
Mediating Theology (Ger. Vermittlungstheologie).
Mediation, Mediator
Meister Eckhart (ca. 1260-1328).
Melanchthon, Philip (1497-1560).
Melchiorites
Melitian Schisms
Melville, Andrew (1545-1622).
Mennonites
Menno Simons (ca. 1496-1561).
Mercersburg Theology
Merciful Acts, Gift Of
Mercy
Mercy Seat
Merit
Merton, Thomas (1915-1968).
Messiah
Messianic Banquet
Messianic Judaism
Metaphysics
Metempsychosis
Methodism
Methodism, Calvinistic
Metropolitan
Metz Johannes Baptist (b. 1936).
Midtribulation Rapture
Millennium, Views of The
Miller, William (1782-1849).
Mind
Minister
Ministry
Minor Orders
Miracle
Miracles, Gift Of
Missiology
Modalism
Moderator
Modernism
Modernism, Catholic
Molinos, Miguel De
Moltmann Jürgen (b. 1926).
Monarchianism
Monasticism
Monergism
Money
Monism
Monophysitism
Monotheism
Monothelitism
Montanism
Moon, Sun Myung
Moral Argument for God
Moral Inability
Moral Influence Theory of Atonement
Moral Re-armament
Moral Theology
Moravian Brethren
More, Henry (1614-1687).
Mormonism
Morning Prayer
Mortality
Mortal Sin
Moses
Most Holy Place
Mother of God
Mott John Raleigh (1865-1955).
Movable Feast
Muhlenberg Henry Melchior (1721-1787).
Mullins Edgar Young (1860-1928).
Müntzer, Thomas
Murray, Andrew (1828-1917).
Murray, John (1898-1975).
Music in the Evangelical Tradition
Mystery
Mystery of Iniquity
Mystery Religions
Mystical Sense of Scripture
Mystical Union
Mysticism
Myth
Myth of God Incarnate Debate
Nn
Nag Hammadi Codices
Names in Bible Times, Significance Of
Narrative Theology
Nations, Judgment Of
Naturalism
Natural Law
Natural Man
Natural Revelation
Natural Theology
Nature, Theology Of
Nazarene
Neander Johann August Wilhelm (1789-1850).
Necessary Being
Nee, Watchman
Negation, Way Of
Neoevangelicalism
Neonomianism
Neo-orthodoxy
Neo-pentecostalism
Neoplatonism
Neo-thomism
Nestorius, Nestorianism
New, Newness
New Age Movement
New Birth
New Commandment
New Covenant
New Creation, New Creature
New England Theology
New Evangelicalism
New Hampshire Confession (1833).
New Haven Theology
New Heavens and New Earth
New Hermeneutic
New Jerusalem, Church of The
New Jerusalem
New Light Schism
New Man
Newman John Henry (1801-1890).
New Morality
New Quest of the Historical Jesus
New School Theology
New Testament
New Testament Canon
New Testament Theology
Niagara Conferences
Nicea, Council Of (325).
Nicea, Second Council Of (787).
Nicene Creed
Niebuhr Helmut Richard (1894-1962).
Niebuhr, Reinhold (1892-1971).
Nietzsche, Friedrich Wilhelm
Nihilism
Ninety-Five Theses (1517).
Nominalism
Nonconformity
Northfield Conferences
Novatian Schism
Numerology, Biblical
Numinous, The
Nygren, Anders (1890-1978).
Oo
Obedience
Obedience of Christ
Oberlin Theology
Oblation
Obscenity
Occam, William Of
Occult
Ockham, William Of
Oden Thomas C (b. 1931).
Offerings and Sacrifices in Bible Times
Office, Daily (Divine)
Officers, Church
Offices of Christ
Ogden Schubert Miles (b. 1928).
Oil, Anointing With
Old Lights, The
Old Man
Old Roman Creed
Old School Theology
Old Testament
Old Testament Canon
Old Testament Theology
Olevianus, Caspar (1536-1587).
Oman John Wood (1860-1939).
Omission, Sins Of
Omnipotence
Omnipresence
Omniscience
Only Begotten
Ontological Argument for God
Ontology
Van Oosterzee Jan Jakob (1817-1882).
Oppression
Opus Operatum
Ordain, Ordination
Order of Salvation
Orders, Holy
Orders, Major
Ordination of Women
Ordo Salutis
Origen (ca. 185-ca. 254).
Original Righteousness
Original Sin
Origin of Mankind
Origin of the Soul
Origin of the Universe
Orr, James (1844-1913).
Orthodox Tradition
Orthodoxy
Osiander, Andreas (1498-1552).
Osterwald Jean Frederic (1663-1747).
Otto, Rudolf (1869-1937).
Overseer
Owen, John (1616-1683).
Oxford Group Movement
Oxford Movement
Pp
Pacifism
Packer, James Innell (b. 1926).
Paedobaptism
Pain
Pain of God Theology
Palamas, Gregory
Paley, William (1743-1805).
Palm Sunday
Panentheism
Pannenberg, Wolfhart (b. 1928).
Pantheism
Papacy
Paraclete
Paradise
Paradox
Paradox, Theology Of
Pardon
Parker Society
Parousia
Pascal, Blaise (1623-1662).
Pascal's Wager
Paschal Controversies
Passion of Christ
Passover
Pastor
Patriarch
Patripassianism
Pattern
Paul, Theology Of
Paulicians
Paul of Samosata
Peace
Peace Offering
Pelagius, Pelagianism
Penal Theory of the Atonement
Penance
Penitence
Pentecost
Pentecostalism
Perfection, Perfectionism
Perichoresis
Perpetual Virginity of Mary
Perseverance
Person, God As
Personalism
Person of Christ
Peter, Primacy Of
Peter Lombard (ca. 1100-1160).
Peter Martyr Vermigli (1499-1562).
Peter the Apostle
Pharisees
Phenomenology of Religion
Philippists
Philokalia (Gr. philos, lover; kalia, the beautiful or excellent).
Philosophy, Christian View Of
Philosophy of Religion
Photian Schism
Pietism
Pighius, Albert (ca. 1490-1542).
Pinnock Clark H (b. 1937).
Plantinga, Alvin (b. 1932).
Plato, Platonism
Pleasure, God's Good
Plenary Inspiration
Pleroma
Plotinus
Polanus, Amandus (1561-1610).
Polygamy
Polytheism
Poor, Poverty
Pope
Pope William Burt (1822-1903).
Pornography
Porter
Positive Thinking
Positivism
Possession, Demon
Postlapsarianism
Postliberal Theology
Postmillennialism
Postmodernism
Posttribulation Rapture
Poverty, Christians And
Power, Powers
Pragmatism
Prayer
Prayer, the Lord's
Prayers for the Dead
Preach, Preaching
Prebendary
Predestination
Preexistence of Christ
Preexistence of the Soul
Prelacy
Premillennialism
Presbyter
Presbyterianism
Presence, Divine
Preterition
Pretribulation Rapture
Prevenient Grace
Priest, Christ As
Priesthood
Priests and Levites
Princeton Theology, Old
Principalities and Powers
Priscillianism
Probabiliorism
Probabilism
Problem of Evil
Procession of the Spirit
Process Theology
Promise
Prophecy, Gift Of
Prophecy, Prophet
Prophet, Christ As
Propitiation
Protestantism
Providence of God
Prudence
Pseudo-dionysius the Areopagite
Psychology and Christianity
Psychology of Religion
Punishment
Punishment, Everlasting
Purgative Way, The
Purgatory
Puritanism
Pusey Edward Bouverie (1800-1882).
Qq
Quadragesima
Quakers
Quenstedt Johann Andreas (1617-1688).
Quest of the Historical Jesus
Quicumque Vult
Quietism
Quimby, Phineas Parkhurst
Quinquagesima
Qumran
Rr
Racism
Racovian Catechism (1605).
Radical Theology
Rahner, Karl (1904-1984).
Ramm, Bernard (1916-1992).
Ramsey Ian Thomas (1915-1972).
Ramus, Peter (1515-1572).
Ransom
Rapture of the Church
Rationalism
Rauschenbusch, Walter (1861-1918).
Reader
Realism
Realism, Scottish
Realized Eschatology
Real Presence
Reason
Rebaptism
Rebirth
Recapitulation
Receptionism
Reconciliation
Rector
Redeemer, Redemption
Redemption, General
Redemption, Particular
Redemption History
Reformation, Protestant
Reformed Tradition
Regeneration
Regeneration, Baptismal
Regula Fidei
Reid, Thomas
Reincarnation
Relativism
Relics
Religion, Phenomenology Of
Religion, Religious
Religion, Sociology Of
Religionless Christianity
Religions
Religionsgeschichte
Religious Liberty
Religious Pluralism
Remarriage
Remission of Sins
Remnant
Remonstrants
Renan Joseph Ernest (1823-1892).
Renewal
Renewal, Church
Repentance
Reprobation
Responsibility
Restoration of Israel
Resurrection of Christ
Resurrection of the Dead
Retaliation
Revelation, General
Revelation, Special
Revenge
Revisionist Theology
Revival, Spiritual
Revivalism
Reward
Richardson, Alan (1905-1975).
Riches
Ricoeur, Paul (b. 1913).
Righteousness
Righteousness, Civil
Righteousness, Original
Righteousness of God
Rights, Human
Ritschl, Albrecht (1822-1889).
Robinson Henry Wheeler (1872-1945).
Robinson John Arthur Thomas (1919-1983).
Roman Catholicism
Roman Creed, Old
Romanticism
Rorty, Richard
Rowland, Daniel
Ruether Rosemary Radford (b. 1936).
Rule of Faith (Lat. regula fidei).
Rural Dean
Russell, Charles Taze
Rutherford, Joseph Franklin
Rutherford, Samuel (1600-1661).
Ss
Sabaoth
Sabbatarianism
Sabbath
Sabellianism
Sacrament
Sacrifice
Sadducees
Saint, Saintliness
Sainthood
Saints, Invocation Of
Saints, Veneration Of
Salvation
Salvation Army, The
Salvation History
Sanctification
Sardica Council Of (343-344).
Sartre, Jean-Paul
Satan (Heb. śāṭān, "adversary").
Satanism
Satisfaction
Satisfaction Theory, The
Sattler, Michael
Saumer Academy
Savior
Savonarola, Girolamo (1452-1498).
Savoy Conference (1661).
Saxon Confession (1551).
Saybrook Platform (1708).
Sayers Dorothy Leigh (1893-1957).
Sayings of Jesus
Scapegoat
Schaeffer, Francis (1912-1984).
Schaff, Philip (1819-1893).
Schillebeeckx, Edward (b. 1914).
Schism (Gr. schisma, "division").
Schism, Great (1054).
Schlatter Adolf Von (1852-1938).
Schleiermacher Friedrich Daniel Ernst (1768-1834).
Schleitheim, Seven Articles Of
Schmucker Samuel Simon (1799-1873).
Scholasticism
Scholasticism, Protestant
Schoolmen
Schüssler Fiorenza Elisabeth (b. 1938).
Schwabach, Articles Of (1529).
Schweitzer, Albert (1875-1965).
Von Schwenckfeld Kasper Ossig (1489-1561).
Science and Health, with a Key to the Scriptures
Science and Theology
Scientia Media
Scientific Creationism
Scofield Cyrus Ingerson (1843-1921).
Scopes Trial (1925).
Scots Confession (1560).
Scottish Realism
Scripture
Scripture, Authority Of
Second Adam
Second Advent of Christ
Secondary Separation
Second Chance
Second Coming of Christ
Second Death
Second Great Awakening
Sect, Sectarianism (Lat. secta, "party, school, faction," perhaps deriving from the past participle either of secare, "to cut, to separate," or of sequi, "to follow").
Secular Christianity
Secular Clergy
Secularism, Secular Humanism
Security of the Believer
Segundo Juan Luis (b. 1925).
Self-Esteem, Self-Love
Self-Examination
Self-Existence of God
Self-Righteousness
Semi-arianism
Semi-pelagianism
Senses of Scripture
Sensus Deitatis, Sensus Divinitatis
Sensus Plenior
Sentences
Separation
Separation, Marital
Separation of Church and State
Septuagesima (Lat. for "seventieth").
Seraph, Seraphim
Sermon on the Mount
Serpent
Servant of the Lord
Service, Gift Of
Session (Lat. sessio).
Seven Articles of Schleitheim
Seven Deadly Sins
Seventh-Day Adventism
Seven Virtues
Sexist Language
Sexual Ethics
Shaddai
Shedd William Greenough Thayer (1820-1894).
Sheol
Shepherding Movement
Shrove Tuesday
Sign
Signs and Wonders
Simeon the New Theologian (949-1022).
Simons, Menno
Simplicity of God
Simul Justus Et Peccator
Sin
Sin, Conviction Of
Sin, Man Of
Sin, Mortal
Sin, Unpardonable
Sin, Venial (Lat. venia, "pardon, favor, kindness, forgiveness").
Sinlessness of Christ
Sin Offering
Sins, Seven Deadly
Sins of Omission
Sin Unto Death
Situation Ethics
Six Articles, (1539).
Slavery
Smalcald Articles (1537).
Small Catechism, Luther's
Smith Hannah Whitall (1832-1911).
Smith, Joseph
Social Ethics
Social Gospel
Social Implications of the Gospel
Socialism, Christian
Society of Friends
Society of Jesus (Jesuits)
Socinus, Faustus (1539-1604).
Sociology of Religion
Solafidianism (Lat. sola fide "faith alone").
Solidarity of the Race
Son of God (huios tou theou).
Son of Man
Soteriology
Soul
Soul Sleep
Sovereignty of God
Special Revelation
Spener Philipp Jakob (1635-1705).
Spinoza Benedict De (1632-1677).
Spiration
Spirit (Heb. rûaḥ, "breath of mouth," Pss. 33:6; 135:17; then "breath of air, or wind," Gen. 3:8 kjv margin).
Spirit, Holy
Spirit, Unclean
Spirits, Discernment Of
Spirits in Prison
Spiritual Body (Gr. sōma pneumatikon).
Spiritual Exercises
Spiritual Gifts
Spiritual Healing
Spirituality
Spiritual Warfare
Sprinkle, Sprinkling
Spurgeon Charles Haddon (1834-1892).
State
States of Jesus Christ
Stealing
Steiner, Rudolf (1861-1925).
Stewardship (Gr. oikonomia, "management of a household").
Stoddard, Solomon (1643-1729).
Stoics, Stoicism
Storch, Nicholas
Stott, John R. W. (b. 1921).
Strauss David Friedrich (1808-1874).
Strong Augustus Hopkins (1836-1921).
Stübner, Markus
Subdiaconate
Sublapsarianism
Subordinationism
Substance (Lat. substantia, Gr. hypostasis, "standing under").
Substitutionary Atonement of Christ
Suffering
Suffering Servant
Sufficient Grace
Suffragan Bishop
Sunday
Supererogation, Works Of
Superintendent
Supper, Lord's
Supplication
Supralapsarianism
Swedenborg, Emanuel (1688-1772).
Swete Henry Barclay (1835-1917).
Swinburne Richard Granville (b. 1934).
Synagogue
Syncretism
Synergism (Gr. synergos, "working together").
Synod (Gr. synodos, "a group of people traveling together").
Systematic Theology
Tt
Tabernacle, Temple
Tauler, Johannes (ca. 1300-1361).
Taylor Nathaniel William (1786-1858).
Teaching, Gift Of
Teilhard de Chardin, Pierre (1881-1955).
Teleological Argument for God
Temperance
Temple
Temple, William (1881-1944).
Temptation
Tempter
Ten Articles (1536).
Ten Commandments
Tennant Frederick Robert (1866-1957).
Teresa of Ávila (1515-1582).
Terminism
Territorialism
Tertullian (ca. 155-220).
Testament
Testimonium Spiritus Sancti Internum
Testimony
Tetragrammaton
Tetrapolitan Confession (1530).
Textual Criticism and Theology
Textus Receptus
Thank Offering
Theism
Theistic Evolution
Theocracy
Theodicy
Theodore of Mopsuestia
Theologia Crucis (Lat. for "theology of the cross").
Theologia Gloriae (Lat. for "theology of glory").
Theological Virtues
Theology, Integrative
Theophany
Theosis (Lat. for "deification").
Theosophy
Theotokos
Thérèse of Lisieux (1873-1897).
Thielicke, Helmut (1908-1986).
Thiessen Henry Clarence (1883-1947).
Third Wave
Thirteen Articles, The (1538).
Thirty-Nine Articles (1563).
This Age, the Age to Come
Tholuck Friedrich August Gottreu (1799-1877).
Thomas, William Henry Griffith
Thomas À Kempis (ca. 1379-1471).
Thomas Aquinas (1225-1274).
Thomism
Thornwell James Henley (1812-1862).
Tillich, Paul (1886-1965).
Time (Gr. chronos).
Tindal, Matthew (ca. 1655-1733).
Tithe
Tithing
Toland, John (1670-1722).
Tolerance
Tongues, Gift Of
Tongues, Speaking In (Gr. glossolalia).
Torgau Articles, The
Torrance Thomas Forsyth (b. 1913).
Total Depravity
Tractarianism
Tracy, David (b. 1939).
Tradition
Traducianism
Transcendence of God
Transcendentalism
Transcendental Meditation (TM).
Transgression
Transmigration of Souls
Transubstantiation
Trent Council Of (1545-1563).
Trespass
Trespass Offering
Tribulation
Trichotomy
Trinity
Troeltsch, Ernst (1865-1923).
Trueblood David Elton (1900-1995).
Trust
Truth
Tübingen School
T.U.L.I.P.
Turretin, Francis (1623-1687).
Twelve Articles of the Peasants (1525).
Twofold State of Jesus
Two Swords Theory
Type, Typology
Tyrrell, George (1861-1909).
Uu
Ubiquity of God
Ultradispensationalism
Ultramontanism
Unbaptized Infants
Unbelief
Unchangeability of God
Unclean
Unction, Extreme
Underhill, Evelyn (1875-1941).
Understanding
Unforgiveable Sin
Unification Church
Uniformity, Acts Of
Unio Mystica
Union, Hypostatic
Union with Christ
Union with God
Unitarianism
Unitas Fratrum
Unitive Way, The
Universalism
Universalism, Hypothetical
Universe, Origin Of
Unpardonable Sin
Ursinus, Zacharias (1534-1583).
Ussher, James (1581-1656).
Utilitarianism
Utopianism
Utrecht, Declaration Of (1889).
Vv
Van Til Cornelius (1895-1987).
Vatican Council I (1869-1870).
Vatican Council II (1962-1965).
Veneration of Relics
Veneration of Saints
Vengeance
Venial Sin
Verbal Inspiration
Vermigli, Peter Martyr
Vermittlungstheologie
Vespers
Via Affirmativa, Via Affirmationis
Via Analogia
Via Eminentia
Via Illuminativa
Via Media
Via Negativa
Via Positiva
Via Purgativa
Via Unitiva
Vicar
Vicarious Atonement
Vines, Richard (1600-1656).
Violence
Virgin, Assumption of The
Virgin Birth of Jesus
Virtues, Seven Cardinal
Visible Church
Vision of God, Visio Dei
Vocation
Voluntarism
Von Hügel, Friedrich (1852-1925).
Ww
Waldenses, Waldensians
Waldenström Peter Paul (1838-1917).
Waldo, Peter
Walloon Confession
Walther Carl Ferdinand Wilhelm (1811-1887).
Walvoord John F (b. 1910).
War
Warfield Benjamin Breckinridge (1851-1921).
Warneck Gustav Adolf (1834-1910).
Washing of Feet
Watchman Nee (1903-1972).
Watson, Richard (1781-1833).
Watson, Thomas (d. ca. 1686).
Watts, Isaac (1674-1748).
Wave Offering
Way, Follower of The
Way International, The
Way of Affirmation
Way of Illumination
Way of Negation
Way of Purification
Wealth, Christian View Of
Weber, Otto (1902-1966).
Wenger John Christian (1910-1995).
Wesley, John (1703-1791).
Wesleyan Tradition
Westcott Brooke Foss (1825-1901).
Westminster Catechisms
Westminster Confession of Faith (1647).
Whichote, Benjamin
Whitby, Daniel (1638-1726).
Whitby, Synod Of (664).
White Ellen Gould (1827-1915).
Whitefield, George (1714-1770).
Whitehead, Alfred North
Whitsunday
Wiley Henry Orton (1877-1961).
Will
William of Ockham (ca. 1280-1349).
Williams John Rodman (b. 1918).
Will of God
Wisdom
Wisdom, Gift Of
Witchcraft
Witness, Witnessing
Witness of the Holy Spirit
Wittenberg, Concord Of (1536).
Wolterstorff, Nicholas (b. 1932).
Woman, Biblical Concept Of
Women, Ordination Of
Women in the Church
Wonder
Woolman, John (1720-1772).
Word, Word of God, Word of the Lord
Work
Works
World
World Council of Churches, The
Worldliness and Otherworldliness
Worldwide Church of God
Worms, Diet Of (1521).
Worry
Worship
Worship in the Church
Wrath of God
Würtemberg Confession (1552).
Wycliffe, John (ca. 1330-1384).
Yy
Yahweh
Year, Christian
Young, Brigham
Young Edward Joseph (1907-1968).
Zz
Zeller, Eduard (1814-1908).
Von Zinzendorf Nikolaus Ludwig (1700-1760).
Zionism
Zionism, Christian
Zoroastrianism
Zurich Agreement (1549).
Zwickau Prophets
Zwingli, Ulrich (1484-1531).