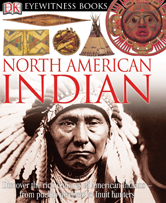 DK Eyewitness Books: North American Indian
DK Eyewitness Books: North American Indian
Editor/Author Murdoch, David
Publication Year: 2005
Publisher: Dorling Kindersley Publishing, Inc.

Price: Core Collection Only

ISBN: 978-0-7566-1081-4
Category: History - United States -- History
Image Count: 239
Book Status: Available
Here is an original and exciting new guide to the fascinating civilizations of North American Indians. See a necklace made of bear claws, a model of a Blackfeet teepee, a false face made from cornhusks, how fish were trapped in a basket, and a Cheyenne feathered war bonnet. Learn about the kachina ceremony, why love dolls were important, how turtle shells made music, what's stored inside a parfleche, and how pemmican was made. Discover the meanings of carvings on a Haida totem pole, what's inside an Iroquois longhouse, what medicine men carried in their medical kits, how a bow drill works, and much, much more.
This book is found in the following Credo Collections: