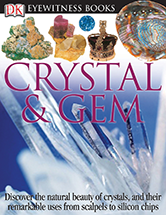 DK Eyewitness Books: Crystal & Gem
DK Eyewitness Books: Crystal & Gem
Editor/Author Harding, R., Harding, R.R. and Smyes, R., et.al.
Publication Year: 2004
Publisher: Dorling Kindersley Publishing, Inc.

Price: Core Collection Only

ISBN: 978-0-7566-0664-0
Category: Science - Geology
Image Count: 467
Book Status: Available
See a crystal growing, diamonds used to cut through a brick wall, gemstones formed in a volcano, and crystals of gold and silver in Eyewitness Crystal & Gem. Learn how to identify crystals, why crystals have been grown in space, how crystals are used for healing, why Napoleon had a diamond in his sword, and much, much more!
This book is found in the following Credo Collections: