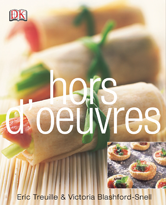 Hors d'Oeuvres
Hors d'Oeuvres
Editor/Author Blashford-Snell, Victoria and Treuille, Eric
Publication Year: 2012
Publisher: Dorling Kindersley Publishing, Inc.

Price: Core Collection Only

ISBN: 978-0-7566-9836-2
Category: Food, Drink, Nutrition
Image Count: 337
Book Status: Available
Every great party begins with great-tasting appetizers, whether it is an informal gathering of friends and family or an elegant champagne soiree. From spicy cilantro shrimp to eggplant caviar crostini, the authors show you how to prepare more than 250 simple yet sensational canapés, along with menu suggestions for a variety of occasions and indispensable advice on portion allocation and planning ahead. Illustrated with inviting, actual-size photographs of every recipe, this uniquely practical guide includes full-color, step-by-step instructions to ensure successful party food whatever the occasion.
This book is found in the following Credo Collections: