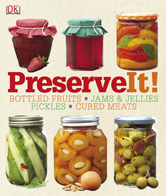 Preserve It!
Preserve It!
Editor/Author Brown, Lynda and Editor: DK Publishing
Publication Year: 2010
Publisher: Dorling Kindersley Publishing, Inc.

Price: Core Collection Only

ISBN: 978-0-7566-6208-0
Category: Food, Drink, Nutrition
Image Count: 535
Book Status: Available
Pickles and chutneys, jams and jellies, salted meat, smoked fish - this is food that tastes like food; intensely flavored, satisfyingly rich. Armed with this guide and its plethora of ideas on how to enjoy the harvest and use up gluts, you can ensure nothing goes to waste, and bring a taste of summer to a cold winter's day. In more than 100 recipes this guide demystifies the processes and shows you how you can, with traditional techniques, preserve fruit, vegetables, meat, fish and dairy produce without expensive equipment or training. From plot to plate, every detail along the way is explained in clear, step-by-step manner, thereby guiding gardeners and cooks of all levels through the satisfying tasks of bottling jams, syrups, and chutneys, or even making sausages, cheese, butter, cider and wine. So say goodbye to expensive shopping bills and throwing out surplus food; get back to your roots, and serve up home-grown or local produce all year round.
This book is found in the following Credo Collections: