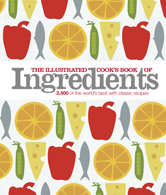 The Illustrated Cook's Book of Ingredients
The Illustrated Cook's Book of Ingredients
Editor: DK Publishing
Publication Year: 2010
Publisher: Dorling Kindersley Publishing, Inc.

Price: Core Collection Only

ISBN: 978-0-7566-6730-6
Category: Food, Drink, Nutrition
Image Count: 2160
Book Status: Available
In today's global market, cooks are constantly coming across unusual or unknown ingredients in recipes; it seems that almost every day new or heritage varieties of fruit and vegetables, rare meat and poultry breeds, and exotic herbs, spices, and flavorings are available at supermarkets, butchers', and farmers' markets. The Cook's Book of Ingredients is the ultimate comprehensive 'show and tell' reference to ingredients from around the globe. It showcases fresh food and explains how to get the best out of it. The core of the guide is formed by gallery spreads, packed with annotated images and expert information that tells you which varieties are best, and how to buy, store, and eat them. Flavor Pairings give you a helping hand by listing complementary ingredients, and more than 250 simple classic key-ingredient recipes, such as Peach Melba and Pesto, complete the journey from field to plate. The broader sections on ingredients start with an introduction, that covers detailed preparation and cooking techniques with step by steps, and useful information on buying, ripening, and storing. The Cook's Book of Ingredients stimulates readers to try new foods and is more about their favorites. This is an invaluable reference for food lovers and cooks who are intent on making the most of all the ingredients available today.
This book is found in the following Credo Collections: