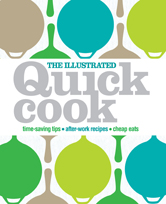 The Illustrated Quick Cook: Easy Entertaining, After-Work Recipes, Cheap Eats
The Illustrated Quick Cook: Easy Entertaining, After-Work Recipes, Cheap Eats
Editor/Author Whinney, Heather
Publication Year: 2009
Publisher: Dorling Kindersley Publishing, Inc.

Price: Core Collection Only

ISBN: 978-0-7566-5577-8
Category: Food, Drink, Nutrition
Image Count: 1304
Book Status: Available
Table of Contents
With its two sections, Everyday and Friends, this is as much a guide for entertaining as it is an everyday resource. Food to impress needn't be complicated to be impressive. With the quick-cook theme running throughout both sections, you will find instant inspiration for every occasion.
This book is found in the following Credo Collections:
Table of Contents
Introduction
Useful Information
Recipe Choosers
Technique Chooser
Everyday
No Cook
Speedy Suppers
Everyday Chicken
10 Ways With…
Faster Pasta
Pizzas, Quesadillas, and Crêpes
Easy Tarts and Pies
Get the Most from your Roast
Batch and Freeze
Store Cupboard
Food for Friends
Menu Planners
No-Fuss Finger Food and Dips
Tapas-Style
Simple Starters
Big-Pot Gatherings
All-in-One Roasts
Barbecue
No-Cook Desserts
Freeze-Ahead Desserts
Indulgent Desserts
Cakes and Bakes
Acknowledgments