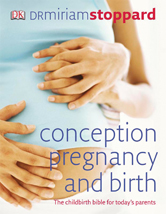 Conception, Pregnancy & Birth: The Childbirth Bible for Today's Parents
Conception, Pregnancy & Birth: The Childbirth Bible for Today's Parents
Editor/Author Stoppard, Dr. Miriam
Publication Year: 2008
Publisher: Dorling Kindersley Publishing, Inc.

Price: Core Collection Only

ISBN: 978-0-7566-3695-1
Category: Health & Medicine - Health
Image Count: 382
Book Status: Available
Widely accepted as the definitive guide to pregnancy and childbirth, Dr. Miriam Stoppard's Conception, Pregnancy, and Birth has sold well over a million copies since it was first published. This new edition has not only been given a completely new look with stunning new photography but it has also been updated and re-written with 20-25 percent new material. New information will cover the latest developments in pregnancy and birth, from up-to-date research on how your stress levels can affect your unborn baby to new developments in delivering your baby.
This book is found in the following Credo Collections: