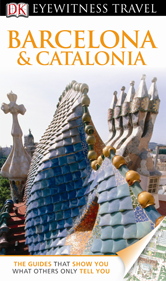 Eye Witness Travel Guide: Barcelona and Catalonia
Eye Witness Travel Guide: Barcelona and Catalonia
Editor/Author Gallagher, Mary-Ann and lnman, Nick
Publication Year: 2011
Publisher: Dorling Kindersley Publishing, Inc.

Single-User Purchase Price: $15.00

Unlimited-User Purchase Price: $22.50
ISBN: 978-0-7566-6936-2
Category: Business, Finance & Economics - Tourism & Hospitality
Image Count: 359
Book Status: Available
Table of Contents
Days are long in Barcelona, the morning extends until well after midday, with lunch starting around 2pm, and the late opening hours mean the afternoon merges into evening. With all of this time on your hands you want to make the most of it, and the Eyewitness Travel to Barcelona and Catalonia will help you to make the most of your time and your trip. Find out intimate details about each of the cities and what to do and see. Don't miss the feature called Four Great Days in Barcelona. Each day maps out an itinerary ranging from Gaudi Greats to Family Fun. Apart from photos, illustrations, and maps, this guide includes information on local customs, currency, medical services, and transportation.
Table of Contents
Introducing Barcelona and Catalonia
Four Great Days in Barcelona
Putting Barcelona and Catalonia on the Map
A Portrait of Catalonia
Catalonia through the Year
The History of Catalonia
Barcelona Area By Area
Barcelona at a Glance
Old Town
Eixample
Montjuïc
Further Afield
Three Guided Walks
Catalonia
Lleida, Andorra, Girona, Barcelona Province, Tarragona
Travellers' Needs
Where to Stay
Restaurants, Cafes and Bars
Shopping in Barcelona
Entertainment in Barcelona
Outdoor Activities
Survival Guide
Practical Information
Travel Information
Acknowledgments