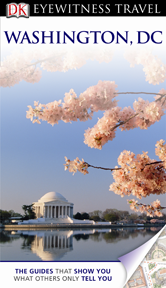 Eye Witness Travel Guide: Washington D.C.
Eye Witness Travel Guide: Washington D.C.
Editor/Author Powers, Alice L. and O'Leary, Ian
Publication Year: 2006
Publisher: Dorling Kindersley Publishing, Inc.

Single-User Purchase Price: $16.00

Unlimited-User Purchase Price: $24.00
ISBN: 978-0-7566-6916-4
Category: Business, Finance & Economics - Tourism & Hospitality
Image Count: 489
Book Status: Available
Table of Contents
Do you want to know about Washington DC's monuments, festivals, museums, history and shopping? Well, look no further, the Eyewitness Travel to Washington DC has all of the information about the city and more! This guide is packed with illustrations, photographs and maps to help you navigate around the District. The floor plans of all major sites and the 3-D aerial views of Washington's most interesting districts allow you to feel practiced in the art of tourism. There are also three specially devised walking tours that will point out all of the intriguing things to do around town. Make yourself feel at home with DK's Eyewitness Travel Guide to Washington DC. Apart from full-color photos, illustrations, and maps, this guide includes information on local customs, currency, medical services, and transportation.
Table of Contents
Introducing Washington, DC
Four Great Days in Washington, DC
Putting Washington, DC on the Map
The History of Washington, DC
Washington, DC at a Glance
Washington, DC Through the Year
Washington, DC Area by Area
Capitol Hill
The Mall
Penn Quarter
The White House and Foggy Bottom
Georgetown
Farther Afield
Three Guided Walks
Excursions Beyond Washington, DC
Beyond Washington, DC
Travelers' Needs
Where to Stay
Restaurants, Cafes, and Bars
Shopping in Washington, DC
Entertainment in Washington, DC
Survival Guide
Practical Information
Travel Information
Acknowledgments