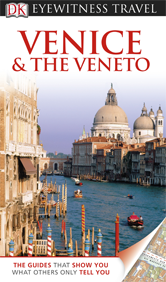 Eye Witness Travel Guide: Venice & the Veneto
Eye Witness Travel Guide: Venice & the Veneto
Editor/Author Bermingham, Brenda and Price, Gillian
Publication Year: 2012
Publisher: Dorling Kindersley Publishing, Inc.

Single-User Purchase Price: $21.00

Unlimited-User Purchase Price: $31.50
ISBN: 978-0-7566-8410-5
Category: Business, Finance & Economics - Tourism & Hospitality
Image Count: 769
Book Status: Available
Table of Contents
DK Eyewitness Travel Guide to Venice & the Veneto will lead you straight to the best attractions this city and region has on offer. Packed with photographs, illustrations and maps of Venice and the Veneto, the guide includes in-depth coverage of Venice's must see sight from the historic Piazza San Marco and beautiful Grand Canal, to the city's finest opera and liveliest carnivals, unearthing the best of the city's stunning architecture, museums, galleries and parks in between. You'll find 3D aerial views of Venice's most interesting districts, cutaways and floorplans of all the major sites, and detailed listings of the best hotels and restaurants in Venice and the Veneto for all budgets. The guide includes four 'Great Days Out' in Venice and the Veneto region and extensive practical information and insider tips from shopping and entertainment to choosing the best Italian cuisine. Whether you are finding a bargain on the Ponte di Rialto, enjoying a gondola ride or discovering the ancient city of Padua, the DK Eyewitness Travel Guide to Venice & the Veneto is indispensable.
Table of Contents
Introducing Venice and the Veneto
Four Great Days in Venice and the Veneto
Putting Venice and the Veneto on the Map
A Portrait of the Veneto
Venice and the Veneto Through the Year
The History of Venice and the Veneto
Venice Area by Area
Venice at a Glance
A View of the Grand Canal
San Marco
San Polo and Santa Croce
Castello
Dorsoduro
Cannaregio
The Lagoon Islands
The Veneto Area by Area
The Veneto at a Glance
The Veneto Plain
Verona and Lake Garda
The Dolomites
Travellers' Needs
Where to Stay
Restaurants, Cafés and Bars
Shops and Markets
Entertainment in the Veneto
Specialist Holidays and Outdoor Activities
Survival Guide
Practical Information
Getting to Venice and the Veneto
Getting around Venice and the Veneto
Acknowledgments