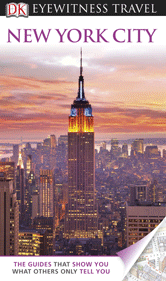 Eye Witness Travel Guide: New York City
Eye Witness Travel Guide: New York City
Editor/Author Berman, Eleanor and Sorensen, Annelise
Publication Year: 2012
Publisher: Dorling Kindersley Publishing, Inc.

Single-User Purchase Price: $24.00

Unlimited-User Purchase Price: $36.00
ISBN: 978-0-75668-408-2
Category: Business, Finance & Economics - Tourism & Hospitality
Image Count: 920
Book Status: Available
Table of Contents
At first glance New York City might seem overwhelming, but The Eyewitness Travel to New York will make the city feel uncomplicated. Take a bite out of the Big Apple as you discover New York's shopping, museums, restaurants, hotels, parks, nightlife, and theaters. This lavishly illustrated guide will enlighten your experience and make it easy to manage. Everyday in New York offers its visitors something new to see and experience. Apart from color photos, illustrations, and maps, this guide includes information on local customs, currency, medical services, transportation, and useful transportation information.
Table of Contents
Introducing New York
Four Great Days in New York
Putting New York on the Map
The History of New York
New York at a Glance
New York Through the Year
The Manhattan Skyline
New York Area by Area
Lower Manhattan
Seaport and the Civic Center
Lower East Side
SoHo and Tribeca
Greenwich Village
East Village
Gramercy and the Flatiron District
Chelsea and the Garment District
Theater District
Lower Midtown
Upper Midtown
Upper East Side
Central Park
Upper West Side
Morningside Heights and Harlem
Farther Afield
Seven Guided Walks
Travelers' Needs
Where to Stay
Restaurants and Bars
Shopping
Entertainment in New York
Children's New York
Survival Guide
Practical Information
Getting to New York
Getting Around New York
Acknowledgments