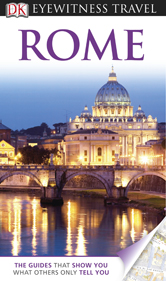 Eye Witness Travel Guide: Rome
Eye Witness Travel Guide: Rome
Editor/Author Evans, Adele
Publication Year: 2012
Publisher: Dorling Kindersley Publishing, Inc.

Single-User Purchase Price: $8.00

Unlimited-User Purchase Price: $12.00
ISBN: 978-0-75668-412-9
Category: Business, Finance & Economics - Tourism & Hospitality
Image Count: 911
Book Status: Available
Table of Contents
This guide divides central Rome into 16 areas and has further sections for sights on the outskirts of the city; including some day trips as well as some suggested walks. Each of the main areas has its own chapter and contains a selection of sights that convey some of its history and distinctive character. The bird's-eye view maps, photographs, 3-D aerial views of Rome's most interesting districts, the floor plans of all the major sights and the huge selection of hotels, restaurants, shops and entertainment venues separate this guide from all of the rest. The Eyewitness Travel Guide helps you to get the most from your stay in Rome. Apart from color photos, illustrations, and maps, this guide also includes information on local customs, currency, medical services, transportation, and useful transportation information.
Table of Contents
Introducing Rome
Four Great Days in Rome
Putting Rome on the Map
The History of Rome
Rome at a Glance
Rome Through the Year
Rome Area by Area
Capitol
Forum
Palatine
Piazza Della Rotonda
Piazza Navona
Piazza Di Spagna
Campo De' Fiori
Quirinal
Esquiline
Lateran
Caracalla
Aventine
Trastevere
Janiculum
Vatican
Via Veneto
Further Afield
Nine Guided Walks
Travellers' Needs
Where to Stay
Restaurants and Cafes
Shops and Markets
Entertainment in Rome
Children's Rome
Survival Guide
Practical Information
Getting to Rome
Getting Around Rome
Acknowledgments