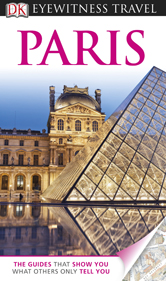 Eye Witness Travel Guide: Paris
Eye Witness Travel Guide: Paris
Editor/Author Frefield-Beilborn, Sabine and Bailey, Rosemary
Publication Year: 2012
Publisher: Dorling Kindersley Publishing, Inc.

Single-User Purchase Price: $24.00

Unlimited-User Purchase Price: $36.00
ISBN: 978-0-75668-409-9
Category: Business, Finance & Economics - Tourism & Hospitality
Image Count: 879
Book Status: Available
Table of Contents
The Eyewitness Travel Guide helps you get the most out of your trip with minimum difficulties. The opening section Introducing Paris locates the city geographically, sets modern Paris in its historical context and explains how Parisian life changed through the years. Paris at a Glance is an overview of the city's specialties. The main sightseeing section of the guide is Paris Area by Area. It describes all the main sights with maps, photographs and detailed illustrations. Get to know Paris with The Eyewitness Travel Guide. Full of beautiful photos, illustrations, and maps, this guide also includes information on local customs, currency, medical services, and transportation.
Table of Contents
Introducing Paris
Four Great Days in Paris
Putting Paris on the Map
The History of Paris
Paris at a Glance
Paris through the Year
A River View of Paris
Paris Area by Area
Ile de la Cité and Ile St-Louis
The Marais
Beaubourg and Les Halles
Tuileries Quarter
St-Germain-des-Prés
Latin Quarter
Jardin des Plantes Quarter
Luxembourg Quarter
Montparnasse
Invalides and Eiffel Tower Quarter
Chaillot Quarter
Champs-Elysées
Opera Quarter
Montmartre
Further Afield
Eight Guided Walks
Travellers' Needs
Where to Stay
Restaurants, Cafés and Bars
Shops and Markets
Entertainment in Paris
Children's Paris
Survival Guide
Practical Information
Getting to Paris
Getting Around Paris
Acknowledgments