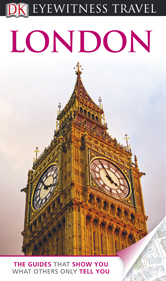 Eye Witness Travel Guide: London
Eye Witness Travel Guide: London
Editor/Author Williams, Roger, Ritchie, Lisa and Editor: DK Publishing
Publication Year: 2012
Publisher: Dorling Kindersley Publishing, Inc.

Single-User Purchase Price: $18.00

Unlimited-User Purchase Price: $27.00
ISBN: 978-0-75668-407-5
Category: Business, Finance & Economics - Tourism & Hospitality
Image Count: 826
Book Status: Available
Table of Contents
For things to do and see, visitors to London are spoiled for choice. Whether you are in London for a long trip or a quick taste of the city the Eyewitness Travel Guide will help you to make the most of your time. You will find suggestions on what to see, how to get about and where to eat and stay. Apart from color photos, illustrations, and maps, this guide also includes information on local customs, currency, medical services, transportation, and useful transportation information.
Table of Contents
Introducing London
Four Great Days in London
Putting London on the Map
The History of London
London at a Glance
London Through the Year
A River View Of London
London Area by Area
Whitehall and Westminster
Piccadilly and St James's
Soho and Trafalgar Square
Covent Garden and the Strand
Bloomsbury and Fitzrovia
Holborn & the Inns of Court
The City
Smithfield and Spitalfields
Southwark and Bankside
South Bank
Chelsea
South Kensington and Knightsbridge
Regent's Park and Marylebone
Further Afield
Six Guided Walks
Travellers' Needs
Where to Stay
Restaurants and Pubs
Shops and Markets
Entertainment in London
Children's London
Survival Guide
Practical Information
Getting to London
Getting Around London
Acknowledgments