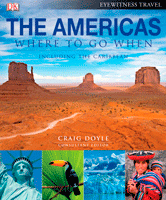 Eye Witness Travel Guide: Where To Go When: The Americas
Eye Witness Travel Guide: Where To Go When: The Americas
Editor/Author Joseph, Rosando
Publication Year: 2011
Publisher: Dorling Kindersley Publishing, Inc.

Single-User Purchase Price: $32.00

Unlimited-User Purchase Price: $48.00
ISBN: 978-0-7566-4094-1
Category: Business, Finance & Economics - Tourism & Hospitality
Image Count: 1176
Book Status: Available
Answering the difficult questions that today'Bs adventurous travelers ask - where's the best place for a beach holiday in March? What are my options if June is the only time I can take a holiday? I'm getting married in November, where would be the perfect place for a honeymoon? - this is the perfect guide for anyone planning a vacation or a longer adventure. Find out about the best time to go to each destination, the best places to see, and the best things to do. Whatever you want to do, you can - Band in any month of the year.