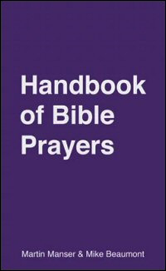 Handbook of Bible Prayers
Handbook of Bible Prayers
Editor/Author Manser, Martin and Beaumont, Mike
Publication Year: 2020
Publisher: Manser

Single-User Purchase Price: $36.00

Unlimited-User Purchase Price: $54.00
ISBN: 978-0-86-347442-2
Category: Religion & Theology - Christianity
Book Status: Available
Table of Contents
A Handbook of Bible Prayers is a topical guide to all the prayers of the Bible. Based on the thought that prayer is not a technique but friendship with God, it answers such questions as: Why pray? What should I pray about? What about prayers that aren't answered? This book is not only an insightful resource for teachers but also an encouragement for everyone to pray whatever stage we are at in life.
This book is found in the following Credo Collections:
Table of Contents
Introduction
Part One: Prayers that say 'Father'
'Teach us to pray …'
I can call him Father!
Can I Pray Too?
Any Place, Any Time, Any Words
Not Left Alone
Listening to the Father
Like a Little Child
Part Two: Prayers that say 'Amazing!'
Called to Worship
Praising God For Who He Is
Praising God For What He Is Like
Lost in Wonder, Love and Praise
Worship from the Heart
Praising in All Circumstances
What Does Worship Do?
Part Three: Prayers that say 'Thanks!'
Thanksgiving for God's Creation
Thanksgiving for God's Salvation
Thanksgiving for the Saviour
Thanksgiving for God's Intervention
Thanksgiving for God's Answers
Thanksgiving for God's Blessings
A Life Full of Thanks
Part Four: Prayers that say 'Sorry!'
Why Say Sorry?
Coming Clean
The God Who Forgives
Forgiven and Forgiving
'Sorry' Means Changing
Prayers of Corporate Repentance
Will God ever say 'No'?
Part Five: Prayers that ask 'Why?'
Prayers in Confusing Times
Prayers of Complaint
Prayers in Dark Days
Prayers that Question God's Ways
Prayers of Trust in the Face of Difficulties
Does God Change His Mind?
Why Isn't Prayer Answered Sometimes?
Part Six: Prayers that say 'Please'
Praying for Ourselves
Praying for Others
Praying for Nations and Leaders
Doing it Right
Praying from the Promises
Praying and Fasting
Prayer Changes Things!