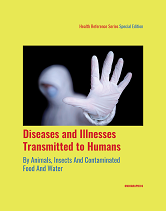 Health Reference Series: Diseases and Illnesses Transmitted to Humans from Animals and Insects and Contaminated Food and Water
Health Reference Series: Diseases and Illnesses Transmitted to Humans from Animals and Insects and Contaminated Food and Water
Editor: Hayes, Kevin
Publication Year: 2020
Publisher: Omnigraphics, Inc.

Price: Core Collection Only

ISBN: 978-0-7808-1792-0
Category: Health & Medicine - Health
Image Count: 14
Book Status: Available
Table of Contents
Diseases and Illnesses Transmitted to Humans from Animals and Insects and Contaminated Food and Water explains the various diseases and illnesses that are spread by animals, insects, and through the contamination of food and water, along with the processes involved in identifying an outbreak of these illnesses and diseases. The book also provides tips and safety measures to protect yourself and your family, including an explanation of the epidemiology of emerging and reemerging infectious diseases caused by these pathogens. It also includes a directory of organizations that provide additional help and information.
This book is found in the following Credo Collections:
Table of Contents
Preface
Part 1: Animal-Borne Illnesses and Diseases
Chapter 1 — What Are Animal-Borne Illnesses?
Chapter 2 — Emerging and Zoonotic Infections in the United States
Chapter 3 — Specific Populations at Risk of Animal-Borne Infections
Chapter 4 — Animals and the Germs They Spread
Chapter 5 — Recent Animal-Borne Diseases
Part 2: Insect-Borne Illnesses and Diseases
Chapter 6 — What Are Vector-Borne Diseases?
Chapter 7 — Arboviral Diseases
Chapter 8 — Bacterial Diseases
Chapter 9 — Rickettsial Zoonoses
Chapter 10 — Protozoan Parasites
Part 3: Food- and Water-Borne Illnesses and Diseases
Chapter 11 — The Burden of Foodborne Illness
Chapter 12 — Magnitude and Burden of Waterborne Disease in the United States
Chapter 13 — Food Contamination and Food Poisoning
Chapter 14 — Common Foodborne Pathogens and Illnesses
Chapter 15 — Foodborne Illness: Especially Dangerous for the Vulnerable
Chapter 16 — Foodborne Illness from Natural Toxins
Chapter 17 — Water Contamination and Its Effects
Chapter 18 — Assessing the Impact of Climate Change on Water-Related Illnesses
Chapter 19 — Water Safety for Travelers
Part 4: Diseases and Outbreaks Transmitted to Humans from Animals, Insects, and Contaminated Food and Water
Chapter 20 — Zoonoses and Outbreaks
Chapter 21 — Vector-Borne Disease Identification and Outbreaks
Chapter 22 — Foodborne Disease and Outbreaks
Chapter 23 — Detecting and Tracking Waterborne Disease and Outbreaks
Part 5: How to Protect Yourself and Your Family from Diseases and Illnesses Transmitted to Humans by Animals, Insects, and Contaminated Water
Chapter 24 — Protect Yourself and Your Family from Zoonotic Diseases
Chapter 25 — Protecting Yourself from Disease Vectors
Chapter 26 — How to Protect Yourself and Your Family from Foodborne Illnesses and Diseases
Chapter 27 — Guide to Safe Water Systems
Part 6: Resurgent and Emerging Diseases in a Changing World
Chapter 28 — Major Factors in the Emergence of Infectious Disease
Chapter 29 — Emerging Infectious Diseases and Antimicrobial Resistance: A Global Threat
Chapter 30 — Countering Bioterrorism
Chapter 31 — The One Health Approach
Chapter 32 — Strengthening Global Health Capacity against Infectious-Disease Threats
Chapter 33 — Priority Pathogens: Research and Development
Chapter 34 — Animal-Borne Pathogens
Chapter 35 — Insect-Borne Pathogens
Chapter 36 — Foodborne Pathogens
Chapter 37 — Waterborne Pathogens
Chapter 38 — Vaccine Development to Minimize Infectious Disease Burden in the 21st Century
Part 7: Additional Help and Information
Chapter 39 — Directory of Organizations Researching and Providing Support to People Who Acquire Diseases and Illnesses from Animals, Insects, and Contaminated Food and Water