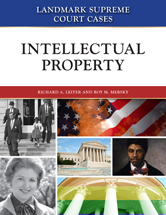 Landmark Supreme Court Cases: Intellectual Property
Landmark Supreme Court Cases: Intellectual Property
Editor/Author Leiter, Richard A. and Mersky, Roy M.
Publication Year: 2017
Publisher: Facts On File

Single-User Purchase Price: $82.50

Unlimited-User Purchase Price: $123.75
ISBN: 978-1-4381-8536-1
Category: Social Sciences - Criminology & Law
Book Status: Available
Table of Contents
This eBook contains concise, straightforward summaries, analyzing and explaining groundbreaking court cases on the issue of intellectual property.
Table of Contents
Preface
Intellectual Property and the Supreme Court
Baker v. Selden
Burrows-Giles Lithographic Co. v. Sarony
Bleistein v. Donaldson Lithographing Co.
International News Service v. Associated Press
Buck v. Jewell-La Salle Realty Co.
Champion Spark Plug Co. v. Sanders
Great Atlantic & Pacific Tea Co. v. Supermarket Equipment Corp.
Graver Tank & Mfg. Co. v. Linde Air Products Co.
F. W. Woolworth Co. v. Contemporary Arts, Inc.
Mazer v. Stein
Sears, Roebuck & Co. v. Stiffel Co.
Compco Corp. v. Day-Brite Lighting, Inc.
Graham v. John Deere Co.
Brenner v. Manson
Fortnightly Corp. v. United Artists Television, Inc.
Deepsouth Packing Co. v. Laitram Corp.
Goldstein v. California
Teleprompter Corp. v. Columbia Broadcasting System, Inc.
Kewanee Oil Co. v. Bicron Corp.
Twentieth Century Music Corp. v. Aiken
Diamond v. Chakrabarty
Inwood Laboratories, Inc. v. Ives Laboratories, Inc.
Sony Corporation of America v. Universal City Studios, Inc.
Park 'N Fly, Inc. v. Dollar Park and Fly, Inc.
Harper & Row Publishers, Inc. v. Nation Enterprises
Community for Creative Non-Violence et al. v. Reid
Bonito Boats, Inc., Petitioner v. Thunder Craft Boats, Inc.
Stewart v. Abend
Florida Prepaid Postsecondary Education Expense Board v. College Savings Bank and United States
TrafFix Devices, Inc. v. Marketing Displays, Inc.
Festo Corp. v. Shoketsu Kinzoku Kogyo Kabushiki Co.
Eric Eldred, et al. v. John Ashcroft, Attorney General
Metro-Goldwyn-Mayer Studios, Inc. v. Grokster, Ltd.
KSR International Co. v. Teleflex Inc.
Association of Molecular Pathology v. Myriad Genetics, Inc.
Teva Pharmaceuticals USA, Inc. v. Sandoz, Inc.