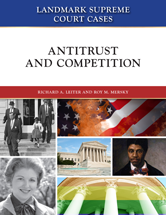 Landmark Supreme Court Cases: Antitrust and Competition
Landmark Supreme Court Cases: Antitrust and Competition
Editor/Author Leiter, Richard A. and Mersky, Roy M.
Publication Year: 2017
Publisher: Facts On File

Single-User Purchase Price: $82.50

Unlimited-User Purchase Price: $123.75
ISBN: 978-1-4381-8527-9
Category: Social Sciences - Criminology & Law
Book Status: Available
Table of Contents
This eBook contains concise, straightforward summaries, analyzing and explaining groundbreaking court cases on the issue of antitrust laws and competition in business.
Table of Contents
Preface
Entries
Antitrust and Competition Cases in the Supreme Court
Slaughterhouse Cases
United States v. E. C. Knight Co.
Swift & Company v. United States
Standard Oil Company of New Jersey v. United States
Nebbia v. New York
Flood v. Kuhn
Goldfarb v. Virginia State Bar
Virginia Pharmacy Board v. Virginia Consumer Council
City of Columbia v. Omni Outdoor Advertising, Inc.
Leegin Creative Leather Prods. v. PSKS, Inc.