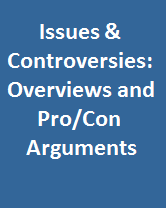 Issues & Controversies: Overviews and Pro/Con Arguments
Issues & Controversies: Overviews and Pro/Con Arguments
Editor: Facts On File
Publication Year: 2019
Publisher: Facts On File

Price: Core Collection Only

ISBN:
Category: Social Sciences - Contemporary Issues & Controversies
Book Status: Available
Table of Contents
Issues & Controversies explores and analyzes hundreds of hot topics in politics, business, government, crime, law, energy, education, health, family, science, foreign policy, race, rights, society, and culture. Since its inception, Issues & Controversies has been a core student and educator resource for understanding and writing about contemporary events and conflicts, as well as for debate prep.
This book is found in the following Credo Collections:
Table of Contents
Issue Overviews
Crime & Law Enforcement: Issue Overview
Corporations & Business: Issue Overview
Economic & Financial Policy: Issue Overview
Higher Education: Issue Overview
Climate Change: Issue Overview
Environment: Issue Overview
Housing & Homelessness: Issue Overview
Nuclear Weapons & Arms Control: Issue Overview
Censorship & Freedom of Information: Issue Overview
Intelligence & Espionage: Issue Overview
Politics & Elections: Issue Overview
Diseases & Epidemics: Issue Overview
Drugs & Alcohol: Issue Overview
Health Care: Issue Overview
Mental Health: Issue Overview
Abortion & Reproductive Rights: Issue Overview
Animal Rights: Issue Overview
Civil Liberties & Constitutional Rights: Issue Overview
Gay Rights: Issue Overview
Gun Control: Issue Overview
Racial Profiling: Issue Overview
Women's Rights: Issue Overview
Agriculture & Food Supply: Issue Overview
Internet & Computers: Issue Overview
Religion: Issue Overview
Pro Con Articles
Marijuana: Should the United States Legalize Marijuana?
Police Body Cameras: Should law enforcement agents wear body cameras?
Police Brutality: Do U.S. police departments use appropriate force when dealing with the public?
Fake News: Does Fake News Pose a Significant Problem for Democracy?
MeToo: Is the #MeToo Movement an Appropriate Response to Sexual Assault and Harassment?
Federal Minimum Wage: Is The Federal Minimum Wage Good For The Economy?
Net Neutrality: Should the Government Mandate Net Neutrality?
Religion in Public Schools: Does Religion Have A Place in Public Schools?
Climate Change: Should the U.S. Government Take Aggressive Steps to Address Climate Change?
Bullying: Should States Pass Laws Requiring Educational Institutions to Implement Anti-Bullying Measures?
Immigration Policy: Do Stringent Immigration Policies Benefit the United States?
Travel Ban and Immigration: Should the United States Ban Travelers from Certain Countries?
Gun Control Laws: Should the United States Adopt Stronger Gun Control Laws?
Food Safety: Should Congress strengthen food safety regulations?
Health Care Reform: Has the Affordable Care Act Improved Health Care in the United States?
Mandatory Vaccinations: Should Vaccination Be Mandatory?
Abortion: To What Extent Should Women Be Allowed Access to Abortion in the United States?
Planned Parenthood: Should the Federal Government Allocate Taxpayer Money to Planned Parenthood?
Gay Rights: Do People Deserve the Same Rights and Protections Regardless of Sexual Orientation, Including the Right to Marry?
Religious Freedom Laws: Should States Adopt Strong Religious Freedom Laws?
Women's Rights and Sexual Harassment: Are Further Steps Necessary to Ensure Gender Equality?
Government Shutdown: Is forcing a government shutdown a good political strategy?
Sanctuary Cities: Should Local and State Governments Adopt Policies That Protect Undocumented Immigrants from Deportation?