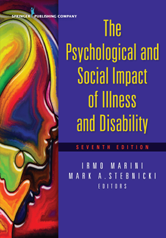 The Psychological and Social Impact of Illness and Disability
The Psychological and Social Impact of Illness and Disability
Editor/Author Marini, Irmo and Stebnicki, Mark A.
Publication Year: 2017
Publisher: Springer Publishing Company

Single-User Purchase Price: $110.00

Unlimited-User Purchase Price: $165.00
ISBN: 978-0-8261-6162-8
Category: Psychology
Image Count: 10
Book Status: Available
Table of Contents
It is substantially revised to reflect the growing disparity between the haves and the have-nots and incorporates social justice issues throughout the text.
This book is found in the following Credo Collections:
Table of Contents
Contributors
Foreword - David R. Strauser
Preface
Acknowledgments
PART I: HISTORICAL PERSPECTIVES ON ILLNESS AND DISABILITY
1. History of Treatment Toward Persons With Disabilities in America - Fox Danielle D. and Marini Irmo
2. On the Origins of Negative Attitudes Toward People With Disabilities - Livneh Hanoch
3. History of Treatment Toward Persons With Psychiatric Disabilities - Nguyen-Finn Kim
4. Models of Disability: Implications for the Counseling Profession - Smart Julie F. and Smart David W.
5. Changes in Attitudes Toward People With Handicaps - Wright Beatrice A.
PART II: THE PERSONAL IMPACT OF DISABILITY
6. Psychological Adaptation to Chronic Illness and Disability: A Primer for Counselors - Livneh Hanoch and Antonak Richard F.
7. Theories of Adjustment and Adaptation to Disability - Marini Irmo
8. Psychosocial Disparities Faced by Women With Physical Disabilities - Nosek Margaret A.
9. Beyond the Binary: Rethinking the Social Model of Disabled Sexuality - Rembis Michael A.
10. Culture, Family, and Attitudes Toward Disability - Vang Chia, Cuevas Sergio, Sharma Manisha, and Rueda Breeze
11. Quality of Life and Coping With Chronic Illness and Disability: A Temporal Perspective - Livneh Hanoch
PART III: FAMILY ISSUES IN ILLNESS AND DISABILITY
12. Family Adaptation Across Cultures Toward a Loved One Who Is Disabled - Graf Noreen M.
13. Giving Parents a Voice: A Qualitative Study of the Challenges Experienced by Parents of Children With Disabilities - Aaron Resch J., Mireles Gerardo, Benz Michael R., Grenwelge Cheryl, Peterson Rick, and Zhang Dalun
14. Psychosocial Counseling Aspects of Grief, Death, and Dying - Stebnicki Mark A.
15. Family Caregiving - Marini Irmo and Millington Michael J.
16. Counseling in the Context of Family Identity - Millington Michael J. and Madden Rosamond H.
PART IV: INTERVENTIONS AND RESOURCES
17. Treatment for Substance Use Disorders - Goodwin Lloyd R. Jr.
18. Working With Trauma-Related Mental Health Problems Among Combat Veterans of the Afghanistan and Iraq Conflicts - Cooper Lindsey N., Holliday Ryan P., Holder Nicholas D., Jackson Jamylah, North Carol S., and Surís Alina M.
19. Users of Assistive Technology: The Human Component - Brodwin Martin G., Siu Frances W., and Cardoso Elizabeth
20. Religion and Disability: Clinical, Research, and Training Considerations for Rehabilitation Professionals - Johnstone Brick, Glass Bret A., and Oliver Richard E.
21. Rehabilitation Professionals and Abuse of Women Consumers - Brodwin Martin G. and Siu Frances W.
PART V: NEW DIRECTIONS: ISSUES AND PERSPECTIVES
22. Application of Well-Being Therapy to People With Disability and Chronic Illness - Nierenberg Barry, Mayersohn Gillian, Serpa Sophia, Holovatyk Alexia, Smith Evan, and Cooper Sarah
23. Classifying Functioning, Disability, and Health: The ICF - Peterson David B.
24. From Empathy Fatigue to Empathy Resiliency - Stebnicki Mark A.
25. Obesity as a Disability: Medical, Psychosocial, and Vocational Implications - Romero Maria G. and Marini Irmo
26. Immigrants, Refugees, and Asylum Seekers: The Psychosocial Cost of War on Civilians - Stebnicki Mark A.
27. Key Concepts and Techniques for an Aging Workforce - Bruyère Susanne M., Harley Debra A., Kampfe Charlene M., VanLooy Sara, and Wadsworth John S.
28. Risk and Resilience in Military Families Experiencing Deployment: The Role of the Family Attachment Network - Riggs Shelley A. and Riggs David S.
29. Social Justice, Oppression, and Disability: Counseling Those Most in Need - Marini Irmo
30. Reflections and Considerations - Marini Irmo and Stebnicki Mark A.
APPENDIX A: PERSPECTIVE EXERCISES
Perspective Exercise 1
Common Pain, Mutual Support
Perspective Exercise 2
Who Needs This Kind of Help?
Perspective Exercise 3
Is the Person With a Disability More Important Than the Family?
Perspective Exercise 4
Enough Is Enough
Perspective Exercise 5
Fragile: Handle With Care
Perspective Exercise 6
I Am in Love With a Stranger
APPENDIX B: PERSONAL PERSPECTIVES
Chris and His Mother: Hope and Home - Moy Chris
Karen—My Daughter Forever - Stacey Linda
Living in Spite of Multiple Sclerosis - Appel Tosca
Surviving Amyotrophic Lateral Sclerosis: A Daughter's Perspective - Teplow Judy
My Life With a Disability: Continued Opportunities - Egan Paul
Experiencing Sexuality as an Adolescent With Rheumatoid Arthritis - Neumann Robert J.
My Life With Muscular Dystrophy: Lessons and Opportunities - Winske Robert P.
Life Lessons Taught to Me by My Disability - DeGraff Alfred H.