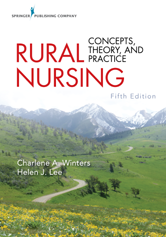 Rural Nursing
Rural Nursing
Editor/Author Winter, Charlene A. and Lee, Helen J.
Publication Year: 2018
Publisher: Springer Publishing Company

Single-User Purchase Price: $85.00

Unlimited-User Purchase Price: $127.50
ISBN: 978-0-8261-6171-0
Category: Health & Medicine - Nursing
Image Count: 13
Book Status: Available
Table of Contents
The newly revised fifth edition of this authoritative classic continues to be the only text to focus specifically on rural nursing concepts, theory, research, practice, education, public health, and healthcare delivery from a national and international perspective.
This book is found in the following Credo Collections:
Table of Contents
About the Authors
Contributors
Foreword- Fahs Pamela Stewart, PhD, RN
Preface
Acknowledgment
Section I: Rural Nursing Theory
Preface
1. Rural Nursing Theory: Past, Present, and Future - Lee Helen J. and Winters Charlene A.
2. Rural Nursing: Developing the Theory Base - Long Kathleen A. and Weinert Clarann
3. Concept Analysis - Lee Helen J., Winters Charlene A., Boland Robin L., Raph Susan Wallace, and Buehler Janice A.
4. Updating the Rural Nursing Theory Base - Lee Helen J. and McDonagh Meg K.
5. An Updated Literature Review of the Rural Nursing Theory - Molinari Deana L. and Guo Ruiling
6. Lack of Anonymity: Changes for the 21st Century - Swan Marilyn A. and Hobbs Barbara B.
7. A Program of Research in Rural Settings - Weinert Clarann, Nichols Elizabeth, and Shreffler-Grant Jean
Section II: Rural Nursing Practice
Preface
8. The Distinctive Nature and Scope of Rural Nursing Practice: Philosophical Bases - Scharff Jane Ellis
9. Understanding the Lived Experiences of the Rural Bedside Nurse - Paré Judith M., Petersen Polly, and Sharp Dayle Boynton
10. The Nurse Practitioner as Rural Healthcare Provider - Zwilling Jana G.
11. Telehealth in Rural Nursing Practice - Reeder K. M., Britson Victoria, and Nissen Mary Kay
12. Experiences of Nurses Living in Rural Communities Who Commute for Employment - Johansen Laurie J.
13. Achieving Congruence Between Rural Nursing Practice and Theory: The Synergy Model for Patient Care - Montgomery Sheila Ray and Paré Judith M.
14. Assessing Resilience in Older Frontier Women - Wagnild Gail M. and Torma Linda M.
15. Cultural Aspects of Bereavement in Rural Settings - Mayer D. "Dale" M. and Buttler-Nelson Christy
16. Beyond the Symptom–Action–Timeline Process: Explicating the Health-Needs–Action Process - Rasmussen Andrea, O'Lynn Chad, and Winters Charlene A.
Section III: Healthcare Delivery in Rural and Frontier Settings
Preface
17. Acceptability: One Component in Choice of Healthcare Provider - Shreffler-Grant Jean
18. Challenges and Opportunities to Palliative Care for Rural Veterans - Tasseff Tamara L. and Tavernier Susan S.
19. The "Golden Hour" in Rural America - Christensen Renae
20. Palliative Care for Rural Chronically Ill Adults - Schantz Jane A.
21. Healthcare Delivery Model for Critical Access Hospitals - Raph Susan Wallace and Ginnaty Rayn
22. Tribal Nations - Show Jenifer and Kinion Elizabeth
23. Improving Health Literacy About Complementary and Alternative Therapy Among Rural Dwellers - Shreffler-Grant Jean, Nichols Elizabeth, and Weinert Clarann
Section IV: Nursing Education
Preface
24. Development and Psychometric Evaluation of the Rural Knowledge Scale - Mennenga Heidi A., Johansen Laurie J., Foerster Becka, and Hendrickx Lori
25. Clinical Placements in Rural Hospitals: Expanding Nursing Students' Knowledge, Skills, and Attitudes Toward Rural Healthcare - Hendrickx Lori, Mennenga Heidi A., and Johansen Laurie J.
26. Implications for Education, Practice, and Policy - Shreffler-Grant Jean and Reimer* Marlene
27. Developing and Sustaining the Rural Nursing Workforce Through Collaborative Educational Models - Petersen Polly, Sharp Dayle Boynton, and Paré Judith M.
Section V: Rural Public Health
Preface
28. Rural Public Health Structure and Practice and the Role of the Public Health Nurse - Dotson Jo Ann Walsh and Smilie Jane
29. Substance Use and Abuse in Rural Communities - Dotson Jo Ann Walsh, Burduli Ekaterina, and McPherson Sterling
30. Engagement of Rural Residents in Research: The Rural Participatory Research Model - Kuntz Sandra W., Hernandez Tanis, and Winters Charlene A.