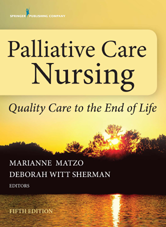 Palliative Care Nursing
Palliative Care Nursing
Editor/Author Matzo, Marianne and Sherman, Deborah Witt
Publication Year: 2018
Publisher: Springer Publishing Company

Single-User Purchase Price: $115.00

Unlimited-User Purchase Price: $172.50
ISBN: 978-0-8261-2719-8
Category: Health & Medicine - Nursing
Image Count: 28
Book Status: Available
Table of Contents
The aging population has only grown since the first edition of this comprehensive and seminal publication nearly 20 years ago. Based on the need to humanize rather than medicalize the illness experience for patients, this text delves into palliative care beyond the specific diseases affecting the patient. Instead, content focuses on the whole person and family.
This book is found in the following Credo Collections:
Table of Contents
Contributors
Foreword by Betty R. Ferrell, PhD, RN, FAAN, FPCN, CHPN
Preface
SECTION I: UNDERSTANDING PALLIATIVE CARE
1. Palliative Care Nursing - Wilkinson Anne M., Witt Sherman Deborah, Metheny Tonie, & Matzo Marianne
2. Palliative Care: Responsive to the Need for Healthcare Reform in the United States - Witt Sherman Deborah & Bookbinder Marilyn
3. Interprofessional Collaboration - Witt Sherman Deborah & Wilkinson Anne M.
4. Ethical Aspects of Palliative Care - Tarzian Anita J.
5. Legal Aspect of Palliative Care and Advance Care Planning - Perrin Kathleen O.
SECTION II: CARING FOR THE WHOLE PERSON AND THE FAMILY
6. Culture and Spirituality as Domains of Quality Palliative Care - Witt Sherman Deborah & Free David C
7. Intimacy and Sexual Health - Matzo Marianne
8. Family Caregivers - Witt Sherman Deborah
9. Communicating With Seriously Ill and Dying Patients, Their Families, and Their Healthcare Practitioners - Perrin Kathleen O.
10. Health Promotion and Rehabilitation in Palliative Care - Rosenberg John P. & Hammill Kathrine
11. Loss, Grief, and Bereavement - Potter Mertie L. & Wynne Brendan P.
12. Holistic Integrative Therapies in Palliative Care - Mariano Carla
SECTION III: PHYSICAL HEALTH: LIFE-THREATENING DISEASES
13. Cancer - Alencar Maritza C. & Guthrie Amy E.
14. End-Stage Heart Disease - Dlugasch Lucie B., Dyne Judith B.
15. Chronic Lung Disease - Brennan Mary M.
16. Neurological Disorders - Hope Gallamore Melody
17. End-Stage Renal Disease - Hain Debra J.
18. End-Stage Liver Disease - Hansen Lissi & Sasaki Anna
19. Palliative Care and HIV/AIDS - Kenny Patrick, Kirton Carl A, Krakowski Anna, & Witt Sherman Deborah
SECTION IV: PHYSICAL HEALTH: SYMPTOM MANAGEMENT
20. Pain: Assessment and Treatment Using a Multimodal Approach - Anne Indelicato Rose & Layman-Goldstein Mary
21. Dyspnea - Reno Balkstra Cynthia.
22. Anxiety, Depression, and Delirium - Loving Nicole G. & Dahlin Constance M.
23. Posttraumatic Stress Disorder and End-of-Life Care - Sorocco Kristen H. & Bratkovich Kristi L.
24. Gastrointestinal Symptoms - Blush IIR Iaymond R.
25. Fatigue - Matzo Marianne
26. Minimizing Skin Alterations - Ayello Elizabeth A. & Sibbald R. Gary
27. Peri-Death Nursing Care - Matzo Marianne & Hill Jane A.