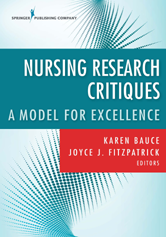 Nursing Research Critiques
Nursing Research Critiques
Editor/Author Bauce, Karen and Fitzpatrick, Joyce J.
Publication Year: 2018
Publisher: Springer Publishing Company

Single-User Purchase Price: $75.00

Unlimited-User Purchase Price: $112.50
ISBN: 978-0-8261-7541-0
Category: Health & Medicine - Nursing
Image Count: 14
Book Status: Available
Table of Contents
This is the first resource to provide APRN students and practicing clinicians with a step-by-step guide to critically analyze evidence from research studies. As part of a profession that relies on best evidence, nurses need to be able to effectively assess research articles. Equipped with these skills, nurses will lead an informed practice and improve patient care.
This book is found in the following Credo Collections:
Table of Contents
Contributors
Foreword - Patterson Barbara, PhD, RN, ANEF
Preface
Introduction - Bauce Karen and Fitzpatrick Joyce J.
Part I: Quantitative Studies
1. Maternal and Paternal Knowledge and Perceptions Regarding Infant Pain in the NICU - Critique: Cook Linda, Volpe Anita Ayrandjian, and Bauces Karen
2. Cultural Competence and Psychological Empowerment Among Acute Care Nurses - Critique: Ea Emerson E. and Gilles Salena A.
3. Palauans Who Chew Betel Nut: Social Impact of Oral Disease - Critique: Fish Anne Folte
4. A Randomised Clinical Trial of the Effectiveness of Home-Based Health Care With Telemonitoring in Patients With COPD - Critique: Grizzle Rebecca Witten
5. Using Text Reminder to Improve Childhood Immunization Adherence in the Philippines - Critique: Harris Margaret A. and Bauce Karen
6. Nurse Caring Behaviors Following Implementation of a Relationship-Centered Care Professional Practice Model - Critique: Peacock-Johnson Annette and Keresztes Patricia
7. Impact of Health Care Information Technology on Nursing Practice - Critique: Madigan Elizabeth A.
8. Geriatric Nursing Home Falls: A Single Institution Cross-Sectional Study - Critique: McCarthy Margaret
9. Resilience and Professional Quality of Life Among Military Health Care Providers - Critique: Reimer Andrew P.
10. Evaluation of a Meditation Intervention to Reduce the Effects of Stressors Associated With Compassion Fatigue Among Nurses - Critique: Rhoads Jacqueline and Fitzpatrick Joyce J.
11. Patient Safety Culture and Nurse-Reported Adverse Events in Outpatient Hemodialysis Units - Critique: Schexnayder Julie, Dolansky Mary A., and Bauce Karen
Part II: Qualitative Studies
12. Hypertensive Black Men's Perceptions of a Nurse Protocol for Medication Self-Administration - Critique: Fahs Deborah B.
13. Primary Care Experiences of People Who Live With Chronic Pain and Receive Opioids to Manage Pain: A Qualitative Methodology - Critique: Marchi Nadine M.
14. Older Adults' Perceptions of Using iPads for Improving Fruit and Vegetable Intake: An Exploratory Study - Critique: Perazzo Joseph D.
15. Summary and Future Directions - Fitzpatrick Joyce J.