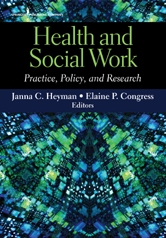 Health and Social Work
Health and Social Work
Editor/Author Heyman, Janna C. and Congress, Elaine P.
Publication Year: 2018
Publisher: Springer Publishing Company

Single-User Purchase Price: $75.00

Unlimited-User Purchase Price: $112.50
ISBN: 978-0-8261-4164-4
Category: Social Sciences - Sociology
Image Count: 16
Book Status: Available
Table of Contents
This new text illuminates the essential information about health and social work critical to understanding today's complex health care systems and policies.
This book is found in the following Credo Collections:
Table of Contents
Contributors
Foreword
Preface
PART I: The Changing Landscape and Social Workers' Roles
1. Introduction to Health and Social Work- Heyman Janna C. and White-Ryan Linda
2. Ethics and Values in the Health Field- Congress Elaine P.
3. Social Determinants of Health- Heyman Janna C., Kelly Peggy L., Reback Gary M., and Blumenstock Kelsey H.
4. Intersectionality, Social Work, and Health- Ross Abigail M., Congress Elaine P., and Matsuzaka Sara
5. Social Work Assessment- Singer Jonathan B. and Belluomini Ellen
PART II: Foci of Health Care
6. Health Promotion and Public Health- Keefe Robert H. and Lane Sandra D.
7. Integrated Behavioral Health Care- Stanhope Victoria, Heyman Janna C., Amarante James, and Doherty Meredith
8. Substance Misuse, Abuse, and Substance-Related Disorders- White-Ryan Linda
9. Palliative and End-of-Life Care- Berkman Cathy, Stein Gary L., and Glajchen Myra
10. Correctional Health Care and Psychosocial Care- Maschi Tina, Morgen Keith, Brouard Carolyn, and Smith Jaclyn
PART III: Working With Special Populations
11. Child and Family Health- Ross Abigail M., Wachman Madeline K., and Falcon Michelle
12. Health Care and Work With Older Adults and Their Caregivers- Pardasani Manoj and Allen Priscilla D.
13. Health for Immigrants and Refugees- Congress Elaine P.
14. Health and HIV/AIDS- Cederbaum Julie A., Schott Erik M. P., and Craddock Jaih
15. LGBT Health- Brown Derek Brian and Kelly Peggy L.
16. Health Care and Disability- Matich-Maroney Jeanne, Gregory Ralph, and Corcoran Vincent
17. Health Care and Serving Veterans- Crego Jose E. and Young Sharon L.
18. Future Directions for Health and Social Work- Videka Lynn and Heyman Janna C.