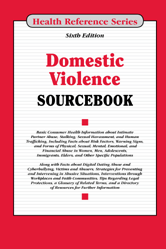 Health Reference Series: Domestic Violence Sourcebook
Health Reference Series: Domestic Violence Sourcebook
Editor/Author Williams, Angela
Publication Year: 2018
Publisher: Omnigraphics, Inc.

Single-User Purchase Price: $95.00

Unlimited-User Purchase Price: $142.50
ISBN: 978-1-78785-187-0
Category: Psychology
Image Count: 3
Book Status: Available
Table of Contents
Domestic Violence Sourcebook, Sixth Edition offers information to victims of domestic violence and to those who care about them. It defines domestic abuse, describes the risk factors for abuse, and offers tips for recognizing abuse. It describes the different types of abuse, including rape, physical violence, emotional and verbal abuse, stalking, and human trafficking. Information about abuse in specific populations--including the lesbian, gay, bisexual, and transgender communities, immigrant communities, teen and elder populations, and within the military--is also included.
This book is found in the following Credo Collections:
Table of Contents
Preface
Part I: Facts about Domestic Violence, stalking, and Sexual Harassment
Chapter 1 — What Is Domestic Violence?
Section 1.1 — Introduction to Domestic Violence
Section 1.2 — Myths and Truths about Domestic Violence
Section 1.3 — Signs of Domestic Violence or Abuse
Chapter 2 — Prevalence of Domestic Abuse
Chapter 3 — Risk Factors for Domestic Violence
Section 3.1 — Why Does Intimate Partner Violence Occur?
Section 3.2 — Individual, Relational, Community, and Societal Risk Factors
Section 3.3 — Theories of Violence
Section 3.4 — Economic stress and Intimate Partner Violence
Section 3.5 — Are Separated or Divorced Persons at Increased Risk for Intimate Partner Violence?
Section 3.6 — Domestic Violence in the Wake of Disasters
Section 3.7 — When Are Abusers Likely to Reabuse?
Chapter 4 — Detecting Abuse
Section 4.1 — Comparing Healthy and Abusive Relationships
Section 4.2 — Indicators of Domestic Violence
Section 4.3 — Signs to Check — Am I Being Abused?
Chapter 5 — Understanding Stalking
Section 5.1 — Stalking — What It Is and What You Can Do about It
Section 5.2 — Prevalence of stalking in the United States
Section 5.3 — Security Tips for stalking Victims
Section 5.4 — Documenting and Reporting Stalking
Section 5.5 — Beware of stalking Mobile Apps
Chapter 6 — Sexual Harassment
Chapter 7 — Street Harassment
Part II: Intimate Partner Abuse
Chapter 8 — Types of Intimate Partner Abuse
Section 8.1 — Primary Forms of Intimate Partner Abuse
Section 8.2 — Physical Abuse
Section 8.3 — Sexual Assault
Section 8.4 — Emotional and Verbal Abuse
Section 8.5 — Financial Abuse
Section 8.6 — Digital Abuse
Chapter 9 — When Abuse Turns Deadly
Section 9.1 — Prevalence of Intimate Partner Homicide
Section 9.2 — Intimate Partner Strangulation
Section 9.3 — Firearms and Domestic Violence
Section 9.4 — Assessing Risk of Lethality: Are You in Danger?
Chapter 10 — Physical Effects of Domestic Violence
Section 10.1 — Types of Domestic Violence Injuries
Section 10.2 — Medical Consequences of Domestic Violence
Section 10.3 — Domestic Abuse and Traumatic Brain Injury
Section 10.4 — Domestic Violence and HIV Risk
Chapter 11 — Emotional and Socioeconomic Effects of Domestic Violence
Section 11.1 — Violence against Women Can Take Lifelong Toll
Section 11.2 — Domestic Violence and Homelessness
Chapter 12 — Children and Exposure to Domestic Violence
Section 12.1 — Effects of Domestic Violence on Children
Section 12.2 — Domestic Abuse and Childhood Obesity
Part III: Abuse in Specific Populations
Chapter 13 — Child Abuse
Section 13.1 — Types of Child Abuse
Section 13.2 — Child Abuse and Neglect: Risk and Protective Factors
Section 13.3 — Consequences of Child Abuse and Neglect
Chapter 14 — Teen Dating Violence
Section 14.1 — What Is Teen Dating Violence?
Section 14.2 — Types of Teen Dating Violence and Consequences
Section 14.3 — Teen Dating Violence: Risk Factors
Section 14.4 — How Peers Can Affect Risk and Protective Factors
Section 14.5 — Safety Planning for Teens
Section 14.6 — Teen Dating Violence Statistics
Chapter 15 — Date Rape
Section 15.1 — What Is Date Rape?
Section 15.2 — Date Rape Drugs
Chapter 16 — Digital Dating Abuse
Section 16.1 — Sexting
Section 16.2 — Cyberbullying
Chapter 17 — Abuse in Pregnancy
Section 17.1 — Prevalence, Effects, Screening, and Management
Section 17.2 — Intimate Partner Violence and Perinatal Depression as Comorbidities
Chapter 18 — Disability and Maltreatment
Chapter 19 — Abuse of Men
Section 19.1 — About Domestic Violence against Men
Section 19.2 — Sexual Assault of Men
Chapter 20 — Elder Abuse
Section 20.1 — Facts about Elder Abuse and Neglect
Section 20.2 — Prevalence and Consequences of Elder Maltreatment
Chapter 21 — Abuse Reported by the Lesbian, Gay, Bisexual, and Transgender Community
Section 21.1 — Domestic Violence Encounters Reported by the Lesbian, Gay, and Bisexual Community
Section 21.2 — Mistreatment of Lesbian, Gay, Bisexual, or Transgender Elders
Section 21.3 — What Rights Do You Have as a Lesbian, Gay, Bisexual, or Transgender Victim of Domestic Violence?
Chapter 22 — Abuse within the Military
Chapter 23 — Abuse within Immigrant Communities
Section 23.1 — Violence against Immigrant and Refugee Women: What You Need to Know
Section 23.2 — Basic Questions and Answers about Residency Laws for Victims of Domestic Violence
Chapter 24 — Human Trafficking
Section 24.1 — What Is Human Trafficking?
Section 24.2 — Sex Trafficking
Section 24.3 — Civil Rights for Victims of Trafficking
Section 24.4 — Help for Victims of Trafficking
Part IV: Preventing and Intervening in Domestic Violence
Chapter 25 — Healthy Relationships Are Key to Preventing Domestic Violence
Section 25.1 — What Should You Look for in a Dating Relationship
Section 25.2 — What Healthy Dating and Romantic Relationships Look Like
Section 25.3 — Tips for Being a Nurturin Parent
Chapter 26 — Talk with Your Teen about Healthy Relationships
Chapter 27 — Preventing and Intervening in Child Abuse
Section 27.1 — When You Suspect Child Abuse or Neglect
Section 27.2 — Keep Your Child Safe from Abusers
Section 27.3 — How to Report Suspected Child Maltreatment
Chapter 28 — How the Legal System Can Help
Section 28.1 — Laws on Violence against Women
Section 28.2 — Mandatory Reporters of Child Abuse and Neglect
Chapter 29 — How You Can Help Someone Who Is in an Abusive Situation
Chapter 30 — Working with Men and Boys to End Violence against Women and Girls
Chapter 31 — Interventions and Help for Abusers
Section 31.1 — Batterer Interventions
Section 31.2 — Effectiveness of Batterer Intervention Programs
Chapter 32 — Workplace Intervention
Section 32.1 — Workplace Violence
Section 32.2 — Workplace Violence: Statistics
Section 32.3 — What to Do When a Colleague Discloses Abuse
Section 32.4 — Managerial Guide for Workplace Sexual Harassment Prevention
Chapter 33 — Preventing Workplace Violence
Chapter 34 — Intervention by Faith Communities
Chapter 35 — Intervention by Healthcare Providers
Part V: Emergency Management, Moving Out, and Moving On
Chapter 36 — Why Do Victims Stay with Their Abusers?
Chapter 37 — Staying Safe with an Abuser
Chapter 38 — Managing a Domestic Violence Emergency
Chapter 39 — Documenting Domestic Violence
Chapter 40 — Leaving an Abusive Relationship
Chapter 41 — Planning for Safety: Personal Safety and Safety of Children and Pets
Chapter 42 — Internet Safety for Victims of Domestic Violence
Section 42.1 — Technology Tips for Domestic Violence and Stalking Victims
Section 42.2 — Keeping Children Safe Online
Section 42.3 — Staying Safe on Social Networking Sites
Chapter 43 — Navigating the Legal System
Section 43.1 — Questions to Ask before You Hire an Attorney
Section 43.2 — Restraining Orders
Section 43.3 — Federal Domestic Violence Laws
Chapter 44 — Identity Protection for Abuse Victims
Section 44.1 — Tips for Protecting Your Identity
Section 44.2 — Address Confidentiality Programs
Section 44.3 — Applying for a New Social Security Number
Chapter 45 — Life after Abuse: Looking after Yourself and Moving On
Part VI: Additional Help and Information
Chapter 46 — Glossary of Terms Related to Domestic Abuse
Chapter 47 — Directory of Domestic Violence Resources
Chapter 48 — Domestic Violence Hotlines
Chapter 49 — State Child Abuse Reporting Numbers
Chapter 50 — Programs Providing Shelter for Pets of Domestic Violence Victims