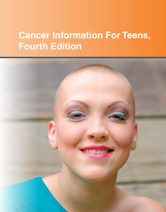 Teen Health Series: Cancer Information for Teens
Teen Health Series: Cancer Information for Teens
Editor: Mullin, Greg
Publication Year: 2018
Publisher: Omnigraphics, Inc.

Price: Core Collection Only

ISBN: 978-0-7808-1615-2
Category: Health & Medicine - Health
Image Count: 17
Book Status: Available
Table of Contents
Cancer Information for Teens, Fourth Edition presents updated facts about cancer causes, prevention, diagnosis, and treatment. It explains how cancer occurs in the body and describes some warning signs. A chapter focused on cancer myths helps teens sort fact from fiction. For teens that do have cancer, the book gives practical advice about important topics, such as which questions to ask health care providers and how to cope with treatment side effects and changes in body image.
This book is found in the following Credo Collections:
Table of Contents
Preface
Part One: Cancer Facts And Risk Factors
Chapter 1—What Is Cancer?
Chapter 2—Cancer In Young People: An Overview
Chapter 3—Cancer Facts, Myths, And Misconceptions
Chapter 4—Genes, Genetic Disorders, And Cancer
Chapter 5—Cancer And The Environment
Chapter 6—Indoor Tanning And Cancer Risk
Chapter 7—Vitamin D And Cancer Prevention
Chapter 8—Cancer Risks Associated With Smoking And Other Tobacco Use
Chapter 9—Chemicals In Meat Cooked At High Temperatures And Cancer Risk
Chapter 10—Obesity And Cancer Risk
Chapter 11—Human Papillomavirus (HPV) And Cancer Risk
Chapter 12—Oral Contraceptives And Cancer Risk
Chapter 13—Cell Phones And Cancer Risk
Chapter 14—Cancer Prevention For Girls: Why See A Gynecologist?
Chapter 15—How To Perform A Breast Self-Exam
Part Two: Cancers Of Most Concern To Teens And Young Adults
Chapter 16—Bone Cancer
Chapter 17—Brain And Spinal Cord Tumors
Chapter 18—Breast Cancer
Chapter 19—Cervical Cancer
Chapter 20—Colorectal Cancer
Chapter 21—Childhood Extracranial Germ Cell Tumors
Chapter 22—Childhood Acute Lymphoblastic Leukemia
Chapter 23—Lymphoma
Chapter 24—Esthesioneuroblastoma
Chapter 25—Melanoma And Other Skin Cancers
Chapter 26—Nasopharyngeal Cancer
Chapter 27—Neuroblastoma: Cancer Of The Nervous System
Chapter 28—Oral Cavity Cancer
Chapter 29—Soft Tissue Sarcomas
Chapter 30—Childhood Vascular Tumors
Chapter 31—Testicular Cancer
Chapter 32—Thyroid Cancer
Part Three: Cancer Awareness, Diagnosis, Treatment, And Prevention
Chapter 33—Common Moles, Dysplastic Nevi, And Risk Of Melanoma
Chapter 34—Specialized Children's Cancer Centers
Chapter 35—Cancer Staging
Chapter 36—Chemotherapy
Chapter 37—Hormone Therapy
Chapter 38—Immunotherapy
Chapter 39—Precision Medicine
Chapter 40—Radiation Therapy
Chapter 41—Stem Cell Transplant
Chapter 42—Surgery
Chapter 43—Cancer And Complementary Health Therapies
Chapter 44—Cancer Prevention
Chapter 45—Talking With Your Healthcare Team
Part Four: Cancer Survivorship
Chapter 46—Cancer Survivors: After Cancer Treatment Ends
Chapter 47—Follow-Up Care After Cancer Treatment
Chapter 48—Cancer Fatigue
Chapter 49—Cancer Pain
Chapter 50—Late Effects: Chronic Problems That Can Result After Cancer And Treatment
Chapter 51—Fertility Issues In Girls And Boys After Cancer Treatment
Chapter 52—Food Safety For People With Cancer
Part Five: When A Loved One Has Cancer
Chapter 53—When Your Parent Has Cancer
Chapter 54—When Your Brother Or Sister Has Cancer
Chapter 55—Caregivers And Their Role
Chapter 56—Advanced Cancer And Caregiving
Part Six: If You Need More Information
Chapter 57—Online Support And Mobile Apps For Cancer Patients And Survivors
Chapter 58—Web-Based Resources And Support Groups
Chapter 59—How To Find Clinical Cancer Trials