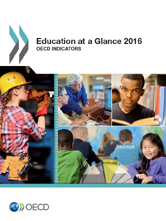 Education at a Glance 2016
Education at a Glance 2016
Editor: OECD
Publication Year: 2016
Publisher: Organisation for Economic Cooperation and Development

Price: Core Collection Only

ISBN: 978-9-26-425979-9
Category: Social Sciences - Education
Book Status: Available
Table of Contents
Education at a Glance is the authoritative source for information on the state of education around the world. It provides key information on the output of educational institutions; the impact of learning across countries; the financial and human resources invested in education; access, participation and progression in education; and the learning environment and organisation of schools.
This book is found in the following Credo Collections:
Table of Contents
A: THE OUTPUT OF EDUCATIONAL INSTITUTIONS AND THE IMPACT OF LEARNING
Indicator A1: TO WHAT LEVEL HAVE ADULTS STUDIED?
Indicator A2: How many students are expected to complete upper secondary education?
Indicator A3: How many young people are expected to complete tertiary education and what is their profile?
Indicator A4: To what extent does parents' background influence educational attainment?
Indicator A5: How does educational attainment affect PARTICIPATION IN THE LABOUR MARKET?
Indicator A6: What are the earnings advantages from education?
Indicator A7: What are the financial incentives to invest in education?
Indicator A8: How are social outcomes related to education?
Indicator A9: How many students complete tertiary education?
B: FINANCIAL AND HUMAN RESOURCES INVESTED IN EDUCATION
Indicator B1: How much is spent per student?
Indicator B2: What proportion of national wealth is spent on education?
Indicator B3: How much public and private investment in education is there?
Indicator B4: What is the total public spending on education?
Indicator B5: How much do tertiary students pay and what public support do they receive?
Indicator B6: On what resources and services is education funding spent?
Indicator B7: Which factors influence the level of expenditure on education?
C: ACCESS TO EDUCATION, PARTICIPATION AND PROGRESSION
Indicator C1: Who participates in education?
Indicator C2: HOW DO EARLY CHILDHOOD EDUCATION SYSTEMS DIFFER AROUND THE WORLD?
Indicator C3: How many students are expected to enter tertiary education?
Indicator C4: Who studies abroad and where?
Indicator C5: Transition from school to work: where are the 15-29 year-olds?
Indicator C6: How many adults participate in education and learning?
D: THE LEARNING ENVIRONMENT AND ORGANISATION OF SCHOOLS
Indicator D1: How much time do students spend in the classroom?
Indicator D2: What is the student-teacher ratio and how big are classes?
Indicator D3: How much are teachers paid?
Indicator D4: How much time do teachers spend teaching?
Indicator D5: Who are the teachers?
Indicator D6: Who are our school leaders and what do they do?