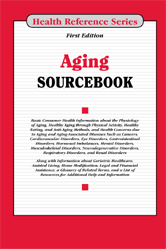 Health Reference Series: Aging Source Book
Health Reference Series: Aging Source Book
Editor: Maharaja, Siva Ganesh
Publication Year: 2017
Publisher: Omnigraphics, Inc.

Single-User Purchase Price: $95.00

Unlimited-User Purchase Price: $142.50
ISBN: 978-0-7808-1583-4
Category: Health & Medicine - Health
Image Count: 17
Book Status: Available
Table of Contents
Aging Sourcebook, First Edition provides information about physiology of aging, impact of stress on aging, and how the brain's health can make a difference. It also discusses about healthy aging through physical activities, healthy food habits, and immunizations. The book provides information on aging-associated diseases and medical conditions such as cardiovascular disorders, eye disorders, instability, mental disorders, musculoskeletal disorders, neurodegenerative disorders, respiratory disorders, and more.
Table of Contents
Preface
Part I: Physiology of Aging
Chapter 1—Aging under the Microscope
Section 1.1—What Is Aging?
Section 1.2—Genetics: Is Aging in Our Genes?
Section 1.3—Metabolism: Does Stress Really Shorten Your Life?
Section 1.4—Immune System: Can Your Immune System Still Defend as You Age?
Chapter 2—Aging across the Globe
Chapter 3—Aging in the United States
Chapter 4—Aging and Its Impact on the Body
Section 4.1—Changes to Your Heart with Age
Section 4.2—Brain Health: You Can Make a Difference!
Section 4.3—Vision
Section 4.4—Hearing Loss
Section 4.5—Menopause
Section 4.6—Effects of Aging on Other Body Parts
Chapter 5—Can You Lengthen Your Life?
Part II: Healthy Aging
Chapter 6—Quality of Life
Chapter 7—Exercise and Physical Activity
Section 7.1—Fit for Life
Section 7.2—Exercise Basics for Seniors
Section 7.3—Activities for Older Adults
Chapter 8—Sleep
Chapter 9—Skin Care and Aging
Chapter 10—Nutrition and Aging
Section 10.1—Smell and Taste: Spice of Life
Section 10.2—Choosing Healthy Meals as You Get Older
Section 10.3—Healthy Eating after 50
Section 10.4—Dietary Supplements
Section 10.5—Overcoming Roadblocks to Eating
Chapter 11—Older Adults and Cognitive Health
Section 11.1—What's Normal, What's Not
Section 11.2—Cognitive Health and Older Adults
Section 11.3—Memory Problems among Older Adults
Chapter 12—Sexuality and Aging
Section 12.1—Sexuality Later in Life
Section 12.2—Sexuality and Menopause
Section 12.3—Male Menopause
Section 12.4—Intimacy and Alzheimer Disease
Chapter 13—Mental and Emotional Health
Section 13.1—Mental Health and Older Adults
Section 13.2—Expanding Circles—Preventing Loneliness as You Age
Section 13.3—Mourning the Death of a Spouse
Chapter 14—Immunizations
Part III: Aging-Associated Diseases and Medical Conditions
Chapter 15—Aging-Associated Cancers
Section 15.1—Aging and Cancer
Section 15.2—Breast Cancer
Section 15.3—Colorectal Cancer
Section 15.4—Prostate Cancer
Chapter 16—Vascular Disorders
Section 16.1—Atherosclerosis
Section 16.2—Heart Attack
Section 16.3—High Blood Pressure
Section 16.4—Stroke
Chapter 17—Eye Disorders
Section 17.1—Cataracts
Section 17.2—Corneal Diseases and Conditions
Section 17.3—Dry Eye
Section 17.4—Glaucoma
Section 17.5—Low Vision
Section 17.6—Macular Degeneration
Chapter 18—Gastrointestinal (GI) Disorders
Section 18.1—Constipation
Section 18.2—Diverticulosis
Section 18.3—Peptic Ulcers
Chapter 19—Hormonal Imbalances
Section 19.1—Diabetes
Section 19.2—Hypothyroidism
Chapter 20—Falls (Instability)
Chapter 21—Mental Disorders
Section 21.1—Delirium
Section 21.2—Depression
Section 21.3—Anxiety Disorders
Chapter 22—Musculoskeletal Disorders
Section 22.1—Arthritis
Section 22.2—Osteoarthritis
Section 22.3—Osteoporosis
Chapter 23—Neurodegenerative Disorders
Section 23.1—Alzheimer Disease
Section 23.2—Lewy Body Dementia
Section 23.3—Parkinson Disease
Chapter 24—Respiratory Disorders
Chapter 25—Renal Disorders
Section 25.1—Chronic Kidney Disease
Section 25.2—Polycystic Kidney Disease
Section 25.3—Kidney Failure
Section 25.4—Prostate Enlargement (Benign Prostatic Hyperplasia)
Section 25.5—Urinary Incontinence
Chapter 26—Substance Abuse
Section 26.1—Alcohol Use in Older People
Section 26.2—Prescription Drug Abuse
Chapter 27—Heat Stroke
Part IV: Geriatric Healthcare
Chapter 28—Stay Healthy after 50
Section 28.1—Women: Stay Healthy after 50
Section 28.2—Men: Stay Healthy after 50
Chapter 29—Pain Management
Chapter 30—Medicines: Use Them Wisely
Chapter 31—Leaving the Hospital
Chapter 32—Complementary and Integrative Health for Older Adults
Chapter 33—Online Health Information: Is It Reliable?
Chapter 34—Assistive Technology
Section 34.1—Assistive Technology: Overview
Section 34.2—Assistive Devices for People with Hearing, Voice, Speech, or Language Disorders
Chapter 35—Personal Safety
Section 35.1—Elder Abuse and Its Impact
Section 35.2—Preventing Falls
Section 35.3—Heating in the Winter
Section 35.4—Stay Safe in Cold Weather!
Chapter 36—Caregiver Stress
Part V: Senior Living Options and End-of-Life Care
Chapter 37—Deciding What Living Solution Is Best
Section 37.1—Having the Conversation
Section 37.2—Warning Signs That a Loved One Needs Help
Chapter 38—Housing Options for Seniors
Chapter 39—Growing Old at Home
Chapter 40—Home Improvement Assistance
Chapter 41—Independence and Mobility
Chapter 42—Long-Term Care
Chapter 43—Choosing a Nursing Home or Other Long-Term Care
Section 43.1—How to Decide
Section 43.2—Ask about Physical Activities
Section 43.3—Assisted Living
Chapter 44—End-of-Life Care
Section 44.1—Hospice
Section 44.2—Palliative Care
Section 44.3—Understanding Healthcare Decisions at the End of Life
Section 44.4—What to Do after Someone Dies
Part VI: Legal and Economic Issues Related to Aging
Chapter 45—Advance Care Planning
Chapter 46—Getting Your Affairs in Order
Chapter 47—Beware of Health Scams
Chapter 48—Paying for Care
Chapter 49—Health Coverage for Retirees
Chapter 50—Pension Counseling
Part VII: Additional Help and Information
Chapter 51—Glossary of Aging Terms
Chapter 52—Directory of Resources That Provide Information about Aging