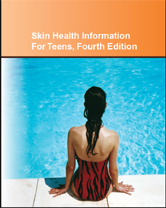 Teen Health Series: Skin Health Information for Teens
Teen Health Series: Skin Health Information for Teens
Editor/Author Maharaja, Silva Ganesh
Publication Year: 2017
Publisher: Omnigraphics, Inc.

Price: Core Collection Only

ISBN: 978-0-7808-1579-7
Category: Health & Medicine - Health
Image Count: 10
Book Status: Available
Table of Contents
Skin Health Information for Teens provides information on medical conditions that affect the skin, hair, and nails. It describes the basics of healthy skin and skin care, taking different skin types into account. It explains prevention, warning signs, and treatment options for skin cancer and spells out the risks of tanning-outside and indoors.
This book is found in the following Credo Collections:
Table of Contents
Preface
Part One: Skin Basics
Chapter 1—Why Skin Is So Important
Chapter 2—Freckles And Brown Spots
Chapter 3—Ethnicity And Skin
Chapter 4—How Smoking Affects The Way You Look
Part Two: Acne
Chapter 5—Acne Basics
Chapter 6—Treating Acne
Chapter 7—Isotretinoin Warning
Chapter 8—Polycystic Ovary Syndrome And Acne
Chapter 9—Psychological Effects Of Acne
Part Three: Infectious Conditions Of The Skin
Chapter 10—Bacterial Infections: Cellulitis, Impetigo, Necrotizing Fasciitis, And Staphylococcal Infections
Chapter 11—Pseudomonas Dermatitis (Hot Tub Rash)
Chapter 12—Lyme Disease
Chapter 13—Cold Sores And Canker Sores
Chapter 14—Human Papillomavirus (HPV) And Genital Warts
Chapter 15—Varicella (Chickenpox And Shingles)
Chapter 16—Molluscum Contagiosum
Chapter 17—Parvovirus B19 (Fifth Disease)
Chapter 18—Tinea Infections: Ringworm, Athlete's Foot, And Jock Itch
Chapter 19—Scabies
Chapter 20—Swimmer's Itch
Chapter 21—Fungal Nail Infections
Part Four: Other Diseases And Disorders Affecting The Skin
Chapter 22—Albinism
Chapter 23—Birthmarks And Giant Congenital Melanocytic Nevus
Chapter 24—Cellulite And Stretch Marks
Chapter 25—Cysts: Epidermoid (Sebaceous), Pilonidal, And Lipoma
Chapter 26—Eczema (Atopic Dermatitis)
Chapter 27—Epidermolysis Bullosa
Chapter 28—Hyperhidrosis (Excessive Sweating)
Chapter 29—Keloids
Chapter 30—Lupus
Chapter 31—Skin Cancer
Chapter 32—Common Moles And Dysplastic Nevi
Chapter 33—Pruritus (Itching)
Chapter 34—Psoriasis
Chapter 35—Pyogenic Granuloma And Pityriasis Rosea
Chapter 36—Rosacea
Chapter 37—Scleroderma
Chapter 38—Urticaria (Hives)
Chapter 39—Vitiligo
Part Five: Skin Injuries
Chapter 40—Scrapes, Cuts, And Bruises
Chapter 41—Scars And Scar Removal
Chapter 42—Burn Injuries
Chapter 43—What You Should Know About Animal Bites
Chapter 44—Insect Bites And Stings
Chapter 45—Protecting Yourself From Poisonous Plants
Chapter 46—Frostbite
Chapter 47—Blisters, Corns, And Calluses
Chapter 48—Skin Picking, Nail Biting, And Hair Pulling
Part Six: Taking Care Of Your Skin, Hair, And Nails
Chapter 49—Skin And Hair Care
Chapter 50—Sweating And Preventing Body Odor
Chapter 51—Cosmetics: Tips For Girls
Chapter 52—Sun Exposure And Staying Safe
Chapter 53—Indoor Tanning And Tanning Products
Chapter 54—Risks Of Tanning
Chapter 55—Tattoos And Tattoo Removal
Chapter 56—Piercings
Chapter 57—Hair Loss: Alopecia Areata
Chapter 58—Unwanted Hair: Removing Hair Safely
Chapter 59—Foot Care For A Lifetime
Chapter 60—Nail Care And Health
Part Seven: If You Need More Information
Chapter 61—Resources For Skin Information