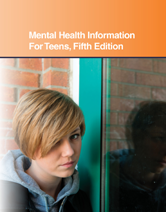 Teen Health Series: Mental Health Information for Teens
Teen Health Series: Mental Health Information for Teens
Editor/Author Maharaja, Silva Ganesh
Publication Year: 2017
Publisher: Omnigraphics, Inc.

Price: Core Collection Only

ISBN: 978-0-7808-1573-5
Category: Psychology
Book Status: Available
Table of Contents
Mental Health Information for Teens, Fifth Edition offers updated information on mental health and its importance. It presents facts about the causes, warning signs, and diagnosis of mental illnesses, and it explains how the adolescent brain differs from the adult brain. Also discussed are specific disorders, mental health treatment and the consequences of not recieving treatment.
This book is found in the following Credo Collections:
Table of Contents
Preface
Part One: Mental Health And Mental Illness
Chapter 1—Understanding Mental Health
Chapter 2—The Teen Brain: Still Under Construction
Chapter 3—Why Is Mental Health Important?
Chapter 4—Resilience: A Vital Component Of Mental Health
Chapter 5—Defining Mental Illness
Chapter 6—Causes And Warning Signs Of Mental Illness
Chapter 7—Mental Health Risk And Protective Factors
Chapter 8—Mental Health And Mental Disorders
Part Two: Mood And Anxiety Disorders
Chapter 9—Depression
Chapter 10—Premenstrual Syndrome And Premenstrual Dysphoric Disorder
Chapter 11—Seasonal Affective Disorder
Chapter 12—Bipolar Disorder
Chapter 13—Generalized Anxiety Disorder: When Worry Gets Out Of Control
Chapter 14—Social Anxiety Disorder: Always Embarrassed
Chapter 15—Posttraumatic Stress Disorder
Chapter 16—Obsessive-Compulsive Disorder: When Unwanted Thoughts Take Over
Chapter 17—Phobias And Fears
Chapter 18—Panic Disorder: When Fear Overwhelms
Part Three: Personality And Psychotic Disorders
Chapter 19—Antisocial Personality Disorders
Chapter 20—Borderline Personality Disorder
Chapter 21 —Histrionic Personality Disorder
Chapter 22—Factitious Disorders
Chapter 23—Delusional Disorder
Chapter 24—Dissociative Disorders
Chapter 25—Psychosis
Chapter 26—Schizophrenia
Chapter 27—Schizoaffective Disorder
Part Four: Behavioral, Impulse Control, And Addiction Disorders
Chapter 28—Eating Disorders
Chapter 29—Anorexia Nervosa
Chapter 30—Bulimia Nervosa
Chapter 31 —Binge Eating Disorder
Chapter 32—Body Dysmorphic Disorder
Chapter 33—Compulsive Exercise Disorder
Chapter 34—Impulse Control Disorders
Chapter 35—Adjustment Disorders
Chapter 36—Disruptive Behavior Disorders
Chapter 37—Comorbidity: Addiction And Other Mental Disorders
Part Five: Other Situations And Disorders With Mental Health Consequences
Chapter 38—Puberty And Its Relationship Mental Health
Chapter 39—Child Abuse And Its Effects On Mental Health
Chapter 40—Bullying And Youth Violence
Chapter 41 —Teen Dating Violence
Chapter 42—Cutting And Self-Harm
Chapter 43—Autism Spectrum Disorder (ASD)
Chapter 44—Attention Deficit Hyperactivity Disorder
Chapter 45—Tourette Syndrome And Tics
Chapter 46—Depression During And After Pregnancy
Part Six: Mental Health Treatments
Chapter 47—Diagnosing Mental Illness
Chapter 48—Treatment Of Children With Mental Illness
Chapter 49—Finding A Therapist Who Can Help You Heal
Chapter 50—Going To Therapy: What To Expect
Chapter 51 —Counseling And Therapy: Methods Of Treatment
Chapter 52—Common Mental Health Medications
Chapter 53—Antidepressant Medications For Children And Adolescents
Chapter 54—Brain Stimulation Therapies
Chapter 55—Complementary And Alternative Approaches To Mental Healthcare
Part Seven: Mental Wellness Topics For Teens
Chapter 56—Building Healthy Self-Esteem
Chapter 57—Improving Mental Health
Chapter 58—Dealing With Depression: Self-Help And Coping Tips
Chapter 59—Coping With Stress
Chapter 60—Coping With A Disaster Or Traumatic Event
Chapter 61—Playing Helps Kids Learn And Grow
Chapter 62—Dealing With Divorce
Chapter 63—Dealing With Grief
Chapter 64—Getting Along With Family And Friends
Chapter 65—Running Away Doesn't Solve Problems
Chapter 66—Suicide Prevention
Part Eight: If You Need More Information
Chapter 67—Additional Resources For Mental Health And Mental Illness
Chapter 68—Crisis Help And Hotlines
Chapter 69—Directory Of Mental Health Organizations