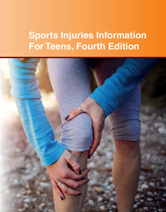 Teen Health Series: Sports Injuries Information for Teens
Teen Health Series: Sports Injuries Information for Teens
Editor/Author Maharaja, Silva Ganesh
Publication Year: 2017
Publisher: Omnigraphics, Inc.

Price: Core Collection Only

ISBN: 978-0-7808-1567-4
Category: Health & Medicine - Rehabilitation & Therapy
Image Count: 6
Book Status: Available
Table of Contents
Sports Injuries Information For Teens, Fourth Edition, offers teens a comprehensive, fact-based guide to being a healthy athlete. It includes guidelines for participating safely in sports and avoiding injury. It also discusses how to deal with injuries when they do occur.
This book is found in the following Credo Collections:
Table of Contents
Preface
Part One: Health Tips For Student Athletes
Chapter 1—Choosing The Right Sport For You
Chapter 2—Sports For Students With Disabilities
Chapter 3—Sports Physicals
Chapter 4—Nutrition For Student Athletes
Chapter 5—Water And Nutrition For Athletes
Chapter 6—Sports And Energy Drinks
Chapter 7—Handling Sports Pressure And Competition
Chapter 8—Athletes And Eating Disorders
Chapter 9—The Female Athlete Triad
Chapter 10—Abuse In Sports
Chapter 11—Overtraining Syndrome (Athlete Burnout)53
Chapter 12—Anabolic Steroids
Chapter 13—Alcohol And Marijuana: Problems For Teen Athletes
Chapter 14—Teen Athletes And The Use Of Dietary Supplements
Part Two: Sports Safety And Injury Prevention
Chapter 15—Healthy Muscles Matter
Chapter 16—The Benefits Of Preseason Conditioning
Chapter 17—Warm Up To Work Out
Chapter 18—Physical Activities For Strength And Flexibility
Chapter 19—Facts About Protective Equipment
Chapter 20—Helmets
Chapter 21—Eye Protection
Chapter 22—Bracing And Taping
Chapter 23—How To Select The Right Clothes And Shoes
Chapter 24—Safety Tips For Popular Sports
Chapter 25—Bike Safety
Chapter 26—Skateboard Safety
Chapter 27—Football Safety
Chapter 28—Water Sports Safety
Chapter 29—Winter Sports Safety
Chapter 30—Preventing Sports Injuries
Part Three: Diagnosing And Treating Common Sports Injuries
Chapter 31—Understanding Sports Injuries
Chapter 32—Overuse Injuries
Chapter 33—Heat Illness
Chapter 34—Sprains And Strains
Chapter 35—Broken Bones
Chapter 36—Growth Plate Injuries
Chapter 37—Concussions
Chapter 38—Muscle Contusions (Bruises)219
Chapter 39—Bursitis And Tendonitis
Chapter 40—Facial Injuries
Chapter 41—Eye Injuries
Chapter 42—Dental Injuries
Chapter 43—Spinal Cord Injuries
Chapter 44—Shoulder Problems
Chapter 45—Arm Fractures
Chapter 46—Elbow Injuries
Chapter 47—Wrist Fractures
Chapter 48—Groin Injuries
Chapter 49—Hip Injuries
Chapter 50—Knee Injuries
Chapter 51—Shin Splints
Chapter 52—Foot Injuries
Chapter 53—Ankle Injuries
Chapter 54—Plantar Fasciitis (Heel Spurs)307
Part Four: Caring For Injured Athletes
Chapter 55—What To Do If A Sports Injury Occurs
Chapter 56—What Do Athletic Trainers Do?321
Chapter 57—Choosing A Doctor
Chapter 58—Guidelines For Medical Decision Making
Chapter 59—Return To Play
Chapter 60—Sports Injuries And Arthritis: Understanding The Connection 341
Part Five: If You Need More Information
Chapter 61—Resources For More Information About Traumatic And Chronic Sports-Related Injuries
Chapter 62—Resources For More Information About Fitness And Exercise