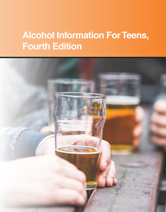 Teen Health Series: Alcohol Information for Teens
Teen Health Series: Alcohol Information for Teens
Editor/Author Jones, Keith
Publication Year: 2017
Publisher: Omnigraphics, Inc.

Price: Core Collection Only

ISBN: 978-0-7808-1563-6
Category: Health & Medicine - Health
Image Count: 31
Book Status: Available
Table of Contents
Alcohol Information for Teens, Fourth Edition provides updated information about the use and misuse of alcohol. It describes ways alcohol can affect mental and physical health. It discusses the special vulnerabilities of the teen brain and the changes in brain functioning that lead to dependency.
This book is found in the following Credo Collections:
Table of Contents
Preface
Part One: About Alcohol And Alcohol Abuse
Chapter 1— Straight Talk About Alcohol
Chapter 2— Questions And Answers About Alcohol
Chapter 3— Can Some People Consume Alcohol Safely?
Chapter 4— Problems With Caffeinated Alcoholic Beverages
Chapter 5—Binge Drinking
Chapter 6—Alcohol Poisoning
Chapter 7— Alcohol Abuse And Alcoholism
Chapter 8— The Addiction Cycle
Chapter 9— Concurrent Alcohol And Drug Use
Chapter 10— Women And Alcohol: Increased Risks
Part Two: Underage Drinking
Chapter 11— Underage Drinking In America
Chapter 12— Teens And Alcohol: A Dangerous Combination
Chapter 13— Underage Drinking Is A Serious Problem
Chapter 14— The Teen Brain: Still Under Construction
Chapter 15— Alcohol, Peers, And Peer Pressure
Chapter 16— Abusive And Underage College Drinking
Chapter 17— Emergency Department Visits Involving Underage Alcohol Use
Part Three: Alcohol's Physical Effects
Chapter 18— Understanding Alcohol's Impact On Your Health
Chapter 19— Blood Alcohol Concentration And Memory Lapses
Chapter 20— Alcohol And The Liver
Chapter 21— Alcohol And The Pancreas
Chapter 22— Alcohol-Associated Brain Damage
Chapter 23— Bone Health And Alcohol Use
Chapter 24— Alcohol Use And Cancer Risk
Chapter 25— Fetal Alcohol Spectrum Disorders
Part Four: Mental Health And Behavioral Risks Associated With Alcohol
Chapter 26— Alcohol And Mental Health
Chapter 27— Alcohol And Suicide Risk
Chapter 28— How Addiction Develops
Chapter 29— Teen Dating Violence
Chapter 30— Date Rape
Chapter 31— Sexual Risk Behaviors And Sexually Transmitted Infections
Chapter 32— Impaired Driving
Part Five: Alcoholism Treatment And Recovery
Chapter 33— Rethinking Drinking
Chapter 34— Treatment For Alcohol Problems
Chapter 35— Alcohol Withdrawal And Delirium Tremens
Chapter 36— Sobriety: The First 30 Days.
Chapter 37— Long-Term Addiction Recovery
Chapter 38— Coping With Cravings And Urges To Drink
Part Six: Alcoholism In The Family
Chapter 39— Parental Alcohol Use and Its Effects On Children
Chapter 40— The Dynamics Of An Alcoholic Family
Chapter 41— A Family History Of Alcoholism: Are You At Risk?
Chapter 42— What To Do If A Family Member Abuses Alcohol
Chapter 43— Impact Of Alcoholism On Family And Children
Part Seven: If You Need More Information
Chapter 44— Alcohol Treatment And Recovery Resources
Chapter 45— Organizations Providing Information About Alcohol And Substance Abuse