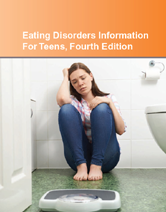 Teen Health Series: Eating Disorders Information for Teens
Teen Health Series: Eating Disorders Information for Teens
Editor: Jones, Keith
Publication Year: 2017
Publisher: Omnigraphics, Inc.

Price: Core Collection Only

ISBN: 978-0-7808-1559-9
Category: Health & Medicine - Health
Book Status: Available
Table of Contents
Eating Disorders Information for Teens, 4th Edition, explains how to recognize eating disorders, their diagnosis, and treatment; and provides guidelines for relapse prevention. Facts about medical consequences, co-occurring conditions, and other diseases that may be complicated by an eating disorder are also included. A special section reports on healthy weight management and exercise plans.
This book is found in the following Credo Collections:
Table of Contents
Preface
Part One: Eating Disorders And Their Risk Factors
Chapter 1—Facts About Eating Disorders
Chapter 2—Identifying Healthy Eating Patterns
Chapter 3—Causes And Risk Factors For Eating Disorders
Chapter 4—Eating Disorders—Not Just A Women's Issue
Chapter 5—Eating Disorders: What To Watch For
Chapter 6—Negative Body Image May Contribute To Eating Disorders
Chapter 7—Genetics And The Impact Of Culture On Eating Disorders
Chapter 8—Media And Eating Disorders
Chapter 9—Eating Disorders Among Teens: A Cause Of Worry
Chapter 10—Bullying And Binge Eating Disorder (BED)
Chapter 11 —Weight Loss And Nutrition Myths
Part Two: Understanding Eating Disorders And Body Image Disorders
Chapter 12—Anorexia Nervosa
Chapter 13—Bulimia Nervosa
Chapter 14—Binge Eating Disorder
Chapter 15—Emotional Eating
Chapter 16—Night Eating And Sleep Eating Syndromes
Chapter 17—Orthorexia
Chapter 18—Pica
Chapter 19—Rumination Disorder
Chapter 20—Compulsive Exercise
Chapter 21 —Female Athlete Triad
Part Three: Medical Consequences And Co-Occurring Concerns
Chapter 22—Health Consequences Of Eating Disorders.
Chapter 23—Obesity And Its Consequences.107
Chapter 24—Oral Health Consequences Of Eating Disorders
Chapter 25—The Link Between Osteoporosis And Anorexia
Chapter 26—Eating Disorders And Pregnancy
Chapter 27—What Is Diabulimia?
Chapter 28—Eating Disorders And Diabetes
Chapter 29—Eating Disorders, Anxiety, And Depression
Chapter 30—Eating Disorders And Alcohol And Substance Abuse
Chapter 31—Eating Disorders And Obsessive-Compulsive Disorder
Chapter 32—Eating Disorders And Trichotillomania
Chapter 33—Eating Disorders And Posttraumatic Stress Disorder
Chapter 34—Could I Have A Mental Health Problem?
Chapter 35—Self-Injury And Eating Disorders
Part Four: Diagnosing And Treating Eating Disorders
Chapter 36—Common Symptoms Of Eating Disorders
Chapter 37—When You Suspect Someone You Know Has An Eating Disorder
Chapter 38—Diagnosing Eating Disorders
Chapter 39—Going To Therapy
Chapter 40—Treating Eating Disorders
Chapter 41 —Types Of Therapy For Eating Disorder.
Chapter 42—Pharmacotherapy: Medications For Eating Disorders
Chapter 43—Improving Your Body Image And Self-Esteem
Part Five: Maintaining Healthy Eating And Fitness Habits
Chapter 44—Building A Healthy Eating Style
Chapter 45—What Should You Really Eat?
Chapter 46—Improving Your Eating Habits
Chapter 47—Healthy Eating And Weight Management
Chapter 48—Identifying The Right Weight For Your Height
Chapter 49—Eat The Right Amount Of Calories For You
Chapter 50—Rethink Your Drink
Chapter 51 —Vegetables And Fruits For A Healthy Weight
Chapter 52—How To Choose A Safe Weight-Loss Program
Chapter 53—Healthy Eating For Vegetarians
Chapter 54—Healthy Eating For Athletes
Chapter 55—Physical Fitness ForTeens
Chapter 56—Fitness Safety For Girls279
Chapter 57—Mental Fitness
Chapter 58—Eating Disorders Relapse And Relapse Prevention
Part Six: If You Need More Information
Chapter 59—For More Information About Eating Disorders
Chapter 60—For More Information About Nutrition And Weight Management
Chapter 61 —For More Information About Physical And Mental Fitness