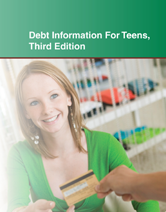 Teen Finance Series: Debt Information for Teens
Teen Finance Series: Debt Information for Teens
Editor: Tilly, John
Publication Year: 2018
Publisher: Omnigraphics, Inc.

Price: Core Collection Only

ISBN: 978-0-7808-1569-8
Category: Business, Finance & Economics - Finance, Personal
Image Count: 2
Book Status: Available
Table of Contents
Debt Information for Teens, 3rd Edition, offers updated information about economic fundamentals that impact personal finances and ways to manage money. It explains how to develop a personal budget, save for future goals, and make purchasing decisions. It also discusses establishing and using credit, the basics of borrowing, the purposes of credit reports and credit scores, and some of the most frequently encountered types of loans, including installment, vehicle, and education loans.
This book is found in the following Credo Collections:
Table of Contents
Preface
Part One: The Economy And Your Wallet
Chapter 1— Overview Of American Currency
Chapter 2— Financial Capability And Literacy
Chapter 3— The American Experience With Money
Chapter 4— The State Of The Economy In The United States
Chapter 5— A Look At The U.S. Economy
Chapter 6— Understanding U.S. Monetary Policy And Interest Rates
Chapter 7— U.S. Public Debt
Chapter 8— Federal Borrowing And Debt
Part Two: Personal Money Management
Chapter 9— Managing Money In The Real World
Chapter 10— Budgeting Basics
Chapter 11— Spending Money Wisely
Chapter 12— Saving Money
Chapter 13— Saving For College
Chapter 14— You And Your Bank
Chapter 15— Electronic Banking
Chapter 16— A Guide To Checking Accounts
Chapter 17— Protecting Yourself From Overdraft And Bounced-Check Fees
Chapter 18— Protecting Yourself From Identity Theft
Part Three: Establishing And Using Credit
Chapter 19— What You Need To Know About Credit
Chapter 20— Borrowing Basics
Chapter 21— Credit Reports And Credit Scores
Chapter 22— Your Access To Free Credit Reports
Chapter 23— Loan Basics
Chapter 24— Subsidized And Unsubsidized Loans
Chapter 25— Beware Of Predatory Lending Practices
Chapter 26— Installment Loans
Chapter 27— Vehicle Financing
Chapter 28— Financing Your Education After High School
Chapter 29— Educational Loans
Chapter 30— Private Education Loans
Chapter 31— Planning For Independence
Part Four: Credit Cards
Chapter 32— Basic Facts About Credit Cards
Chapter 33— Important Differences Between Debit And Credit Cards
Chapter 34— Choosing And Using Credit Cards
Chapter 35— Using Credit Wisely
Chapter 36— Avoiding Credit Card Pitfalls
Chapter 37— Understanding The Extra Cost Of Minimum Payments
Chapter 38— How To Rebuild Your Credit Score
Chapter 39— Protecting Your Plastic: Don't Be A Victim
Part Five: Identifying And Resolving Debt-Related Problems
Chapter 40— Federal Consumer-Rights Laws
Chapter 41— Knee Deep In Debt
Chapter 42— Consolidating Credit Card Debt
Chapter 43— Student Loan Consolidation
Chapter 44— Repaying Your Loans
Chapter 45— Facts About Credit Repair And Debt Relief Services
Chapter 46— How To Dispute Credit Report Errors
Chapter 47— Dealing With A Debt Collector
Chapter 48— Vehicle Repossession
Chapter 49— Bankruptcy: A Last Resort
Part Six: If You Need More Information
Chapter 50— Interactive Tools, Online Calculators, And Other Web-Based Resources
Chapter 51— Additional Resources For Learning More About Money