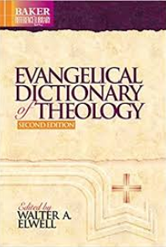 Evangelical Dictionary of Theology
Evangelical Dictionary of Theology
Editor/Author Elwell, Walter A.
Publication Year: 2017
Publisher: Baker Publishing Group

Single-User Purchase Price: $60.00

Unlimited-User Purchase Price: Not Available
ISBN: 978-0-80-103946-1
Category: Religion & Theology - Christianity
Book Status: Available
Table of Contents
Readable and reliable, this work features new articles on topics of contemporary relevance to world Christianity and freshened articles on enduring theological subjects, providing comprehensive A-Z coverage for today's theology students.
This book is found in the following Credo Collections:
Table of Contents
Preface to the Third Edition
Preface to the Second Edition
Preface to the First Edition
Contributors
Abbreviations
A
Abelard, Peter (1079–1142).
Abolitionism.
Abortion.
Absolution.
Accommodation.
Accountability.
Acedia.
Active Obedience of Christ.
Acts of Uniformity.
Actualistic Ontology.
Adam.
Adiaphora, Adiaphorists.
Administration.
Adolescence.
Adonai.
Adoption.
Adoptionism.
Adultery.
Advent.
Adventism.
Aesthetics.
Affliction.
Affusion.
African Theology.
Agape.
Age of Accountability.
Aging.
Agnosticism.
Agricola, Johann (ca. 1494–1566).
Agriculture.
À Kempis, Thomas.
Albertus Magnus (1193–1280).
Albigenses.
Alcohol, Drinking of.
Alcuin (ca. 735–804).
Alexander, Archibald (1772–1851).
Alexander of Hales (ca. 1170–1245).
Alexandrian Theology.
Allegory.
Alleine, Joseph (1634–68).
Allen, Richard (1760–1831).
All Saints' Day.
Almighty.
Alms, Almsgiving.
Altar.
Altizer, Thomas J. J.
Ambrose (ca. 339–97).
Ames, William (1576–1633).
Amillennialism.
Amish.
Amyraldianism.
Anabaptism.
Anagogical Sense of Scripture.
Analogy.
Anamnesis.
Anathema.
Ancestors, Veneration of.
Ancient of Days.
Andreae, Jakob (1528–90).
Angel of the Lord.
Angels.
Anger.
Anglican Communion.
Anglo-Catholicism.
Anhypostatic Christology.
Animals.
Annihilationism.
Anoint, Anointing.
Anomoians.
Anselm of Canterbury (1033–1109).
Anthropology.
Anthropomorphism.
Anthroposophy.
Antichrist.
Anticlericalism.
Anti-Judaism.
Antinomianism.
Antiochene Theology.
Anti-Semitism.
Antithesis.
Antitype.
Antony of Egypt (ca. 251–356).
Apartheid.
Aphrahat.
Apocalyptic.
Apocrypha, New Testament.
Apocrypha, Old Testament.
Apokatastasis.
Apollinarianism.
Apologetics.
Apologists.
Apophatic Theology.
Apostasy.
Apostle, Apostleship.
Apostles' Creed.
Apostolic Fathers.
Apostolic Succession.
Appropriation.
Aquinas, Thomas.
Archaeology, Biblical.
Archangel.
Archbishop.
Archdeacon.
Architecture.
Aridity/Desertion.
Aristotle, Aristotelianism.
Arius, Arianism.
Armageddon.
Arminianism.
Arminius, Jakob (1560–1609).
Armstrongism.
Arnold, Eberhard.
Art, Christian.
Articles, Thirty-Nine.
Articles of Religion.
Asbury, Francis (1745–1816).
Ascension Day.
Ascension of Christ.
Ascetic Theology.
Aseity.
Ash Wednesday.
Asian American Theology.
Asian Theology.
Aspersion.
Assumption of Mary.
Assurance.
Astrology.
Athanasian Creed.
Athanasius (ca. 296–373).
Atheism.
Atheism, Christian.
Athenagoras (ca. 133–ca. 190).
Atonement.
Atonement, Extent of.
Attributes, Communication of.
Attributes of God.
Aufklärung.
Augsburg Confession (1530).
Augustine of Canterbury (d. 604?).
Augustine of Hippo (354–430).
Aulén, Gustaf Emanuel Hildebrand (1879–1978).
Authority in the Church.
Authority of the Bible.
Auxiliary Bishop.
Avarice.
Averroes.
Avicenna.
Awakenings, Great.
Axiology.
Azusa Street Revival.
B
Babylon.
Baillie, John.
Balthasar, Hans Urs von (1905–88).
Ban, The.
Baptism.
Baptism, Believers'.
Baptism, Infant.
Baptism, Lay.
Baptism, Modes of.
Baptismal Regeneration.
Baptism for the Dead.
Baptism of Jesus.
Baptism with the Spirit.
Baptist Tradition, The.
Barmen, Declaration of (1934).
Barrenness.
Barth, Karl (1886–1968).
Basel, First Confession of (1534).
Basil the Great (ca. 330–79).
Baur, Ferdinand Christian.
Bavinck, Herman (1854–1921).
Baxter, Richard (1615–91).
Beatification.
Beatific Vision.
Beauty.
Bediako, Kwame (1945–2008).
Begotten.
Being.
Belgic Confession (1561).
Belief, Believe.
Believer.
Believers' Baptism.
Bellarmine, Robert (1542–1621).
Benediction.
Benedict of Nursia (ca. 480–547).
Berdyaev, Nikolai Aleksandrovich (1874–1948).
Berkeley, George (1685–1753).
Berkhof, Louis (1873–1957).
Berkouwer, Gerrit Cornelis (1903–96).
Bernard of Clairvaux (1090–1153).
Beza, Theodore (1519–1605).
Bible.
Bible, Inerrancy and Infallibility of.
Bible, Inspiration of.
Bible, Interpretation of.
Biblical Criticism.
Biblical Theology.
Bioethics.
Biography.
Birth, New.
Birth Control.
Bishop.
Black Theology.
Blasphemy.
Blasphemy against the Holy Spirit.
Bloesch, Donald G.
Blood.
Bodily Presence.
Bodily Resurrection.
Bodily Resurrection of Christ.
Body.
Body of Christ.
Boethius, Anicius Manlius Torquatus Severinus (ca. 480–524).
Bogomils.
Bohemian Brethren (Unitas Fratrum).
Bonaventure (1221–74).
Bonhoeffer, Dietrich (1906–45).
Book of Common Prayer.
Book of Concord.
Booth, Catherine (1829–90).
Booth, William (1829–1912).
Born Again.
Brethren.
Brethren of the Common Life.
British Israelitism.
Bruce, Frederick Fyvie (1910–90).
Bruderhof.
Brunner, Heinrich Emil (1889–1966).
Buber, Martin (1878–1965).
Bucer, Martin (1491–1551).
Buddhism.
Bulgakov, Sergei Nikolaevich (1870–1944).
Bullinger, Johann Heinrich (1504–75).
Bultmann, Rudolf (1884–1976).
Bunyan, John (1628–88).
Burial, Christian.
Burnt Offering.
Bushnell, Horace (1802–76).
Butler, Joseph (1692–1752).
C
Cajetan, Thomas de Vio (1469–1534).
Call, Calling.
Calvin, John (1509–64).
Calvinism.
Calvinistic Methodism.
Cambridge Platonism.
Campbell, Alexander (1788–1866).
Canon.
Canonical Approach.
Canonical Theism.
Canonization.
Canon Law.
Canon of Scripture.
Capitalism.
Capital Punishment.
Cappadocian Fathers.
Cardinal.
Cardinal Virtues.
Caroline Divines.
Cassian, John (ca. 360–435).
Casuistry.
Cataphatic Theology.
Catechisms.
Catechist.
Catechumen.
Cathari.
Catholic.
Catholic Church, Roman.
Cause, Causation.
Celibacy.
Cereal Offering.
Ceremonial Law.
Cessationism.
Chafer, Lewis Sperry (1871–1952).
Chalcedon, Council of (451).
Charismata.
Charismatic Movement.
Charity.
Chastity.
Chemnitz, Martin (1522–86).
Cherub, Cherubim.
Chesterton, Gilbert Keith (1874–1936).
Chicago School of Theology.
Chicago Statement on Biblical Inerrancy.
Childhood.
Chiliasm.
Chinese Theology.
Choose, Chosen.
Chrism.
Christ, Jesus.
Christendom.
Christening.
Christianity and Culture.
Christianity and Religions.
Christian Liberty.
Christians, Names of.
Christian Science.
Christian Socialism.
Christian Year.
Christmas.
Christology.
Christus Victor.
Chrysostom, John (ca. 347–407).
Church.
Church, Authority in the.
Church and State.
Church Councils.
Church Discipline.
Church Growth Movement.
Church of Christ.
Church of Christ, Scientist.
Church Officers.
Church of Jesus Christ of Latter-day Saints.
City.
Civil Disobedience.
Civil Religion.
Civil Rights.
Clark, Gordon Haddon (1902–85).
Cleanness, Uncleanness.
Clement of Alexandria (ca. 150–ca. 215).
Clement of Rome.
Clergy.
Cloud of Unknowing, The (ca. 1370).
Cobb, John B., Jr.
Cocceius, Johannes (1603–69).
Cohabitation.
Coke, Thomas.
Coleridge, Samuel Taylor (1772–1834).
Collegialism.
Comforter.
Command, Commandment.
Commission, Great.
Common Grace.
Common Prayer, Book of.
Communicable Attributes.
Communication of Attributes (Lat.
Communication of Operations (Lat.
Communion, Holy.
Communion of Saints.
Communitarianism, Community of Goods.
Community.
Comparative Religion.
Complementarianism.
Concept.
Conciliarism.
Concomitance.
Concord, Book of (1580).
Concord, Formula of (1577).
Concupiscence.
Concursus.
Condemnation.
Conditional Immortality.
Cone, James.
Confessing Church.
Confession.
Confession of 1967.
Confessions of Faith.
Confirmation.
Congregationalism.
Conscience.
Conscientious Objection.
Consensus Tigurinus.
Consistent Eschatology.
Constantinianism.
Constantinople, First Council of (381).
Constantinople, Second Council of (553).
Constantinople, Third Council of (681).
Constructive Theology.
Consubstantiation.
Consummation of the Age.
Contemplation.
Contextualization.
Contingency Argument.
Contingent Being.
Contraception.
Contra-Remonstrants.
Conversion.
Correlation.
Cosmological Argument.
Cosmology.
Councils, Church.
Counseling.
Counter-Reformation.
Courage.
Covenant.
Covenant of Grace.
Covenant of Redemption.
Covenant of Works.
Covenant Theology.
Creation.
Creation, New; Creature, New.
Creation and Evolution.
Creation Care.
Creationism.
Creed, Creeds.
Cremation.
Crisis Theology.
Cross, Crucifixion.
Cross, Theology of the.
Crucifixion.
Crypto-Calvinism.
Cults.
Culture.
Curate.
Curse.
Cyprian (200–258).
Cyril of Alexandria (d. 444).
Cyril of Jerusalem (ca. 310–87).
D
Dalit Theology.
Daly, Mary.
Damnation.
Danvers Statement.
Darby, John Nelson (1800–1882).
Dark Night of the Soul.
Day-Age Theory.
Day of Christ, God, the Lord.
Deacon, Deaconess.
Dead, Abode of the.
Dead, Prayers for the.
Deadly Sins, Seven.
Dead Sea Scrolls.
Dean.
Death.
Death of Christ.
Death of God Theology.
Death Penalty.
Decalogue.
Deception.
Deconstruction.
Decrees of God.
Defilement.
Deification.
Deism.
Deity of Christ.
Deliverance.
Deluge.
Demiurge.
Demon, Demonization.
Demythologization.
Denney, James.
Denominations.
Deontological Ethics.
Depravity, Total.
Derrida, Jacques.
Descartes, René (1596–1650).
Descent into Hell (Hades).
Design, Intelligent.
Design Argument.
Desire.
Despair.
Determinism.
Deus ex Machina.
Devil.
Devotio Moderna.
Dialectic.
Dichotomy.
Didache.
Dilthey, Wilhelm.
Diocese.
Diodore of Tarsus (d. ca. 394).
Dionysius the Pseudo-Areopagite.
Disability.
Discernment.
Disciple.
Discipline, Church.
Discrimination.
Dispensation, Dispensationalism.
Divine Energies.
Divine Presence.
Divinity of Christ.
Divinization.
Divorce.
Docetism.
Doctrine.
Dodd, Charles Harold.
Dogma.
Dominic, Dominicans.
Donatism.
Doorkeeper.
Dooyeweerd, Herman (1894–1977).
Dorner, Isaac August (1809–84).
Dort, Synod of (1618–19).
Double Predestination.
Double Procession of the Holy Spirit.
Doubt.
Doxology.
Drama.
Dreams and Visions.
Drechsel, Thomas.
Drink Offering.
Drunkenness.
Dualism.
Dulia.
Duns Scotus, John (1266–1308).
Duty.
Dwight, Timothy.
Dyothelitism.
E
Earth, Age of.
Earth, New.
Easter.
Ebionites.
Ecclesia.
Eck, Johann (1486–1543).
Eckhart, Meister.
Ecology.
Economics.
Ecumenical Councils.
Ecumenism.
Eddy, Mary Baker.
Education.
Edwards, Jonathan (1703–58).
Effective History.
Effectual Calling.
Egalitarianism.
Egotism.
El.
Elder.
Elect, Election.
El Elyon.
Elements, Elemental Spirits.
Ellul, Jacques (1912–94).
Elohim.
El Shaddai.
Elyah.
Emanation.
Ember Days.
Embodiment.
Emergent Christianity.
Emerson, Ralph Waldo (1803–82).
Empire.
Empiricism.
Encratites.
End of the World.
Energies, Divine.
Enhypostatic Christology.
Enlightenment, The.
Environment.
Envy.
Ephesus, Council of (431).
Ephrem the Syrian (306–73).
Epicureanism.
Epiklesis.
Epiphany.
Episcopacy.
Epistemology.
Erasmus, Desiderius (1466?–1536).
Erastianism.
Erigena, John Scotus (810–77).
Error in the Bible.
Eschatology.
Essence.
Essenes.
Establishment, Church.
Eternal Generation.
Eternal Life.
Eternal Punishment.
Eternal Security of the Believer.
Eternity.
Ethics, Christian.
Eucharist.
Eugenics.
Eusebius of Caesarea (ca. 260–ca. 339).
Euthanasia.
Eutychianism.
Evagrius (ca. 345–99).
Evangelicalism.
Evangelicals and Catholics Together.
Evangelism.
Evening Prayer, Evensong.
Everlasting Life.
Everlasting Punishment.
Evidence.
Evil.
Evil, Problem of.
Evil One.
Evil Spirits.
Evolution.
Exaltation of Jesus Christ.
Ex Cathedra.
Excommunication.
Exegesis, Biblical.
Exemplarism.
Exhortation.
Existence.
Existence of God.
Existentialism.
Ex Nihilo, Creatio.
Ex Opere Operato.
Exorcism.
Exorcist.
Experience.
Expiation.
Extent of Atonement.
External Calling.
Extra Calvinisticum.
Extra Ecclesiam Nulla Salus.
Extreme Unction.
F
Faith.
Faithfulness.
Faith Healing.
Fallen Human Nature of Christ.
Fall of Humanity.
Family.
Fast, Fasting.
Fate, Fatalism.
Father, God as.
Fathers, Church.
Feasts and Festivals.
Febronianism.
Federal Theology.
Feeling.
Felix Culpa.
Fellowship.
Fellowship Offering.
Feminism, Christian.
Feminist Theology.
Fertility and Infertility.
Fideism.
Figural Reading.
Filioque.
Finitude.
Finney, Charles Grandison.
Firstborn.
Firstfruits.
Five Points of Calvinism.
Five Ways.
Fixed Feast.
Flesh.
Flood.
Florovsky, Georges (1893–1979).
Followers of the Way.
Food.
Footwashing.
Foreknowledge.
Forgiveness.
Form.
Formation.
Form Criticism.
Formula of Concord.
Fornication.
Forsyth, Peter Taylor (1848–1921).
Fortitude.
Fortunate Fall.
Fosdick, Harry Emerson (1878–1969).
Foucault, Michel.
Fourfold Sense of Scripture.
Four Spiritual Laws, The.
Fox, George (1624–91).
Franciscan Order.
Francis of Assisi (1182–1226).
Francke, August Hermann (1663–1727).
Freedom, Christian.
Freedom, Free Will, and Determinism.
Freewill Offering.
Frei, Hans.
Friend, Friendship.
Friends, Religious Society of.
Friends of God (Ger. Gottesfreunde).
Fruit of the Spirit.
Fundamentalism.
Fundamentals, The.
Fundamental Theology.
Funeral.
G
Gadamer, Hans-Georg.
Gallican Articles, Four (1682).
Gallicanism.
Gallic Confession (1559).
Gap Theory.
Gehenna.
Gender.
General Revelation.
Generation, Eternal.
Generosity.
Genetic Engineering.
Genevan Catechism (1537).
Genre.
Gentleness.
Gerhard, Johann.
German Christians.
Gift.
Gifts, Spiritual.
Gilkey, Langdon B.
Global South Christianity.
Glorification.
Glory.
Glory, Theology of.
Glossolalia.
Gluttony.
Gnesio-Lutherans.
Gnosticism.
God.
God, Arguments for the Existence of.
God, Names of.
Godliness.
God of the Gaps.
Gogarten, Friedrich.
Golden Rule.
Good, the Good, Goodness.
Good Friday.
Good News.
Good Works.
Gospel.
Gospel, Social Implications of.
Government.
Government, Church.
Governmental Theory.
Grace.
Grace, Means of.
Grace Communion International.
Grain Offering.
Grammatical-Historical Interpretation.
Great Awakenings.
Great Commission.
Great Schism.
Great Tribulation.
Grebel, Conrad (ca. 1498–1526).
Greed.
Gregory I the Great (540–604).
Gregory of Nazianzus (ca. 329–ca. 391).
Gregory of Nyssa (ca. 335–ca. 395).
Gregory Palamas (1296–1359).
Griffin, David Ray.
Groningen Theology.
Grotius, Hugo (1583–1645).
Grounding Objection.
Guardian Angel.
Guilt.
Guilt Offering.
Gutiérrez, Gustavo.
Guyon, Madame.
H
Hades.
Hagiography.
Halfway Covenant (1662).
Halloween (All Hallows Eve).
Hamartiology.
Hands, Laying on of.
Happiness.
Hardening, Hardness of Heart.
Harnack, Adolf von (1851–1930).
Harris, Howell.
Hartshorne, Charles.
Hauerwas, Stanley.
Head, Headship.
Heal, Healing.
Heart.
Heaven.
Heavenlies, The.
Heavens, New.
Hedonism.
Hegel, Georg Wilhelm Friedrich (1770–1831).
Heidegger, Martin (1889–1976).
Heidelberg Catechism (1563).
Heilsgeschichte.
Hell.
Hellenism, Hellenization.
Helvetic Confessions.
Henry, Carl Ferdinand Howard (1913–2003).
Heresy.
Hermas, Shepherd of.
Hermeneutics.
Hermetic Literature.
Herrnhut.
Hesychasm.
Hick, John Harwood.
Hierarchy.
High Church Movement.
Higher Criticism.
High Priest.
Hilary of Poitiers (ca. 315–68).
Hinduism.
Hippolytus (ca. 170–ca. 236).
Hispanic Theology.
Historical Criticism.
Historical Theology.
Historie and Geschichte (Ger. history).
History of Interpretation.
History of Religion School.
History of Salvation.
Hodge, Archibald Alexander.
Hodge, Charles (1797–1878).
Hodgson, Peter C.
Hofman, Melchior.
Holiness.
Holiness Movement.
Holocaust, The.
Holy Communion.
Holy Ghost.
Holy of Holies.
Holy Orders.
Holy Saturday.
Holy Spirit.
Holy Week.
Homoousios.
Homosexuality.
Hooker, Richard (1554–1600).
Hope.
Hope, Theology of.
Hospitality.
Hosts, Lord of.
Household Salvation.
House of God.
Hubmaier, Balthasar (ca. 1480–1528).
Human Being.
Humanism.
Humanism, Christian.
Humanity of Christ.
Hume, David (1711–76).
Humiliation of Jesus Christ.
Humility.
Hus, Jan (ca. 1372–1415).
Hutchinson, Anne.
Hymn.
Hyperdulia.
Hypostasis.
Hypostatic Union.
I
"I Am" Sayings.
Ibn Rushd (1126–98).
Icon.
Idealism.
Identification with Christ.
Ideology.
Idolatry.
Ignatius of Antioch.
Ignatius of Loyola (1491–1556).
Illumination.
Illuminative Way, The.
Image of God.
Images, Veneration of.
Imagination.
Imago Dei.
Imitation of Christ.
Immaculate Conception.
Immanence of God.
Immanuel.
Immersion.
Immigration.
Imminence.
Immortality.
Immutability of God.
Impanation.
Impassibility of God.
Impeccability of Christ.
Imprecatory Psalms.
Imputation.
Incarnation.
Inclusive Language.
Incommunicable Attributes.
Indian Theology.
Indigenous Theologies.
Indulgences.
Inerrancy and Infallibility of the Bible.
Infallibility.
Infant Baptism.
Infanticide.
Infant Salvation.
Infertility.
Infralapsarianism.
Iniquity.
Inner Light.
Inspiration of the Bible.
Intercession.
Intermediate State.
Internal Calling.
Internal Testimony of the Holy Spirit.
Interpretation of the Bible.
Interpretation of Tongues.
Invisible Church.
Invocation of Saints.
Irenaeus (ca. 130–ca. 200).
Irish Articles (1615).
Irresistible Grace.
Islam.
Israel, New.
Israel and Prophecy.
J
Jansen, Cornelius Otto (1558–1638).
Jansenism.
Jealousy.
Jehovah.
Jehovah's Witnesses.
Jerome (ca. 347–419).
Jerusalem.
Jerusalem, New.
Jesuits.
Jesus Christ.
Jesus Prayer.
Jesus Seminar.
John of the Cross (1542–91).
John the Baptist.
Jones, Griffith.
Journey.
Joy.
Judaism.
Judaizers.
Judgment.
Judgment, Last.
Judgment, Theological.
Judgment of Nations.
Judgment Seat.
Julian of Norwich (ca. 1342–ca. 1417).
Justice.
Justification.
Justin Martyr (ca. 100–ca. 165).
Just War Theory.
K
Kabbalah (Heb. qābal, "to receive tradition").
Kant, Immanuel (1724–1804).
Kataphatic Theology.
Kempis, Thomas à.
Kenosis, Kenotic Theology.
Kerygma.
Keswick Convention.
Keys of the Kingdom.
Kierkegaard, Søren (1813–55).
Kindness.
King, Christ as.
King, Martin Luther, Jr.
Kingdom of Christ, God, Heaven.
Kneel, Kneeling.
Knowledge.
Knox, John (1514?–72).
Koinōnia.
Kulturkampf.
Kuyper, Abraham (1837–1920).
L
Labor.
Lactantius (ca. 240–ca. 320).
Lamb of God.
Landmarkism.
Language.
Last Day, Days.
Last Judgment.
Last Rites.
Last Supper.
Last Things.
Latin American Theology.
Latitudinarianism.
Latria.
Latter-day Saints.
Lauds.
Lausanne Covenant.
Law, Biblical.
Laying on of Hands.
Laziness.
Leadership.
Leibniz, Gottfried Wilhelm (1646–1716).
Leipzig Disputation (1519).
Lent.
Leo I, the Great.
Lessing, Gotthold Ephraim (1729–81).
Levinas, Emmanuel.
Lewis, Clive Staples (1898–1963).
Liberal Evangelicalism.
Liberalism, Theological.
Liberation Theology.
Liberty, Christian.
Liberty, Religious.
Lie, Lying.
Life.
Light.
Likeness of God.
Limbo.
Limited Atonement.
Lindbeck, George.
Literal Interpretation.
Liturgy.
Locke, John (1632–1704).
Logic.
Logical Positivism.
Logos.
Lollards.
Lombard, Peter.
Lonergan, Bernard Joseph Francis (1904–84).
Lord.
Lord, Jesus as.
Lord's Day.
Lord's Prayer.
Lord's Supper.
Lord's Supper, Views of.
Love.
Love Feast.
Loving-kindness.
Low Church.
Lubac, Henri de.
Lucifer.
Lust.
Luther, Martin (1483–1546).
Lutheran Tradition.
Luther's Small Catechism.
LXX (Septuagint).
M
MacDonald, George (1824–1905).
Machen, John Gresham (1881–1937).
Mackintosh, Hugh Ross.
Magic.
Magisterium.
Magnificat.
Majoristic Controversy.
Major Orders.
Male and Female.
Mammon.
Man, Son of.
Mandaeans.
Manichaeism.
Manson, Thomas Walter.
Marburg Colloquy (1529).
Marcellus, Marcellians.
Marcion (d. ca. 160).
Marion, Jean-Luc.
Maritain, Jacques.
Mark of the Beast.
Marpeck, Pilgram.
Marriage.
Marriage Feast of the Lamb.
Marrow Controversy.
Martyr, Justin.
Martyr, Peter.
Martyrdom.
Mary, Assumption of.
Mary, The Blessed Virgin.
Mass.
Matins.
Matter.
Maundy Thursday.
Maximus the Confessor (ca. 580–662).
May Laws.
McFague, Sallie.
McPherson, Aimee Semple (1890–1944).
Means of Grace.
Meat Offering.
Mediating Theology (Ger. Vermittlungstheologie).
Mediation, Mediator.
Meekness.
Meister Eckhart (ca. 1260–1328).
Melanchthon, Philip (1497–1560).
Melchiorites.
Melitian Schisms.
Melito of Sardis.
Memory.
Mennonites.
Menno Simons (ca. 1496–1561).
Mercersburg Theology.
Mercy.
Mercy Seat.
Merit.
Merton, Thomas (1915–68).
Messiah.
Messianic Banquet.
Messianic Judaism.
Metaphor.
Metaphysics.
Metempsychosis.
Methodism.
Metropolitan.
Metz, Johannes Baptist.
Middle Knowledge.
Midtribulation Rapture.
Military Service.
Millennium.
Miller, William (1782–1849).
Mind.
Ministry.
Minjung Theology.
Minor Orders.
Miracle.
Missiology.
Missional Theology.
Modalism.
Model.
Moderator.
Modernism.
Molinism.
Moltmann, Jürgen.
Monarchianism.
Monasticism.
Monergism.
Money.
Monism.
Monophysitism.
Monotheism.
Monothelitism.
Montanism.
Moon, Sun Myung.
Moral Argument.
Moral Influence Theory.
Moral Theology.
Moravian Brethren.
Mormonism.
Morning Prayer.
Mortality.
Mortal Sin.
Mortification and Vivification.
Mosaic Law.
Most Holy Place.
Mother of God.
Mott, John Raleigh (1865–1955).
Movable Feast.
Mujerista Theology.
Müntzer, Thomas.
Music, Christian.
Mystery.
Mystery of Iniquity.
Mystery Religions.
Mysticism.
Myth.
Myth of God Incarnate Debate.
N
Nag Hammadi Codices.
Name.
Narrative Theology.
Nations, Judgment of.
Native American Theology.
Naturalism.
Natural Law.
Natural Theology.
Nature, Theology of.
Nature and Grace.
Nazarene.
Necessary Being.
Nee, Watchman.
Negation, Way of.
Neo-Calvinism.
Neoevangelicalism.
Neonomianism.
Neoorthodoxy.
Neo-Pentecostalism.
Neoplatonism.
Neo-Thomism.
Nestorius, Nestorianism.
New, Newness.
New Age Movement.
New Atheism.
New Birth.
New Covenant.
New Creation, New Creature.
New England Theology.
New Evangelicalism.
New Hampshire Confession (1833).
New Haven Theology.
New Heavens and New Earth.
New Hermeneutic.
New Jerusalem.
New Light Schism.
Newman, John Henry (1801–90).
New Quest for the Historical Jesus.
New Religious Movements.
New School Theology.
New Testament.
New Testament Theology.
Niagara Conferences.
Nicaea, Council of (325).
Nicaea, Second Council of (787).
Nicene Creed.
Niebuhr, Helmut Richard (1894–1962).
Niebuhr, Reinhold (1892–1971).
Nietzsche, Friedrich Wilhelm (1844–1900).
Nihilism.
Ninety-Five Theses (1517).
Nominalism.
Nonconformity.
Nonviolence, Christian.
Northfield Conferences.
Nouvelle Théologie.
Novatian Schism.
Numerology.
Numinous, The.
Nygren, Anders (1890–1978).
O
Obedience.
Obedience of Christ.
Oberlin Theology.
Obscenity.
Occam, William of.
Occult.
Ockham, William of.
Offerings and Sacrifices.
Office, Daily (Divine).
Officers, Church.
Offices of Christ.
Ogden, Schubert Miles.
Oil, Anointing with.
Old Lights, The.
Old Roman Creed.
Old School Theology.
Old Testament.
Old Testament Theology.
Omission, Sins of.
Omnipotence.
Omnipresence.
Omniscience.
Only Begotten.
Ontological Argument.
Ontology.
Open Theism.
Oppression.
Opus Operatum.
Orality.
Ordain, Ordination.
Order of Salvation.
Orders, Holy.
Orders, Major.
Ordination of Women.
Ordo Salutis.
Origen (ca. 185–ca. 254).
Original Righteousness.
Original Sin.
Origin of Humanity.
Origin of the Soul.
Origin of the Universe.
Orr, James (1844–1913).
Orthodox Tradition.
Orthodoxy.
Osiander, Andreas (1498–1552).
Otto, Rudolf.
Overseer.
Owen, John (1616–83).
Oxford Movement.
P
Pacifism.
Paedobaptism.
Pain.
Pain of God Theology.
Palamas, Gregory.
Paley, William.
Palmer, Phoebe (1807–74).
Palm Sunday.
Panentheism.
Pannenberg, Wolfhart (1928–2014).
Pantheism.
Papacy.
Parachurch Ministry.
Paraclete.
Paradise.
Paradox.
Pardon.
Parenthood.
Parham, Charles Fox.
Parousia.
Participation.
Pascal's Wager.
Paschal Controversies.
Passion of Christ.
Passover.
Pastoral Theology.
Patience.
Patriarch.
Patripassianism.
Patristics.
Pattern.
Paulicians.
Paul of Samosata.
Peace.
Peace Offering.
Peccability of Christ.
Pelagius, Pelagianism.
Penal Substitution.
Penance.
Pentecost.
Pentecostalism.
Perfection, Perfectionism.
Perichoresis.
Perpetual Virginity of Mary.
Perseverance.
Person.
Personalism.
Person of Christ.
Peter, Primacy of.
Peter Lombard (ca. 1100–1160).
Peter Martyr Vermigli (1499–1562).
Pharisees.
Phenomenology of Religion.
Philippists.
Philo.
Philokalia (Gk. philos, "lover"; kalia, "the beautiful, excellent").
Philosophy.
Philosophy of Religion.
Photian Schism.
Photinians.
Phronēsis.
Physicalism.
Pietism.
Pilgrimage.
Pinnock, Clark H. (1937–2010).
Place.
Plantinga, Alvin.
Plato, Platonism.
Plenary Inspiration.
Plotinus.
Pneumatology.
Pneumatomachians.
Political Theology.
Polity.
Polygamy.
Polytheism.
Poor, Poverty.
Pope.
Pornography.
Porter.
Positive Thinking.
Positivism.
Possession, Demon.
Postcolonial Theory.
Postlapsarianism.
Postliberal Theology.
Postmillennialism.
Postmodernism.
Postsecularism.
Posttribulation Rapture.
Poverty.
Power, Powers.
Practical Theology.
Pragmatism.
Praise.
Prayer.
Prayers for the Dead.
Preach, Preaching.
Prebendary.
Predestination.
Preexistence of Christ.
Preexistence of the Soul.
Prelacy.
Premillennialism.
Presbyter.
Presbyterianism.
Presence, Divine.
Preterition.
Pretribulation Rapture.
Prevenient Grace.
Pride.
Priest, Christ as.
Priesthood.
Priests and Levites.
Princeton Theology, Old.
Principalities and Powers.
Priscillianism.
Probabilism, Probabiliorism.
Problem of Evil.
Procession of the Spirit.
Process Theology.
Prolegomena.
Promise.
Prooftext.
Prophecy, Prophet.
Prophet, Christ as.
Propitiation.
Proposition.
Prosperity Gospel.
Protestantism.
Providence of God.
Prudence.
Pseudo-Dionysius the Areopagite.
Psychology and Christianity.
Psychology of Religion.
Punishment.
Purgative Way, The.
Purgatory.
Puritanism.
Q
Quadragesima.
Quadrilateral, Wesleyan.
Quakers.
Queer Theology.
Quest for the Historical Jesus.
Quicunque Vult.
Quietism.
Quimby, Phineas Parkhurst.
Quinquagesima.
Qumran.
R
Racism.
Racovian Catechism (1605).
Radical Orthodoxy.
Radical Reformation.
Radical Theology.
Rahner, Karl (1904–84).
Ramm, Bernard (1916–92).
Ramus, Peter (1515–72).
Ransom.
Rapture of the Church.
Rationalism.
Rauschenbusch, Walter.
Reader.
Realism.
Realism, Scottish.
Realized Eschatology.
Real Presence.
Reason.
Rebaptism.
Rebirth.
Recapitulation.
Reconciliation.
Rector.
Redeemer, Redemption.
Reformation, Catholic.
Reformation, Protestant.
Reformed Epistemology.
Reformed Tradition.
Regeneration.
Regeneration, Baptismal.
Regula Fidei.
Reid, Thomas.
Reincarnation.
Relativism.
Relics.
Religion, Phenomenology of.
Religion, Religious.
Religion, Sociology of.
Religionless Christianity.
Religionsgeschichte.
Religious Liberty.
Religious Pluralism.
Remarriage.
Remission of Sins.
Remnant.
Remonstrants.
Renewal, Church.
Repentance.
Reprobation.
Responsibility.
Ressourcement.
Resurrection of Christ.
Resurrection of the Dead.
Retaliation.
Retrieval.
Revelation.
Revenge.
Revisionist Theology.
Revival, Spiritual.
Revivalism.
Reward.
Riches.
Ricoeur, Paul (1913–2005).
Righteousness.
Righteousness, Original.
Rights, Human.
Ritschl, Albrecht (1822–89).
Ritual.
Roman Catholicism.
Roman Creed, Old.
Romanticism.
Rorty, Richard.
Rowland, Daniel.
Ruether, Rosemary Radford.
Rule of Faith (Lat. regula fidei).
Rural Dean.
Russell, Charles Taze.
Rutherford, Joseph Franklin.
S
Sabaoth.
Sabbatarianism.
Sabbath.
Sabellianism.
Sacrament.
Sacred Space.
Sacrifice.
Sadducees.
Said, Edward.
Saint, Saintliness.
Saints, Invocation of.
Saints, Veneration of.
Salvation.
Salvation Army, The.
Salvation History.
Sanctification.
Sardica, Council of (343–44).
Sartre, Jean-Paul.
Satan (Heb. śāṭān, "adversary").
Satanism.
Satisfaction.
Sattler, Michael.
Saumer Academy.
Savior.
Savoy Conference (1661).
Saxon Confession (1551).
Sayers, Dorothy Leigh (1893–1957).
Sayings of Jesus.
Scapegoat.
Schaeffer, Francis (1912–84).
Schaff, Philip (1819–93).
Schism (Gk. schisma, "division").
Schism, Great (1054).
Schlatter, Adolf von (1852–1938).
Schleiermacher, Friedrich Daniel Ernst (1768–1834).
Schleitheim, Seven Articles of.
Scholasticism.
Scholasticism, Protestant.
Schüssler Fiorenza, Elisabeth.
Schwabach, Articles of (1529).
Schweitzer, Albert.
Science and Theology.
Scientia Media.
Scientific Creationism.
Scofield, Cyrus Ingerson (1843–1921).
Scopes Trial (1925).
Scots Confession (1560).
Scottish Realism.
Scripture.
Scripture, Interpretation of the Bible as.
Second Advent of Christ.
Second Chance.
Second Coming of Christ.
Second Death.
Second Great Awakening.
Sect, Sectarianism (Lat. secta, "party, school, faction," perhaps deriving from the past participle either of secare, "to cut, to separate," or of sequi, "to follow").
Secular Christianity.
Secular Clergy.
Secularism, Secular Humanism.
Security of the Believer.
Self-Control.
Self-Esteem, Self-Love.
Self-Existence.
Semi-Arianism.
Semi-Pelagianism.
Senses of Scripture.
Sensus Deitatis, Sensus Divinitatis.
Sensus Plenior.
Sentences.
Separation.
Separation, Marital.
Separation of Church and State.
Septuagesima.
Septuagint (LXX).
Seraph, Seraphim.
Sermon on the Mount.
Serpent.
Servant of the Lord.
Service.
Session (Lat. sessio).
Seven Articles of Schleitheim.
Seven Deadly Sins.
Seventh-day Adventism.
Sexism.
Sexual Ethics.
Seymour, William J.
Shaddai.
Shalom.
Shedd, William Greenough Thayer (1820–94).
Shenoute (AD 348–466).
Sheol.
Shrove Tuesday.
Signs and Wonders.
Simeon the New Theologian (949–1022).
Simons, Menno.
Simplicity, Divine.
Simul Iustus et Peccator.
Sin.
Sin, Conviction of.
Sin, Man of.
Sin, Mortal.
Sin, Unpardonable.
Sin, Venial (Lat. venia, "pardon, favor, kindness, forgiveness").
Singleness.
Sinlessness of Christ.
Sin Offering.
Sins, Seven Deadly.
Sins of Omission.
Situation Ethics.
Six Articles, The (1539).
Slavery.
Sloth.
Smalcald Articles (1537).
Small Catechism, Luther's.
Smith, Joseph.
Social Ethics.
Social Gospel.
Socialism, Christian.
Social Justice.
Social Theory.
Social Trinitarianism.
Society.
Society of Friends.
Society of Jesus (Jesuits).
Socinus, Faustus (1539–1604).
Sociology of Religion.
Solidarity, Human.
Solitude.
Son of God (Gk. huios tou theou).
Son of Man.
Soteriology.
Soul.
Soul Sleep.
Sovereignty of God.
Space.
Special Revelation.
Spener, Philipp Jakob (1635–1705).
Sphere Sovereignty.
Spinoza, Benedict de (1632–1677).
Spiration.
Spirit (Heb. rûaḥ, "breath of mouth," Pss. 33:6; 135:17; then "breath of air, wind," Gen. 3:8 KJV margin).
Spirit, Holy.
Spirit, Unclean.
Spirit Christology.
Spirits, Discernment of.
Spirits in Prison.
Spiritual Body (Gk. sōma pneumatikon).
Spiritual Disciplines.
Spiritual Exegesis.
Spiritual Exercises.
Spiritual Gifts.
Spirituality.
Spiritual Theology.
Spiritual Warfare.
Sprinkle, Sprinkling.
State.
States of Jesus Christ.
Steiner, Rudolf (1861–1925).
Stewardship (Gk. oikonomia, "management of a household").
Stoddard, Solomon (1643–1729).
Stoics, Stoicism.
Stone-Campbell Movement.
Storch, Nicholas.
Stott, John R.
Strauss, David Friedrich (1808–74).
Strong, Augustus Hopkins (1836–1921).
Stübner, Markus.
Subdiaconate.
Sublapsarianism.
Subordinationism.
Subsidiarity.
Substance (Lat. substantia, Gk. hypostasis, "standing under").
Substitution.
Suffering.
Suffering Servant.
Suffragan Bishop.
Sunday.
Supererogation, Works of.
Superintendent.
Supersessionism.
Supper, Lord's.
Supplication.
Supralapsarianism.
Symbolum Quicunque.
Synagogue.
Syncretism.
Synergism (Gk. synergos, "working together").
Synod (Gk. synodos, "a group of people traveling together").
Systematic Theology.
T
Tabernacle, Temple.
Tauler, Johannes.
Taylor, Nathaniel William.
Teaching.
Technology.
Teleological Argument.
Temperance.
Temple.
Temptation.
Tempter.
Ten Articles (1536).
Ten Commandments.
Tenebrae.
Teresa of Ávila (1515–82).
Terminism.
Territorialism.
Terror, Terrorism.
Tertullian (ca. 155–220).
Testament.
Testimonium Spiritus Sancti Internum.
Testimony.
Tetragrammaton.
Tetrapolitan Confession (1530).
Textual Criticism.
Textus Receptus.
Thank Offering.
Theism.
Theistic Evolution.
Theocracy.
Theodicy.
Theodore of Mopsuestia (ca. 350–428).
Theodoret of Cyrrhus (ca. 393–466).
Theologia Crucis.
Theologia Gloriae.
Theological Interpretation of Scripture.
Theological Method.
Theological Virtues.
Theology Proper.
Theophany.
Theosis.
Theosophy.
Theotokos.
Thérèse of Lisieux (1873–97).
Thielicke, Helmut (1908–86).
Third Wave.
Thirteen Articles, The (1538).
Thirty-Nine Articles (1563).
Thomas à Kempis (ca. 1379–1471).
Thomas Aquinas (1225–74).
Thomism.
Tillich, Paul (1886–1965).
Time (Gk. chronos).
Tithing.
Tolerance.
Tongues, Speaking in (Gk. glossolalia).
Torgau Articles, The.
Torrance, Thomas Forsyth (1913–2007).
Torture.
Total Depravity.
Tractarianism.
Tracy, David.
Tradition.
Traducianism.
Transcendence.
Transcendentalism.
Transcendental Meditation (TM).
Transgression.
Translation.
Transmigration of Souls.
Transubstantiation.
Trent, Council of (1545–63).
Trespass.
Tribulation.
Trichotomy.
Trinity, The Holy.
Troeltsch, Ernst (1865–1923).
Trust.
Truth.
Tübingen School.
TULIP
Turretin, Francis (1623–87).
Twelve Articles of the Peasants (1525).
Twofold State of Jesus.
Two Kingdoms Doctrine.
Two Swords Theory.
Type, Typology.
U
Ubiquity.
Ultradispensationalism.
Ultramontanism.
Unbaptized Infants.
Uncleanness.
Unction, Extreme.
Underhill, Evelyn (1875–1941).
Understanding.
Unforgivable Sin.
Unification Church.
Uniformity, Acts of.
Union, Hypostatic.
Union with Christ.
Unitarianism.
Unitas Fratrum.
Unitive Way, The.
Unity.
Universalism.
Universalism, Hypothetical.
Universe, Origin of.
Unpardonable Sin.
Ursinus, Zacharias.
Utilitarianism.
Utopianism.
Utrecht, Declaration of (1889).
V
Vainglory.
Van Til, Cornelius (1895–1987).
Vatican Council I (1869–70).
Vatican Council II (1962–65).
Veneration of Relics.
Veneration of Saints.
Vengeance.
Venial Sin.
Verbal Inspiration.
Vermigli, Peter Martyr.
Vermittlungstheologie.
Vespers.
Via Affirmativa, Via Affirmationis.
Via Analogia.
Via Eminentia.
Via Illuminativa.
Via Media.
Via Negativa.
Via Positiva.
Via Purgativa.
Via Unitiva.
Vicar.
Vicarious Atonement.
Vice.
Violence.
Virgin Birth of Jesus.
Virtue.
Visible Church.
Vision of God, Visio Dei.
Vocation.
Voice.
Voluntarism.
W
Waldenses, Waldensians.
Waldo, Peter.
Walloon Confession.
War.
Warfield, Benjamin Breckinridge (1851–1921).
Washing of Feet.
Watchman Nee (1903–72).
Watts, Isaac (1674–1748).
Wave Offering.
Way, Follower of the.
Way International, The.
Way of Affirmation.
Way of Illumination.
Way of Negation.
Way of Purification.
Wealth.
Wesley, John (1703–91).
Wesleyan Tradition.
Westcott, Brooke Foss.
Westminster Catechisms.
Westminster Confession of Faith (1647).
Whichote, Benjamin.
Whitby, Synod of (664).
Whitefield, George (1714–70).
Whitehead, Alfred North.
Whitsunday.
Wiley, Henry Orton (1877–1961).
Will.
William of Ockham (ca. 1280–1349).
Williams, John Rodman (1918–2008).
Will of God.
Wisdom.
Wissenschaft.
Witchcraft.
Witness, Witnessing.
Witness of the Holy Spirit.
Wittenberg, Concord of (1536).
Wolterstorff, Nicholas.
Woman.
Womanist Theology.
Women, Ordination of.
Wonder.
Word, Word of God, Word of the Lord.
Work.
Works.
World.
World Council of Churches, The.
Worldliness and Otherworldliness.
Worldview.
Worldwide Church of God.
Worms, Diet of (1521).
Worship.
Wrath.
Wrath of God.
Würtemberg Confession (1552).
Wycliffe, John (ca. 1330–84).
Y
Yahweh.
Yale School.
Year, Christian.
Yoder, John Howard.
Yoga.
Young, Brigham.
Youth.
Z
Zinzendorf, Nikolaus Ludwig von (1700–1760).
Zionism.
Zoroastrianism.
Zurich Agreement (1549).
Zwickau Prophets.
Zwingli, Ulrich (1484–1531).