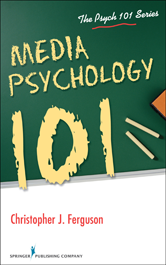 The Psych 101 Series: Media Psychology 101
The Psych 101 Series: Media Psychology 101
Editor/Author Ferguson, Christopher
Publication Year: 2015
Publisher: Springer Publishing Company

Price: Core Collection Only

ISBN: 978-0-82-619673-6
Category: Psychology
Image Count: 3
Book Status: Available
Table of Contents
The book critically examines research from cognitive, social, developmental, biological, and evolutionary approaches to psychology and addresses the interplay between media consumption and viewer behavior in such realms as advertising, body image, sex, and violence. Distinguished by its examination of research from a scientifically objective position, the book offers students not only current knowledge of media psychology but also the tools to challenge commonly held assumptions from popular advocacy and ideology.
This book is found in the following Credo Collections:
Table of Contents
About the Author
Preface
Chapter 1 Society and Media Through History
Chapter 2 Theories and Methods of 
Media Effects
Chapter 3 Advertising Effects
Chapter 4 The Boob Tube: Media and Academic Achievement
Chapter 5 Media Addiction
Chapter 6 Banned Books
Chapter 7 Media and Body Dissatisfaction
Chapter 8 Media and Teen Sexual Behavior
Chapter 9 Race and the Media
Chapter 10 Crime in the News
Chapter 11 Television/Movie Violence Research
Chapter 12 Video Game Violence Research
Chapter 13 Pornography
Chapter 14 Social Media
Chapter 15 Now What?