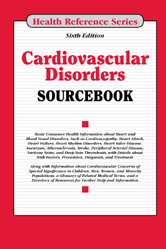 Health Reference Series: Cardiovascular Disorders Sourcebook
Health Reference Series: Cardiovascular Disorders Sourcebook
Editor/Author Judd, Sandra J.
Publication Year: 2016
Publisher: Omnigraphics, Inc.

Single-User Purchase Price: $85.00

Unlimited-User Purchase Price: $127.50
ISBN: 978-0-7808-1526-1
Category: Health & Medicine - Health
Image Count: 47
Book Status: Available
Table of Contents
Provides basic consumer health information about risk factors, symptoms, diagnosis, and treatment of disorders of the heart and blood vessels, along with prevention strategies and concerns specific to men, women, children, and minority populations. Includes index, glossary of related terms, and directory of resources.
Table of Contents
Preface
Part I: Understanding Cardiovascular Risks and Emergencies
Chapter 1—How the Heart Works.
Chapter 2—Risk Factors for Cardiovascular Disorders
Section 2.1—Coronary Heart Disease Risk Factors
Section 2.2—Risk Factors for Stroke.
Section 2.3—Smoking and Cardiovascular Disease.
Chapter 3—Conditions That Increase the Risk of Cardiovascular Disorders.
Section 3.1—Depression and Heart Disease.
Section 3.2—Diabetes and Cardiovascular Disease.
Section 3.3—High Blood Pressure and Heart Disease.
Section 3.4—High Cholesterol and Heart Disease.
Section 3.5—HIV and Heart Disease
Section 3.6—Metabolic Syndrome and Cardiovascular Disease
Section 3.7—Sleep Apnea and Cardiovascular Disease
Section 3.8—Stress and Cardiovascular Disease.
Chapter 4—Aging and Cardiovascular Disease.
Chapter 5—Recent Research on Cardiovascular Disease.
Section 5.1—When HDL Cholesterol Doesn't Protect against Heart Disease.
Section 5.2—Most Americans' Hearts Are Older than Their Age.
Section 5.3—Study Adds Evidence on Link between PTSD and Heart Disease.
Section 5.4-Air Pollution May Be "Hard" on the Body's Blood Vessels.
Section 5.5—Seafood Consumption Can Reduce Risk of Heart Disease.
Section 5.6—Relationship between Added Sugars and Risk of Cardiovascular Disease
Chapter 6—Research Regarding Genetics and Heart Disease
Section 6.1—Researchers Discover Underlying Genetics, Marker for Stroke and Cardiovascular Disease.
Section 6.2—Link between Congenital Heart Disease and Neurodevelopment Issues in Children
Section 6.3—Risk Factors Identified at Diagnosis Help Predict Outcomes for Children with Rare Heart Condition.
Section 6.4—Researchers Find Gene Variant Linked to Aortic Valve Disease.
Chapter 7—Warning Signs of Cardiovascular Emergencies.
Section 7.1—Signs and Symptoms of a Heart Attack
Section 7.2—Warning Signs of a Stroke.
Chapter 8—What to Do in a Cardiac Emergency?.
Section 8.1—Heart Attack and Sudden Cardiac Arrest: How Are They Different?.
Section 8.2—What to Do during a Heart Attack?.
Section 8.3—Symptoms and Emergency Treatment of Cardiac Arrest.
Section 8.4—What to Do during a Stroke?.
Chapter 9—Cardiopulmonary Resuscitation (CPR)
Chapter 10—Automated External Defibrillators.
Part II: Heart Disorders
Chapter 11—Problems with the Heart's Blood Supply
Section 11.1—Coronary Heart Disease.
Section 11.2—Coronary Microvascular Disease.
Chapter 12—Angina.
Chapter 13—Heart Attack (Myocardial Infarction)
Chapter 14—Sudden Cardiac Arrest.
Chapter 15—Cardiogenic Shock
Chapter 16—Cardiomyopathy.
Chapter 17—Heart Failure.
Chapter 18—Arrhythmias.
Section 18.1—What Is an Arrhythmia?.
Section 18.2—Atrial Fibrillation
Section 18.3—Brugada Syndrome
Section 18.4-Heart Block.
Section 18.5-Long QT Syndrome.
Section 18.6—Sick Sinus Syndrome.
Chapter 19—Heart Valve Disease
Section 19.1—Heart Valve Disease: Overview.
Section 19.2-Aortic Stenosis.
Section 19.3-Mitral Valve Prolapse
Section 19.4—Pulmonic Valvular Stenosis.
Chapter 20—Heart Murmurs.
Chapter 21—Infectious Diseases of the Heart.
Section 21.1-Endocarditis
Section 21.2-Myocarditis.
Section 21.3—Pericarditis.
Chapter 22—Cardiac Tumors.
Part III: Blood Vessel Disorders
Chapter 23—Atherosclerosis
Chapter 24—Carotid Artery Disease.
Chapter 25-Stroke.
Chapter 26—Aortic Disorders.
Chapter 27—Disorders of the Peripheral Arteries.
Section 27.1—Buerger Disease
Section 27.2—Fibromuscular Dysplasia
Section 27.3—Peripheral Arterial Disease.
Section 27.4—Raynaud's Phenomenon.
Chapter 28—Peripheral Venous Disorders.
Section 28.1-Deep Vein Thrombosis.
Section 28.2-Varicose Veins
Chapter 29-Vasculitis
Part IV: Cardiovascular Disorders in Specific Populations
Chapter 30—Cardiovascular Disease in Children.
Section 30.1—Basic Facts about Congenital Heart Defects
Section 30.2—Kawasaki Syndrome: A Disorder with Cardiovascular Implications.
Section 30.3—Rheumatic Heart Disease in Children.
Chapter 31—Cardiovascular Disease in Men
Section 31.1—Men and Cardiovascular Disease: A Statistical Overview .
Section 31.2—Cardiovascular Implications of Erectile Dysfunction.
Section 31.3-HIV-Infected Men at Increased Risk for Heart Disease.
Chapter 32—Cardiovascular Disease in Women.
Section 32.1—Basic Facts about Heart Disease in Women.
Section 32.2—Women and Heart Disease: Some Gender Differences
Section 32.3—Menopause and Heart Disease.
Chapter 33—Cardiovascular Disease in Minority Populations.
Section 33.1—Cardiovascular Disease among U.S. Racial and Ethnic Minorities: Some Statistics.
Section 33.2—African Americans and Cardiovascular Disease .
Section 33.3—Cardiovascular Disease in the Hispanic Population.
Section 33.4—Things to Know about Cardiovascular Disease in Asian Americans.
Section 33.5—Cardiovascular Disease among American Indians and Alaska Natives
Part V: Diagnosing Cardiovascular Disorders
Chapter 34—Recognizing Signs and Symptoms of Heart Disease.
Chapter 35—Blood Tests Used to Diagnose Cardiovascular Disorders.
Chapter 36-Electrocardiogram (ECG).
Chapter 37—Echocardiography.
Chapter 38—Carotid Ultrasound.
Chapter 39—Holter and Event Monitors.
Chapter 40—Stress Testing.
Chapter 41—Tilt-Table Testing.
Chapter 42—Coronary Angiography.
Chapter 43—Cardiac Computed Tomography (CT)
Chapter 44—Cardiac Magnetic Resonance Imaging.
Chapter 45—Coronary Calcium Scan.
Chapter 46—Nuclear Heart Scan.
Chapter 47—Heart Biopsy
Part VI: Treating Cardiovascular Disorders
Chapter 48—Medications for Treating Cardiovascular Disorders.
Chapter 49—Procedures to Treat Narrowed or Blocked Arteries.
Section 49.1—Cardiac Catheterization.
Section 49.2—Carotid Endarterectomy.
Section 49.3—Coronary Angioplasty
Section 49.4—Coronary Artery Bypass Grafting.
Section 49.5—Stents to Keep Coronary Arteries Open.
Chapter 50—Procedures to Treat Heart Rhythm Disorders
Section 50.1—Cardiac Resynchronization Therapy.
Section 50.2—Cardioversion.
Section 50.3—Catheter Ablation
Section 50.4—Subcutaneous Implantable Defibrillator.
Section 50.5—Pacemaker
Chapter 51—Procedures to Treat Heart Valve Problems.
Chapter 52—Treating Aneurysms
Chapter 53—Treating Congenital Heart Defect.
Chapter 54—Total Artificial Heart.
Chapter 55—Heart Transplant.
Chapter 56-Stem Cell Therapy
Chapter 57—Rehabilitation after Heart Attack or Stroke.
Section 57.1—Cardiac Rehabilitation.
Section 57.2-Stroke Rehabilitation
Part VII: Preventing Cardiovascular Disorders
Chapter 58—Reduce Heart Health Risks.
Chapter 59—Controlling High Blood Pressure.
Chapter 60-Controlling High Cholesterol.
Chapter 61—Steps to Control Diabetes.
Chapter 62-Heart-Healthy Eating.
Chapter 63—Complementary and Alternative Therapy to Prevent Cardiovascular Disease
Section 63.1—Supplements for the Primary Prevention of Cardiovascular Disease
Section 63.2—Vitamin E and Coronary Heart Disease.
Section 63.3—Omega-3 Fatty Acids for Prevention of Heart Disease .
Section 63.4-Tai Chi
Chapter 64—How to Prevent and Control Coronary Heart Disease Risk Factors.
Chapter 65—Physical Activity: Key to a Healthy Heart
Chapter 66—Managing Stress for a Healthy Heart.
Chapter 67—Quitting Smoking: Why It Is Important and How to Do It.
Chapter 68—Other Interventions to Help Reduce Risk of Cardiovascular Disease.
Section 68.1 —Aspirin for Reducing Your Risk of Heart Attack and Stroke.
Section 68.2—Chelation for Coronary Heart Disease.
Part VIII: Additional Help and Information
Chapter 69—Glossary of Terms Related to Cardiovascular Disorders.
Chapter 70—Directory of Resources Providing Information about Cardiovascular Disorders.