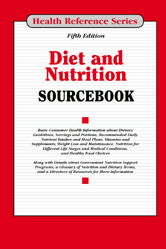 Health Reference Series: Diet & Nutrition Sourcebook
Health Reference Series: Diet & Nutrition Sourcebook
Editor/Author Shannon, Joyce B.
Publication Year: 2015
Publisher: Omnigraphics, Inc.

Single-User Purchase Price: $95.00

Unlimited-User Purchase Price: $142.50
ISBN: 978-0-78-081412-7
Category: Food, Drink, Nutrition
Image Count: 20
Book Status: Available
Table of Contents
Diet and Nutrition Sourcebook, 5th Edition, provides information on nutrition and health from the 2015 Dietary Guidelines for Americans. It details the benefits of good nutrition for children, seniors, vegetarians, athletes, and others, and gives tips for smart grocery shopping and healthy food preparation.
This book is found in the following Credo Collections:
Table of Contents
Preface
Part I: Guidelines for Healthy Food Consumption
Chapter 1—Federal Dietary Guidelines and Food Guidance System
Section 1.1—Dietary Guidelines and Key Recommendations 2015—2020
Section 1.2—Key Elements of Healthy Eating Patterns
Section 1.3—Introduction to the MyPlate Food Guidance System
Chapter 2—Portion Sizes and Servings
Section 2.1—Food Servings and Food Exchange Lists
Section 2.2—Food Exchange Lists
Section 2.3—Estimated Calorie Requirements and Energy Balance
Chapter 3—Food Labels
Section 3.1—How to Use Nutrition Labels?
Section 3.2—Understanding Claims on Food Labels
Part II: The Elements of Good Nutrition
Chapter 4—Carbohydrates
Chapter 5—Protein
Chapter 6-Fats
Section 6.1—Dietary Fats: An Overview
Section 6.2-Types of Fats
Section 6.3—Omega-3 Supplements
Chapter 7—Dietary Fiber
Chapter 8—Fluids and Hydration
Chapter 9—Vitamins
Section 9.1—Vitamin A
Section 9.2-The Vitamin B Family
Section 9.3-Vitamin C
Section 9.4-Vitamin D
Section 9.5-Vitamin E
Section 9.6-Vitamin K
Chapter 10—Minerals
Section 10.1—Calcium
Section 10.2-Iron
Section 10.3—Magnesium
Section 10.4-Zinc
Chapter 11—Food Groups
Section 11.1-Vegetables
Section 11.2—Fruits
Section 11.3-Grains
Section 11.4-Dairy
Section 11.5—Protein Food Group
Chapter 12—Phytonutrients and Their Sources
Section 12.1—Phytonutrients: An Overview
Section 12.2—Antioxidants
Section 12.3—Carotenoids
Section 12.4-Flavonoids
Section 12.5—Soy Foods: Health Benefits and Risks
Part III: Nutrition through the Life Span
Chapter 13—Feeding Infants and Toddlers
Section 13.1—Infants: Breastfeeding and Bottle Feeding
Section 13.2—Introducing Solids and Table Foods to Infants
Section 13.3—Healthy Nutrition for Toddlers
Chapter 14—Children and Food
Section 14.1—Healthy Nutrition for Children
Section 14.2—Food Allergies in Children
Section 14.3—School Lunches
Chapter 15—Nutrition Information for Teens and Young Adults
Section 15.1-Teens and Healthy Eating
Section 15.2—The Importance of Calcium for Bone Development
Section 15.3—Healthy Eating for College Students
Chapter 16—Nutrition Needs for Women
Section 16.1—Nutrition for Pregnancy
Section 16.2—Nutrition for Breastfeeding
Section 16.3—The Importance of Folic Acid for Women of Childbearing Age
Section 16.4—Nutrition for Menopause
Chapter 17—Nutrition for Older Persons
Section 17.1—Healthy Eating for Adults 50 and Over
Section 17.2-Food Safety for Older Adults .
Section 17.3—Common Eating and Cooking Problems for Older Adults
Part IV: Lifestyle and Nutrition
Chapter 18—Nutrition Statistics in America
Section 18.1—Attitudes toward Nutrition and Health
Section 18.2—Hunger and Food Security
Chapter 19—Smart Food Shopping
Section 19.1-Making Healthy Food Choices
Section 19.2-Stretch Your Food Dollar
Chapter 20—The Health Benefits of Eating Breakfast
Chapter 21—Healthy Eating at Home
Section 21.1—The Importance of Family Meals
Section 21.2-Healthy Eating Tips for Vegetarians
Section 21.3—Healthy Cooking and Snacking
Chapter 22—Healthy Use of Dietary Supplements
Section 22.1—Dietary Supplements: What You Need to Know
Section 22.2-Safety Tips for Dietary Supplement Users
Section 22.3—An Introduction to Probiotics
Section 22.4-FDA's Role in Regulating Dietary Supplements
Chapter 23—Organic Food
Section 23.1-The Market for Organic Food
Section 23.2—Understanding Organic Labeling
Chapter 24—Healthy Eating Out
Section 24.1-Tips for Eating Out
Section 24.2-Making Healthy Fast Food Choices
Chapter 25-Sports Nutrition
Section 25.1-Nutrition for Athletes
Section 25.2—Performance-Enhancing Sports Supplements
Chapter 26—Alcohol Use
Section 26.1—Recommendations for the Consumption of Alcohol
Section 26.2—Revisiting Red Wine's Health Claims
Part V: Nutrition-Related Health Concerns
Chapter 27—Metabolic Syndrome
Chapter 28—Sugar and Added Sweeteners
Section 28.1—Nutritive and Nonnutritive Sweeteners
Section 28.2—High Fructose Corn Syrup: Questions and Answers
Section 28.3—High Intensity Sweeteners Used in Food
Section 28.4—Artificial Sweeteners and Health Research
Chapter 29-Empty Calories
Chapter 30—Excess Sodium
Chapter 31—Commercial Beverages
Section 31.1—Making Healthy Beverage Choices
Section 31.2—Energy Drinks, Caffeine, and Health
Chapter 32—Food Additives and Irradiation
Section 32.1—Food Ingredients, Additives, and Colors
Section 32.2-Food Irradiation
Chapter 33-Food Safety
Section 33.1—How Food Gets Contaminated in the Production Chain?
Section 33.2—Safe Food Preparation and Handling
Section 33.3—Food Safety: Mistakes and Myths
Section 33.4-Food Safety: At Risk Groups .
Section 33.5-Mold on Foods
Section 33.6—Foodborne Illnesses
Chapter 34—The Health Consequences of Nutrition Misinformation
Part VI: Nutrition and Weight Control
Chapter 35—The Health Risks of Overweight and Obesity
Section 35.1—Health Problems Associated with Weighing Too Much
Section 35.2—Portion Size and Obesity
Section 35.3-Weight Cycling
Chapter 36-Childhood Obesity
Section 36.1 —Understanding Childhood Obesity
Section 36.2—Helping Your Overweight Child
Chapter 37-Healthy Weight Loss
Section 37.1 —Assessing Your Weight and Finding a Balance
Section 37.2—Eating for a Healthy Weight
Section 37.3-Mindful Eating
Section 37.4—How to Cut Calories from Your Diet?
Section 37.5—Avoiding Portion Size Pitfalls
Section 37.6—Improving Your Eating Habits
Chapter 38—Weight Loss and Nutrition Myths
Chapter 39—Diet Medications and Supplements
Section 39.1—Dietary Supplements for Weight Loss
Section 39.2—Beware of Miracle Weight Loss Products
Section 39.3-Bee Pollen Weight Loss Product Scams
Chapter 40—Popular Fad Diets
Chapter 41—Consuming Foods Marketed as Low Fat or Diet
Section 41.1—Fat Replacers
Section 41.2—Fat-Free versus Regular Calorie Consumption
Part VII: Nutrition for People with Other Medical Concerns
Chapter 42—Nutrition and Diabetes
Section 42.1—What People with Diabetes Need to Know about Eating
Section 42.2—Nutrition Tips to Prevent Type 2 Diabetes
Section 42.3—Diabetes and Carbohydrate Counting
Chapter 43—Nutrition and Heart Disease
Section 43.1-Eating for a Healthy Heart
Section 43.2-The DASH Eating Plan
Section 43.3—Tips to Control Your Cholesterol
Chapter 44—Lactose Intolerance
Chapter 45—Food Allergies
Section 45.1—About Food Allergies
Section 45.2—Reading Food Labels for Allergen Content
Chapter 46—Celiac Disease and a Gluten-Free Diet
Chapter 47—Eating Disorders
Chapter 48—Cancer and Nutrition
Section 48.1—Nutrition in Cancer Care
Section 48.2—Nutrition and Cancer Prevention
Section 48.3—Antioxidants and Cancer Prevention
Chapter 49—Nutrition and Oral Health
Part VIII: Additional Help and Information
Chapter 50—Glossary of Diet and Nutrition Terms
Chapter 51—Government Nutrition Support Programs
Section 51.1—Supplemental Nutrition Assistance Program (SNAP)
Section 51.2—The Special Supplemental Nutrition Program for Women, Infants, and Children (WIC Program)
Section 51.3—Child Nutrition Programs
Section 51.4—Food Distribution Programs
Chapter 52—Directory of Nutrition Information Resources