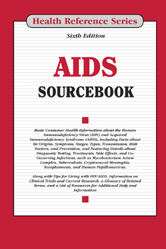 Health Reference Series: AIDS Sourcebook
Health Reference Series: AIDS Sourcebook
Editor: Jones, Keith
Publication Year: 2015
Publisher: Omnigraphics, Inc.

Single-User Purchase Price: $85.00

Unlimited-User Purchase Price: $127.50
ISBN: 978-0-78-081381-6
Category: Health & Medicine - Health
Image Count: 37
Book Status: Available
Table of Contents
AIDS Sourcebook, 6th Edition, provides basic consumer information on HIV and AIDS, including information about the stages and types of the disease and about how it is transmitted. It includes guidelines for preventing transmission and details about diagnosis and treatment. Information on living with AIDS and its accompanying complications is also included.
Table of Contents
Preface
Part I: Basic Information about Human Immunodeficiency Virus (HIV) / Acquired Immunodeficiency Syndrome (AIDS)
Chapter 1—Definition and Origin of HIV and AIDS
Chapter 2—HIV Life Cycle - How HIV Causes AIDS
Chapter 3—Stages of HIV Infection
Chapter 4—A Statistical Overview
Section 4.1—HIV/AIDS Prevalence and Incidence in the United States and Worldwide
Section 4.2—HIV/AIDS and Minority Populations
Part II: HIV/AIDS Transmission, Risk Factors, and Prevention
Chapter 5—HIV and Its Transmission: An Overview
Chapter 6—Risky Behaviors and HIV
Section 6.1—Alcohol and Substance Use - HIV Risk
Section 6.2—Smoking and HIV
Section 6.3—Sexual Risk Factors and HIV Transmission
Section 6.4—Sexually Transmitted Diseases and HIV Risk
Chapter 7—HIV Risk in the Healthcare Setting
Section 7.1—Occupational Exposure
Section 7.2—Blood Transfusion and Organ Donation Recipients
Chapter 8—HIV Transmission Rumors and Risks
Chapter 9—HIV/AIDS Prevention
Section 9.1—Safer Sex
Section 9.2—Male Circumcision
Section 9.3—Protecting Our Blood Supply
Section 9.4—Syringe Exchange Programs
Chapter 10—Preventing Mother-to-Child Transmission of HIV
Chapter 11—HIV/AIDS Risks and Prevention Strategies in Targeted Populations
Section 11.1—Youth
Section 11.2—Women
Section 11.3—Men Who Have Sex with Men
Section 11.4—Seniors
Section 11.5—Prisoners
Chapter 12—HIV Vaccines and Medications
Section 12.1—Preventive Vaccines
Section 12.2—Microbicides
Chapter 13—HIV Prophylaxis
Section 13.1—Pre-Exposure Prophylaxis
Section 13.2—Post-Exposure Prophylaxis
Part III: HIV/AIDS Diagnosis
Chapter 14—HIV Testing
Section 14.1—HIV Testing Basics
Section 14.2—HIV Testing Frequency
Section 14.3—Confidential and Anonymous Testing
Section 14.4—Opt-Out Testing
Chapter 15—HIV Diagnostic Tests
Section 15.1—HIV Test Types
Section 15.2—Rapid Oral HIV Tests
Section 15.3—HIV Home Test Kits
Chapter 16—Understanding Your Test Results
Section 16.1—What Do Your Test Results Mean?
Section 16.2—Do You Have AIDS?
Section 16.3—Signs and Symptoms of HIV and AIDS
Chapter 17—You and Your HIV/AIDS Healthcare Provider: First Steps
Section 17.1—Choosing a Provider
Section 17.2—Questions to Ask Your Doctor
Chapter 18—Navigating the Healthcare System: What You Need to Know
Part IV: Treatments and Therapies for HIV/AIDS
Chapter 19—Antiretroviral Treatment
Section 19.1—Introduction to HIV and AIDS Treatment
Section 19.2—Starting Anti-HIV Medications
Section 19.3—HIV Treatment Regimens
Section 19.4—Deciding Which Drugs to Take
Section 19.5—Prevention Benefits
Chapter 20—HIV/AIDS Medication Adherence
Chapter 21—HIV/AIDS Treatment Interruptions
Chapter 22—Monitoring HIV/AIDS Treatment Success
Section 22.1—Viral Load Test
Section 22.2—CD4 Count
Section 22.3—Drug Resistance Test
Chapter 23—HIV/AIDS Treatment Side Effects
Section 23.1—Common Side Effects
Section 23.2—Adverse Effects of Antiretroviral (ARV) Drugs
Section 23.3—Hepatotoxicity
Section 23.4—Hyperlipidemia
Section 23.5—Lactic Acidosis
Section 23.6—Lipodystrophy
Section 23.7—Osteoporosis
Section 23.8—Skin Rash
Chapter 24—HIV/AIDS Treatment Complications— Drug Interactions
Chapter 25—Complementary and Alternative (CAM) Therapies for HIV/AIDS
Chapter 26—HIV and AIDS Treatment for Children and Pregnant Women
Chapter 27—Medical Marijuana
Part V: Common Co-Occurring Infections and Complications of HIV/AIDS
Chapter 28—Opportunistic Infections and Their Relationship to HIV/AIDS
Chapter 29—Strategies for Managing Opportunistic Infections
Chapter 30—HIV/AIDS and Co-Occurring Bacterial Infections
Section 30.1—Mycobacterium Avium Complex (MAC)
Section 30.2—Tuberculosis
Chapter 31—HIV/AIDS and Co-Occurring Fungal Infections
Section 31.1—HIV/AIDS and Fungal Infections: An Overview
Section 31.2—Candidiasis
Section 31.3—Cryptococcal Meningitis
Section 31.4—Pneumocystis Carinii Pneumonia (PCP)
Chapter 32—HIV/AIDS and Co-Occurring Parasitic Infections
Section 32.1—Cryptosporidiosis
Section 32.2—Toxoplasmosis
Chapter 33—HIV/AIDS and Co-Occurring Viral Infections
Section 33.1—Cytomegalovirus (CMV)
Section 33.2—Genital Herpes
Section 33.3—Shingles (Herpes Zoster Virus)
Section 33.4—Human Papillomavirus (HPV)
Section 33.5—Progressive Multifocal Leukoencephalopathy (PML)
Section 33.6—Viral Hepatitis
Chapter 34—HIV/AIDS and Co-Occurring Cancer
Section 34.1—HIV Infection and Cancer Risk
Section 34.2—Kaposi Sarcoma
Section 34.3—AIDS-Related Lymphoma
Chapter 35—Other AIDS-Related Health Concerns
Section 35.1—Neurological Complications of AIDS
Section 35.2—Oral Health Issues
Section 35.3—Wasting Syndrome
Section 35.4—Kidney Disease
Part VI: Living with HIV Infection
Chapter 36—Coping with an HIV/AIDS Diagnosis
Chapter 37—Staying Healthy with HIV/AIDS
Section 37.1—HIV and Nutrition
Section 37.2—HIV and Exercise
Section 37.3—Mental Health
Section 37.4—Sex and Sexuality and HIV
Chapter 38—Avoiding Infections When You Have HIV/AIDS
Section 38.1—Preventing Exposure
Section 38.2—Safe Food and Water
Section 38.3—Staying Healthy while Traveling
Section 38.4—Vaccinations
Chapter 39—Life Issues When You Have HIV/AIDS
Section 39.1—Dating, Marriage, and HIV
Section 39.2—Having Children
Section 39.3—Aging with HIV/AIDS
Section 39.4—Employment
Chapter 40—HIV/AIDS Patients and Legal Rights
Section 40.1—Legal Disclosure Requirements and Other Considerations
Section 40.2—Your Rights in the Workplace
Section 40.3—Affordable Care Act
Section 40.4—How the Laws Apply to Persons with HIV
Chapter 41—Insurance and Housing Options for People with HIV
Section 41.1—Insurance Options for People with HIV
Section 41.2—Housing Options for People with HIV
Chapter 42—National HIV Testing Day
Part VII: Clinical Trials and Ongoing Research
Chapter 43—HIV/AIDS Clinical Trials - Basic Information
Chapter 44—Ongoing Research
Section 44.1—Behavioral and Clinical Surveillance
Section 44.2—Medical Monitoring Project
Part VIII: Additional Help and Information
Chapter 45—Glossary of HIV/AIDS-Related Terms
Chapter 46—Directory of Organizations for People with HIV/AIDS and Their Families and Friends