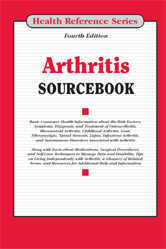 Health Reference Series: Arthritis Sourcebook
Health Reference Series: Arthritis Sourcebook
Editor: Jones,Keith
Publication Year: 2015
Publisher: Omnigraphics, Inc.

Single-User Purchase Price: $85.00

Unlimited-User Purchase Price: $127.50
ISBN: 978-0-78-081350-2
Category: Health & Medicine - Health
Image Count: 34
Book Status: Available
Table of Contents
Arthritis Sourcebook, 4th Edition, provides information about the diagnosis, treatment, and management of degenerative, inflammatory, and other forms of arthritis. It describes the symptoms and treatments of related diseases that affect the joints, tendons, ligaments, bones, and muscles. Tips for reducing joint pain and inflammation and managing arthritis-related disability are also provided.
Table of Contents
Preface
Part I: Introduction to Arthritis
Chapter 1—Understanding Bones
Chapter 2—Overview of Arthritis and Rheumatic Diseases
Chapter 3—Statistics on Arthritis in the United States
Chapter 4—Risk Factors for Arthritis
Section 4.1—Risk Factors Associated with Rheumatoid Arthritis
Section 4.2—Arthritis among Veterans
Section 4.3—Modifiable and Non-Modifiable Risk Factors for Arthritis
Chapter 5—Common Joints Affected by Arthritis
Section 5.1—Arthritis of the Wrist
Section 5.2—Arthritis of the Shoulder
Section 5.3—Arthritis of the Hip
Section 5.4—Arthritis of the Knee
Section 5.5—Arthritis of the Foot and Ankle
Part II: Types of Arthritis, Related Rheumatic Diseases, and Other Associated Medical Conditions
Chapter 6—Osteoarthritis
Chapter 7—Spinal Stenosis
Chapter 8—Rheumatoid Arthritis
Chapter 9—Arthritis and Comorbidities
Chapter 10—Childhood Arthritis
Section 10.1—Kids and Their Bones
Section 10.2—Growth Plate Injuries
Section 10.3—Juvenile Arthritis
Section 10.4—Juvenile Osteoporosis
Chapter 11—Ankylosing Spondylitis
Chapter 12—Behçet's Disease
Chapter 13—Bone Spurs, Bursitis, and Tendonitis
Section 13.1—Bone Spurs
Section 13.2—Bursitis and Tendonitis
Chapter 14—Carpal Tunnel Syndrome
Chapter 15—Fibromyalgia
Chapter 16—Gout
Chapter 17—Fibrous Dysplasia
Chapter 18—Infectious Forms of Arthritis
Section 18.1—Arthritis Associated with Lyme Disease
Section 18.2—Reactive Arthritis
Chapter 19—Lupus
Chapter 20—Dermatomyositis
Chapter 21—Osteoporosis
Section 21.1—Understanding Osteoporosis
Section 21.2—Osteoporosis and Arthritis Two Common but Different Conditions
Section 21.3—What People with RA Need to Know about Osteoporosis
Section 21.4—Osteoporosis in Men
Section 21.5—Alcoholism and Osteoporosis
Section 21.6—Oral Health and Bone Disease
Chapter 22—Osteopetrosis
Chapter 23—Paget's Disease of Bone
Chapter 24—Osteogenesis Imperfecta
Chapter 25—Polymyalgia Rheumatica and Giant Cell Arteritis
Chapter 26—Psoriasis and Psoriatic Arthritis
Section 26.1—Psoriasis
Section 26.2—Psoriatic Arthritis
Chapter 27—Scleroderma
Chapter 28—Sjögren's Syndrome
Chapter 29—Other Related Arthritic Disorders
Section 29.1—Arthritis and Human Immunodeficiency Virus
Section 29.2—Osteoporosis and Inflammatory Bowel Disease
Section 29.3—Arthritis and Influenza
Section 29.4—Arthritis and Chikungunya
Part III: Medical and Surgical Treatments for Arthritis
Chapter 30—Your Arthritis Health Care Provider
Section 30.1—Choosing a Doctor
Section 30.2—Talking with Your Doctor
Chapter 31—Medical Treatments for Osteoarthritis
Section 31.1—Non-Surgical Management
Section 31.2—Corticosteroid Injection and Viscosupplementation
Chapter 32—Drug Therapy for Rheumatoid Arthritis
Chapter 33—Surgical Procedures Used to Treat Arthritis
Section 33.1—Joint Replacement Surgery Basics
Section 33.2—Arthroscopic Surgery
Chapter 34—Types of Joint Surgeries
Section 34.1—Hip Replacement
Section 34.2—Knee Replacement
Section 34.3—Rotator Cuff (Shoulder) Treatment
Chapter 35—Help Your Arthritis Treatment Work
Section 35.1—Arthritis Challenge - The Concept of Prevention
Section 35.2—Heat and Cold Therapies for Arthritis
Part IV: Arthritis Self-Management: Strategies to Reduce Pain and Inflammation
Chapter 36—Self-Management Programs for Arthritis
Chapter 37—How to Manage Pain through Exercise
Section 37.1—Physical Activity and Arthritis
Section 37.2—Health Benefits of Water-Based Exercise
Section 37.3—Active at Any Size
Section 37.4—Physical Activity Programs
Chapter 38—Healthy Eating and Arthritis
Chapter 39—Herbs, Dietary Supplements, and Arthritis
Section 39.1—Glucosamine and Chondroitin for Osteoarthritis: What You Need to Know
Section 39.2—Flaxseed and Flaxseed Oil
Section 39.3—Omega-3 Supplements: An Introduction
Section 39.4—Thunder God Vine
Section 39.5—Cat's Claw
Section 39.6—Ginger
Chapter 40—Complementary Health Approaches for Arthritis
Section 40.1—Chronic Pain and Complementary Health Approaches: What You Need to Know
Section 40.2—Osteoarthritis and Complementary Health Approaches
Section 40.3—Rheumatoid Arthritis and Complementary Health Approaches
Section 40.4—Yoga for Health
Section 40.5—Acupuncture: What You Need to Know
Section 40.6—Chiropractic: An Introduction
Part V: Living with Arthritis
Chapter 41—Depression and Arthritis
Section 41.1—Depression
Section 41.2—Anxiety and Depression among U.S. Adults with Arthritis
Chapter 42—Stress Management and Arthritis
Section 42.1—Managing Arthritis Stress
Section 42.2—Stress Management for Caregivers
Chapter 43—Managing Arthritis at Any Age
Chapter 44—Maintaining Independence
Section 44.1—There's No Place Like Home
Section 44.2—Avoiding Falls and Fractures
Section 44.3—Assistive Devices Can Make Life with Arthritis Easier
Section 44.4—Driving When You Have Arthritis
Chapter 45—Sexuality in Later Life
Chapter 46—Pregnancy-Related Health Concerns
Section 46.1—Pregnancy, Breastfeeding, and Bone Health
Section 46.2—Rheumatic Disease Management in Pregnant Women
Chapter 47—Arthritis and the Work Place
Part VI: Additional Help and Information
Chapter 48—Glossary of Terms Related to Arthritis
Chapter 49—Directory of Organizations That Help People with Arthritis and Their Families