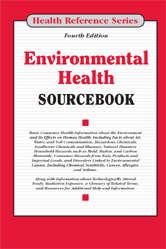 Health Reference Series: Environmental Health Sourcebook
Health Reference Series: Environmental Health Sourcebook
Editor/Author Jones, Keith
Publication Year: 2015
Publisher: Omnigraphics, Inc.

Single-User Purchase Price: $85.00

Unlimited-User Purchase Price: $127.50
ISBN: 978-1-78539-673-1
Category: Health & Medicine - Health
Image Count: 22
Book Status: Available
Table of Contents
Environmental Health Sourcebook, 4th Edition, provides information about the effects of the environment on human health. It discusses specific populations in which the effects of environmental exposures are especially harmful and, in some cases, can have a lasting impact that extends to future generations. Information is given on airborne, waterborne, foodborne, and chemical hazards, and facts are presented about environmental triggers that may be associated with cancer, respiratory problems, infertility, autism, and other diseases.
This book is found in the following Credo Collections:
Table of Contents
Preface
Part I: Understanding the Health Effects of Environmental Hazards
Chapter 1—Environmental Health-Overview
Chapter 2—Toxic Substances
Section 2.1—Toxic Substances and Types
Section 2.2—Effects of Hazardous Substances
Section 2.3—Natural Disasters and Environmental Hazards
Chapter 3—Health Risk Assessment: Determining Whether Environmental Substances Pose a Risk to Human Health
Chapter 4—Environmental Hazards for Children
Chapter 5—Environment and Women's Health
Chapter 6—Environmental Hazards for the Elderly
Chapter 7—Environmental Justice
Part II: Health Concerns and Their Environmental Triggers
Chapter 8—Cancer and Environmental Concerns
Section 8.1—Environmental Causes of Cancer
Section 8.2—Carcinogens
Section 8.3—Cancer Clusters
Chapter 9—Respiratory Problems with Environmental Triggers
Section 9.1—Asthma and Air Pollution
Section 9.2—Chronic Obstructive Pulmonary Disease (COPD) and Bronchitis
Chapter 10—Viruses Spread through Hazards in the Environment
Section 10.1-Avian Influenza (Bird Flu)
Section 10.2—Severe Acute Respiratory Syndrome (SARS)
Section 10.3-West Nile Virus
Chapter 11—Reproductive Issues and the Environment
Section 11.1-Fertility
Section 11.2—Fetal Exposures Can Lead to Adult Diseases
Section 11.3—Endocrine Disruptor and Reproductive Disorders
Chapter 12—Environment and Autism
Section 12.1—Relationship Between Autism and Environment
Section 12.2—Vaccinations, Thimerosal, and Autism
Part III: Outdoor Environmental Hazards
Chapter 13—Air Pollution
Section 13.1—Introduction
Section 13.2-Acid Rain
Section 13.3—Haze and Visibility
Section 13.4-Ozone (Smog)
Section 13.5-Particle Pollution
Chapter 14—Climate Change and Extreme Heat
Section 14.1—Climate Change: Overview
Section 14.2—Heat and Climate Change
Chapter 15—Noise Pollution and UV Radiation
Chapter 16—Drinking Water
Section 16.1—Drinking Water Contaminants
Section 16.2—Lead in Drinking Water
Section 16.3-Household Wells
Section 16.4-Fluoride
Section 16.5—Disinfectants in Drinking Water
Section 16.6-Bottled Water
Chapter 17—Swimming Water
Chapter 18—Harmful Algae Blooms
Chapter 19—Ocean Contamination
Section 19.1-Marine Debris
Section 19.2—How Oil Harms Animals and Plants in Marine Environments
Section 19.3—Nonpoint Source Pollution and Its Effect on Ocean
Section 19.4—How to Protect Marine Environment
Chapter 20—Soil Contamination
Section 20.1—An Overview
Section 20.2-Pesticides
Section 20.3—Pharmaceuticals and Personal Care Products (PPCPs) as Pollutants
Section 20.4—Effects of Industrial Agriculture
Section 20.5—Solid Waste and Landfills Effects
Chapter 21—Bioterrorism and Chemical Emergencies
Section 21.1—Bioterrorism
Section 21.2—Chemical Emergencies
Part IV: Household and Indoor Environmental Hazards
Chapter 22—Indoor Air Quality -An Introduction
Chapter 23—Harmful Agents in Indoor Air
Section 23.1—Biological Contaminants
Section 23.2-Carbon Monoxide
Section 23.3—Combustion Pollutants
Section 23.4—Flame Retardants (Polybrominated Diphenyl Ethers, or PBDEs)
Section 23.5—Formaldehyde
Section 23.6—Household Chemicals
Section 23.7-Pesticides
Section 23.8-Radon
Section 23.9—Secondhand Smoke
Chapter 24—Mold and Moisture
Chapter 25—Asbestos
Chapter 26—Lead at Home
Chapter 27—Volatile Organic Compounds (VOCs)
Chapter 28—Radiation Exposure Risks
Section 28.1—Microwave and Radiation Risks
Section 28.2—Cell Phones and Radiation Risks
Section 28.3—Electric and Magnetic Field (EMF) Exposure
Part V: Foodborne Hazards
Chapter 29-Food Safety
Section 29.1-Food Safety at Home
Section 29.2-Food Safety Regulations
Section 29.3-Irradiated Foods
Chapter 30—Food Allergies and Intolerance
Chapter 31—Common Chemical Contaminants in the Food Supply
Section 31.1—Persistent Organic Pollutants (POPs)
Section 31.2—Polychlorinated Biphenyls (PCBs)
Section 31.3—Dioxins and Furan
Chapter 32—Contaminants in Fish and Shellfish
Section 32.1—Mercury in Seafood
Section 32.2-Shellfish Poisoning
Section 32.3-How the U.S. Food and Drug Administration Regulates Imported Seafood
Chapter 33—Effects of Growth Promoters in Dairy and Meat
Section 33.1—Antibiotics Resistance and Food Safety
Section 33.2—Recombinant Bovine Growth Hormone (rBGH)
Chapter 34—Food Additives
Chapter 35—Foodborne Bacterial Illnesses
Section 35.1—Introduction to Foodborne Illnesses
Section 35.2—Bovine Spongiform Encephalopathy (Mad Cow Disease)
Section 35.3 — Campylobacter
Section 35.4— Escherichia Coli
Section 35.5— Salmonella
Section 35.6— Listeria
Section 35.7 — Shigella
Section 35.8 — Botulism
Section 35.9 — Staphylococcus
Chapter 36 — Foodborne Viral Illnesses
Section 36.1 — Hepatitis A
Section 36.2 — Noroviruses
Chapter 37 — Acrylamide from High-Temperature Cooking
Chapter 38 — Aflatoxins
Chapter 39—Perchlorate
Chapter 40—Consumer Beverages
Section 40.1—Benzene in Commercial Beverages
Section 40.2—Unpasteurized Juice
Chapter 41—Technologically Altered Foods
Section 41.1—FDA Regulations on Genetically Engineered Foods
Section 41.2—Cloned Meat and Dairy
Part VI: Consumer Products and Medical Hazards
Chapter 42—Perfluorooctanoic Acid (PFOA) and Fluorinated Telomers
Chapter 43—Insect Repellent
Chapter 44—Antibacterial Soap (Triclosan)
Chapter 45-Plastics
Section 45.1—Bisphenol A
Section 45.2—Phthalates and Polyvinyl Chloride (PVC)
Chapter 46—Contaminants in Consumer Products
Section 46.1—Overview: Importation of Food and Cosmetics
Section 46.2—Importing into the U.S
Section 46.3-Melamine
Chapter 47—Fragrance Additives
Chapter 48—Chemicals in Beauty Products
Section 48.1 —1,4-Dioxane in Cosmetics
Section 48.2—Lead in Cosmetics
Section 48.3—Microbiological Safety and Cosmetics
Section 48.4—Parabens
Section 48.5—Phthalates in Cosmetics
Section 48.6—Talc
Chapter 49-X-Rays
Part VII: Additional Help and Information
Chapter 50—Directory of Organizations with Information About Environmental Health
Chapter 51—Glossary of Terms Related to Environmental Health