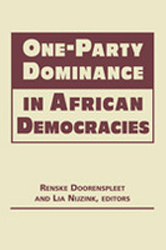 One-Party Dominance in African Democracies
One-Party Dominance in African Democracies
Editors: Doorenspleet, Renske and Nijzink, Lia
Publication Year: 2013
Publisher: Lynne Rienner Publishers, Inc.

Single-User Purchase Price: $35.00

Unlimited-User Purchase Price: $52.50
ISBN: 978-1-58826-869-3
Category: Social Sciences - Political science
Book Status: Available
Table of Contents
Is the dominance of one political party a problem in an emerging democracy, or simply an expression of the will of the people? Why has one-party dominance endured in some African democracies and not in others? What are the mechanisms behind the varying party-system trajectories? Considering these questions, the authors of this collaborative work use a rigorous comparative research design and rich case material to greatly enhance our understanding of one of the key issues confronting emerging democracies in sub-Saharan Africa.
Table of Contents
Acknowledgments
1 One-Party Dominance in African Democracies: A Framework for Analysis - Renske Doorenspleet and Lia Nijzink
2 An Overview of African Party Systems - Gero Erdmann and Matthias Basedau
PART 1 ENDURING ONE-PARTY DOMINANCE
3 Namibia: Cultivating the Liberation Gospel - Henning Melber
4 South Africa: Racialized Discourse in the Context of Deteriorating Performance - Thiven Reddy
5 Tanzania: Nurturing Legacies of the Past - Mohammed Bakari and Richard Whitehead
PART 2 ONE-PARTY DOMINANCE DISCONTINUED
6 Zambia: Manufactured One-Party Dominance and Its Collapse - Neo Simutanyi
7 Mali: From Dominant Party to Platform of Unity - Martin van Vliet
8 Senegal: The Rise and Fall of a One-Party-Dominant System - Christof Hartmann
PART 3 CONCLUSION
9 Why One-Party Dominance Endures in Some Democracies but Not Others - Lia Nijzink and Renske Doorenspleet
List of Acronyms
Bibliography
The Contributors
About the Book