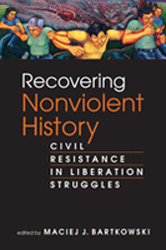 Recovering Nonviolent History: Civil Resistance in Liberation Struggles
Recovering Nonviolent History: Civil Resistance in Liberation Struggles
Editor: Bartkowski, Maciej J.
Publication Year: 2013
Publisher: Lynne Rienner Publishers, Inc.

Single-User Purchase Price: $65.00

Unlimited-User Purchase Price: $97.50
ISBN: 978-1-58826-870-9
Category: History - World history
Book Status: Available
Table of Contents
Ranging from the American Revolution to Kosovo in the 1990s, from Egypt under colonial rule to present-day West Papua and Palestine, the authors of Recovering Nonviolent History consider several key questions: What kinds of civilian-based nonviolent strategy and tactics have been used in liberation struggles? What accounts for their successes and failures? Not least, how did nonviolent resistance influence national identities and socioeconomic and political institutions both prior to and after liberation, and why has this history been so often ignored?
Table of Contents
Acknowledgments
1 Recovering Nonviolent History - Maciej J. Bartkowski
2 Identity Formation in Nonviolent Struggles - Lee A. Smithey
Part 1 Nonviolent Resistance in Sub-Saharan Africa
3 Ghana: Nonviolent Resistance in the Independence Movement, 1890s-1950s - Gail Presbey
4 Zambia: Nonviolent Strategies Against Colonialism, 1900s-1960s - Jotham C. Momba and Fay Gadsden
5 Mozambique: Liberation Myths and Resistance Strategies, 1920s-1970s - Matt Meyer
Part 2 Nonviolent Resistance in North Africa and the Middle East
6 Algeria: Nonviolent Resistance Against French Colonialism, 1830s-1950s - Malika Rahal
7 Egypt: Nonviolent Resistance in the Rise of a Nation-State, 1805-1922 - Amr Abdalla and Yasmine Arafa
8 Iran: Nonviolent Revolts, 1890-1906 - Nikki R. Keddie
9 Palestine: Nonviolent Resistance in the Struggle for Statehood, 1920s-2012 - Mary Elizabeth King
Part 3 Nonviolent Resistance in Asia and Oceania
10 Burma: Civil Resistance in the Anticolonial Struggle, 1910s-1940 - Yeshua Moser-Puangsuwan
11 Bangladesh: Civil Resistance in the Struggle for Independence, 1948-1971 - Ishtiaq Hossain
12 West Papua: Civil Resistance, Framing, and Identity, 1910s-2012 - Jason MacLeod
Part 4 Nonviolent Resistance in Europe
13 Hungary: Nonviolent Resistance Against Austria, 1850s-1860s - Tamás Csapody and Thomas Weber
14 Poland: Forging the Polish Nation Nonviolently, 1860s-1900s - Maciej J. Bartkowski
15 Kosovo: Civil Resistance in Defense of the Nation, 1990s - Howard Clark
Part 5 Nonviolent Resistance in the Americas
16 The United States: Reconsidering the Struggle for Independence, 1765-1775 - Walter H. Conser Jr.
17 Cuba: Nonviolent Strategies for Autonomy and Independence, 1810s-1902 - Alfonso W. Quiroz
Part 6 Conclusion
18 Insights into Nonviolent Liberation Struggles - Maciej J. Bartkowski
Conflict Summaries
About Conflict Summaries
Algeria
Bangladesh
Burma
Cuba
Egypt
Ghana
Hungary
Iran
Kosovo
Mozambique
Palestine
Poland
United States
West Papua
Zambia
List of Acronyms
Bibliography
The Contributors
About the Book