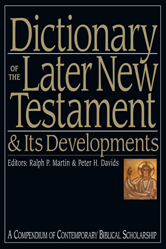 The IVP Bible Dictionary Series: Dictionary of the Later New Testament and Its Development
The IVP Bible Dictionary Series: Dictionary of the Later New Testament and Its Development
Editors: Martin, Ralph P. and Davids, Peter H.
Publication Year: 1998
Publisher: InterVarsity Press

Single-User Purchase Price: $60.00

Unlimited-User Purchase Price: $90.00
ISBN: 978-0-8308-1779-5
Category: Religion & Theology - Christianity
Book Status: Available
Table of Contents
The Dictionary of the Later New Testament & Its Developments offers a summa of New Testament studies. Designed to bring students, teachers, pastors and general readers up to date and up to speed, this one-of-a-kind reference volume presents more information than any other single work--dealing exclusively with the theology, literature, background and scholarship of the later New Testament and the apostolic church.
Table of Contents
Preface
How to Use This Dictionary
Abbreviations
Transliterations
List of Contributors
A
ABBA.
ABRAHAM
ABYSS.
ACTS OF ANDREW.
ACTS OF JOHN.
ACTS OF PETER.
ACTS OF PETER AND THE TWELVE APOSTLES.
ACTS OF THE APOSTLES
ACTS OF THOMAS.
ADOPTIONISM.
ADULTERY.
ADVERSARIES
AGAPE, THE.
ALEXANDRIA, ALEXANDRIAN CHRISTIANITY
ALLEGORY.
ALLUSIONS, OLD TESTAMENT.
AMEN.
AMORAIM.
ANCESTORS
ANGELS, HEAVENLY BEINGS, ANGEL CHRISTOLOGY
ANOINTING
ANTICHRIST
ANTIOCH ON THE ORONTES
APOCALYPSE, THE.
APOCALYPSE OF PETER.
APOCALYPSE OF THOMAS.
APOCALYPTIC, APOCALYPTICISM
APOCALYPTIC ESCHATOLOGY.
APOCALYPTICISM.
APOCRYPHAL AND PSEUDEPIGRAPHAL WRITINGS
APOSTASY
APOSTLE, APOSTLESHIP
APOSTLE'S CREED.
APOSTOLIC FATHERS
APOSTOLIC TRADITION.
ARCHITECTURE, EARLY CHURCH
ARMY, ROMAN.
ASCENSION
ASCENSION OF ISAIAH.
ASSURANCE
ASTROLOGY.
ATONEMENT.
AUTHORITY
B
BABYLON
BAPTISM, BAPTISMAL RITES
BAR KOKHBA
BARNABAS, EPISTLE OF
BASILIDES.
BEASTS, DRAGON, SEA, CONFLICT MOTIF
BENEDICTIONS.
BENEFACTORS.
BIBLICAL THEOLOGY.
BISHOPS.
BLESSING
BODY.
BORN AGAIN.
BOWLS
BROTHERS OF JESUS
C
CAIN.
CANON
CATECHETICAL SCHOOL OF ALEXANDRIA.
CELIBACY.
CENTERS OF CHRISTIANITY
CERINTHUS.
CHILDREN, CHILDREN OF GOD.
CHRIST
CHRISTIANITY AND JUDAISM: PARTINGS OF THE WAYS
CHRISTOLOGY
CHRONOLOGY
CHURCH
CHURCH AS ISRAEL, PEOPLE OF GOD
CHURCH ORDER, GOVERNMENT
CIRCUMCISION
CITY.
CIVIC CULT.
CIVIL AUTHORITY
CLAUDIUS, EDICT OF.
CLEAN AND UNCLEAN.
1 CLEMENT.
2 CLEMENT.
CLEMENT OF ROME
CLEMENTINE LITERATURE.
COMMANDMENTS
CONFESSIONAL FORMS.
CONFLICT MOTIF.
CONSCIENCE
CONVERSION.
COPTIC APOCALYPSE OF PETER.
CORINTH.
CORNELIUS
CORNERSTONE.
COSMOLOGY.
COVENANT, NEW COVENANT
CREATION, COSMOLOGY
CREEDS, CONFESSIONAL FORMS
CROSS, THEOLOGY OF THE
CULT, EMPEROR.
CURSE.
D
DARKNESS.
DAVID.
DAY OF THE LORD
DEACONS.
DEAD SEA SCROLLS.
DEATH.
DEATH OF CHRIST
DECONSTRUCTION.
DELAY OF PAROUSIA.
DEMONS.
DESPOSYNOI.
DESTRUCTION.
DEVIL.
DIASPORA JUDAISM
DIDACHE, THE
DIDACHE.
DIOGNETUS, EPISTLE TO
DISCIPLINE
DISCOURSE ANALYSIS.
DIVINE PRESENCE.
DIVORCE
DOCETISM
DOXOLOGY.
DRAGON.
DUALISM.
E
EARLY CATHOLICISM
EBIONITES
ECSTATIC EXPERIENCE
EDESSA.
ELDERS.
ELECTION
ELKESAITES
EMPEROR, EMPEROR CULT
END TIMES.
ENDURANCE, PERSEVERANCE
ENTHRONEMENT
EPHESUS.
EPISTLES.
ESAU.
ESCHATOLOGY
ESSENES.
ETERNAL LIFE.
ETERNITY, ETERNAL
ETHICS
ETHIOPIAN EUNUCH.
EUCHARIST.
EVANGELISM IN THE EARLY CHURCH
EVIL ONE.
EVIL SPIRITS.
EXALTATION, ENTHRONEMENT
5 EZRA AND 6 EZRA.
F
FAITH, FAITHFULNESS
FAITH AND WORKS
FALSE PROPHETS.
FALSE TEACHERS.
FAMILY.
FASTING.
FEAR
FELLOWSHIP
FLESH
FLOCK
FOOD, FOOD LAWS, TABLE FELLOWSHIP
FORGIVENESS
FREEDOM, LIBERTY
FULFILLMENT
G
GALILEAN CHRISTIANITY
GENTILES, GENTILE MISSION
GEONIM
GIFTS.
GLORY
GLOSSOLALIA
GNOSIS, GNOSTICISM
GNOSTICISM
GOD
GOD-FEARERS.
GOSPEL
GOSPEL OF PETER.
GOSPEL OF THOMAS.
GRACE
GUESTS
H
HALLELUJAH.
HAUSTAFEL
HEALING, ILLNESS
HEART.
HEAVEN, NEW HEAVENS
HEAVENLY ASCENT.
HEAVENLY BEINGS.
HEBREWS
HELL, ABYSS, ETERNAL PUNISHMENT
HELLENISTIC CHRISTIANITY.
HELLENISTIC-JEWISH CHRISTIANITY.
HELLENISTS, HELLENISTIC AND HELLENISTIC-JEWISH CHRISTIANITY
HERESY
HERMAS, SHEPHERD OF
HERMENEUTICS
HIGH PRIEST.
HOLINESS.
HOLY, HOLINESS
HOLY CITY.
HOLY SPIRIT
HOMILY GENRE.
HOMOSEXUALITY.
HOPE
HOSPITALITY
HOUSE CHURCHES.
HOUSE OF GOD.
HOUSE, SPIRITUAL HOUSE
HOUSEHOLD, FAMILY
HOUSEHOLD CODES
HUMILITY.
HYMNS, SONGS
I
IDOLATRY
IGNATIUS OF ANTIOCH
ILLNESS
IMITATION
IMMORTALITY
IMPERIAL CULT.
IMPURITY.
INCARNATION
INTERCESSION.
INTERTEXTUALITY IN EARLY CHRISTIAN LITERATURE
ISAAC
ISRAEL, TWELVE TRIBES
J
JAMES, LETTER OF
JAMES THE JUST.
JERUSALEM, ZION, HOLY CITY
JESUS TRADITIONS
JEWISH CHRISTIANITY
JEWISH WARS.
JOHANNINE COMMUNITY/SCHOOL.
JOHN, LETTERS OF
JOSEPH THE PATRIARCH.
JOSEPHUS
JOY
JUDAISM, POST-A.D. 70
JUDE
JUDGMENT
JUSTIFICATION
K
KERYGMA AND DIDACHE
KINGDOM OF GOD
KNOWLEDGE
KOINONIA
L
LAMB
LAND IN EARLY CHRISTIANITY
LAST DAYS.
LAW
LAWLESSNESS.
LETTER OF PETER TO PHILIP.
LETTER, LETTER FORM
LIBERTY
LIFE AND DEATH
LIGHT AND DARKNESS
LITURGICAL ELEMENTS
LITURGY
LOGOS CHRISTOLOGY
LORD
LORD'S DAY
LORD'S SUPPER, LOVE FEAST
LOT.
LOVE
LOVE FEAST.
LUKE-ACTS.
LUST.
M
MAGIC AND ASTROLOGY
MAN.
MANDATES OF HERMAS.
MARANATHA.
MARCION
MARK, SECRET GOSPEL OF
MARRIAGE, DIVORCE AND ADULTERY
MARTYRDOM
MARTYRDOM OF POLYCARP.
MARY
MATTHEAN COMMUNITY
MELCHIZEDEK
MELITO OF SARDIS
MERCY
MESSIAH.
MIDRASH.
MILK, SOLID FOOD
MILLENNIUM
MIND.
MINISTRY
MIRACLES IN ACTS
MISHNAH.
MISSION, EARLY NON-PAULINE
MONARCHICAL BISHOP.
MONOTHEISM.
MONTANISM.
MORALITY.
MORTALITY AND IMMORTALITY
MOSES
MYSTERY
MYSTERY RELIGIONS.
N
NAG HAMMADI TEXTS.
NAME
NARRATIVE CRITICISM
NATIONS.
NAZOREANS.
NEW BIRTH
NEW COVENANT.
NEW HEAVENS.
NEW TESTAMENT THEOLOGY
NOAH.
NONCANONICAL WRITINGS, CITATIONS IN THE GENERAL EPISTLES
O
OBEDIENCE AND LAWLESSNESS
ODES OF SOLOMAN.
OFFERINGS.
OLD TESTAMENT IN ACTS
OLD TESTAMENT IN APOSTOLIC FATHERS
OLD TESTAMENT IN GENERAL EPISTLES
OLD TESTAMENT IN HEBREWS
OLD TESTAMENT IN REVELATION
OPPONENTS.
ORACLES.
P
PARABLES OF HERMAS.
PARAENESIS.
PAROUSIA
PASCHAL HOMILY.
PASCHAL LAMB.
PASTORAL THEOLOGY
PAUL AND PAULINISMS IN ACTS
PAULINE LEGACY AND SCHOOL
PEACE
PELLA, FLIGHT TO
PENTECOST
PERSECUTION
PERSEVERANCE.
1 PETER
2 PETER
PETER, GOSPEL OF
PHILIP THE EVANGELIST
PHILO
POLEMIC, JEWISH-CHRISTIAN.
POLYCARP OF SMYRNA
POSTMODERNISM
POSTSTRUCTURALISM.
POVERTY.
POWER
PRAYER
PRAYER ACCLAMATIONS.
PREACHING, APOSTOLIC.
PREACHING FROM ACTS, HEBREWS, GENERAL EPISTLES AND REVELATION
PREACHING OF PETER.
PREEXISTENCE
PRESBYTERS.
PRIDE AND HUMILITY
PRIEST, HIGH PRIEST
PRISCILLA
PROMISE
PROPHECY, PROPHETS, FALSE PROPHETS
PROPHETS.
PROSELYTISM, JEWISH.
PROVIDENCE
PSEUDEPIGRAPHAL WRITINGS, CHRISTIAN NONCANONICAL.
PSEUDEPIGRAPHAL WRITINGS, JEWISH.
PSEUDEPIGRAPHY
PSEUDO-CLEMENTINES.
PSYCHOLOGY
PUNISHMENT.
PURITY AND IMPURITY
Q
QUMRAN
QUOTATIONS OF OLD TESTAMENT.
R
RABBINICAL SCHOOLS.
RAHAB.
READER-RESPONSE CRITICISM.
REDEMPTION
REIGN OF GOD.
RELATIVES OF JESUS
RELIGIONS, GRECO-ROMAN
REPENTANCE, SECOND REPENTANCE
REST.
RESURRECTION
REVEAL, REVELATION
REVELATION.
REVELATION, BOOK OF
REVERENCE.
REWARDS
RHETORIC, RHETORICAL CRITICISM
RICHES AND POVERTY
RIGHTEOUS ONE.
RIGHTEOUSNESS
ROMAN ADMINISTRATION.
ROMAN CHRISTIANITY.
ROMAN EMPIRE, CHRISTIANS AND THE
ROME AND ROMAN CHRISTIANITY
RULE OF FAITH.
RULER OF THIS AGE.
S
SABBATH.
SABORAIM.
SACRED SPACE.
SACRIFICE, OFFERINGS, GIFTS
SALVATION
SAMARIA
SANCTUARY.
SATAN, DEVIL
SAVIOR
SCROLLS, SEALS
SEA.
SEALS.
SECOND APOCALYPSE OF JAMES.
SECOND REPENTANCE.
SECRET GOSPEL OF MARK.
SERMONIC GENRE.
SERVANT, SERVICE
SERVICE.
SEVEN, THE.
SEXUAL ETHICS.
SEXUALITY, SEXUAL ETHICS
SHALOM.
SHEEP.
SHEKINAH.
SHEPHERD, FLOCK
SHEPHERD OF HERMAS.
SIBYLLINE ORACLES.
SIGNS AND WONDERS
SIMILITUDES OF HERMAS.
SIMON MAGUS.
SIN, WICKEDNESS
SISTERS OF JESUS.
SLAVE, SLAVERY
SOCIAL SETTING OF EARLY NON-PAULINE CHRISTIANITY
SOLID FOOD
SON OF GOD
SONGS.
SONSHIP, CHILD, CHILDREN
SOUL.
SPEAKING IN TONGUES.
SPEECHES OF ACTS.
SPIRITS
SPIRITUAL HOUSE.
STEPHEN
STONE, CORNERSTONE
STRANGERS.
STRUCTURALISM AND DISCOURSE ANALYSIS
SUFFERING
SYNAGOGUE
SYNCRETISM
SYRIA, SYRIAN CHRISTIANITY
T
TABERNACLE, SANCTUARY
TABLE FELLOWSHIP.
TALMUD.
TANNAIM
TARGUM.
TEACHING, PARAENESIS
TEACHINGS OF SILVANUS.
TEMPLE
TEMPTATION
TER SANCTUS.
TESTAMENTARY LITERATURE.
TEXTUAL CRITICISM
THEOLOGY OF THE CROSS.
THOMAS, APOSTLE.
THOMAS, GOSPEL OF
TONGUES
TORAH.
TRADITION.
TRAVEL AND COMMERCE.
TRIBULATION, MESSIANIC WOES
TRUMPETS
TRUTH
TWELVE, THE.
TWELVE TRIBES.
TWO WAYS.
TYPOLOGY.
U
UNCLEAN.
UNIVERSALISM
V
VALENTINUS.
VIALS.
VICES.
VIRTUES AND VICES
VISIONS, ECSTATIC EXPERIENCE
VISIONS OF HERMAS.
VOLUNTARY ASSOCIATIONS, GRECO-ROMAN.
W
WATCHFULNESS
WICKEDNESS.
WIDOWS.
WISDOM
WITNESS
WOES, MESSIANIC.
WOMAN AND MAN
WOMEN IN THE EARLY CHURCH
WORKS.
WORLD
WORSHIP AND LITURGY
WRATH, DESTRUCTION
Z
ZION.