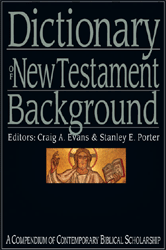 The IVP Bible Dictionary Series: Dictionary of New Testament Background
The IVP Bible Dictionary Series: Dictionary of New Testament Background
Editors: Evans, Craig A. and Porter, Stanley E.
Publication Year: 2000
Publisher: InterVarsity Press

Single-User Purchase Price: $60.00

Unlimited-User Purchase Price: $90.00
ISBN: 978-0-8308-1780-1
Category: Religion & Theology - Christianity
Image Count: 4
Book Status: Available
Table of Contents
The Dictionary of New Testament Background takes full advantage of the flourishing study of the Dead Sea Scrolls and offers individual articles focused on the most important scrolls. In addition, the Dictionary encompasses the fullness of second-temple Jewish writings, whether pseudepigraphic, rabbinic, parables, proverbs, histories or inscriptions.
Table of Contents
Preface
How to Use This Dictionary
Abbreviations
Transliterations
List of Contributors
A
ABBA ḤILQIAH
ABRAHAM
ADAM AND EVE, LITERATURE CONCERNING
ADMINISTRATION, ROMAN
ADULTERY, DIVORCE
AFFLICTION LISTS
AFTERLIFE
AHIQAR
ALCHEMY
ALEXANDER THE GREAT
ALEXANDRIA
ALEXANDRIAN LIBRARY
ALEXANDRIAN SCHOLARSHIP
AMRAM, VISIONS OF
AMULETS
ANCESTORS
ANGELIC LITURGY
ANGELS OF THE NATIONS
ANTIOCH (PISIDIA)
ANTIOCH (SYRIA)
ANTIOCHIDS
ANTIPAS
APOCALYPSE OF ABRAHAM
APOCALYPSE OF ZEPHANIAH
APOCALYPTIC LITERATURE
APOCALYPTICISM
APOCRYPHA AND PSEUDEPIGRAPHA
APOCRYPHA OF MOSES (1Q29, 4Q374-377, 4Q408)
APOCRYPHAL ACTS AND EPISTLES
APOCRYPHAL AND PSEUDEPIGRAPHICAL SOURCES IN THE NEW TESTAMENT
APOCRYPHAL GOSPELS
APOCRYPHON OF JEREMIAH
APOCRYPHON OF JOSEPH (4Q371-372, 539)
APOCRYPHON OF JOSHUA (4Q378-379)
APOLLONIUS OF TYANA
APOSTOLIC FATHERS
APOTHEOSIS
AQUILA
ARAMAIC LANGUAGE
ARAMAIC TARGUMIM: QUMRAN
ARCHAEOLOGY AND THE NEW TESTAMENT
ARCHAEOLOGY OF THE LAND OF ISRAEL
ARCHELAUS
ARENAS
ARISTEAS, EPISTLE OF
ARISTOBULUS
ARISTOTLE, ARISTOTELIANISM
ARMY, ROMAN
ART AND ARCHITECTURE: GRECO-ROMAN
ART AND ARCHITECTURE: JEWISH
ARTAPANUS
ASCENSION OF ISAIAH
ASIA MINOR
ASSOCIATIONS
ASSUMPTION OF MOSES
ASTROLOGY
ASTROLOGY, JEWISH
ATHENS
ATHLETICS
AUXILIARIES
B
BABATHA ARCHIVE
BAGASRAW, TALE OF
BANQUETS
BAR KOKHBA LETTERS
BARKI NAFSHI (4Q434, 436, 437-439)
BARUCH, BOOKS OF
BEATITUDES TEXT (4Q525)
BELIAL, BELIAR, DEVIL, SATAN
BENEFACTOR
BETROTHAL
BIBLICAL INTERPRETATION, JEWISH
BIBLIOMANCY
BIOGRAPHY, ANCIENT
BIRTH OF THE CHOSEN ONE (4Q534)
BOETHUSIANS
BOOK CULTURE
BOOK OF BLESSINGS (1QSb)
BOOK OF MYSTERIES (4Q299-301 & 1Q27)
BRONTOLOGION
BURIAL PRACTICES, JEWISH
C
CAESAREA MARITIMA
CAESAREA PHILIPPI
CAESAR'S HOUSEHOLD
CAIAPHAS OSSUARY
CALENDARS, JEWISH
CALENDARS, ROMAN
CANONICAL FORMATION OF THE NEW TESTAMENT
CATENA (4Q177)
CAVE 7 FRAGMENTS (QUMRAN)
CELIBACY
CENSUS
CENTURION
CHILDBEARING
CHILDREN IN LATE ANTIQUITY
CHRONOLOGY, NEW TESTAMENT
CICERO
CIRCUSES AND GAMES
CITIES, GRECO-ROMAN
CITIZENSHIP, ROMAN
CIVIC CULTS
CLEODEMUS-MALCHUS
COINAGE: GRECO-ROMAN
COINAGE: JEWISH
COLOSSAE
COMMERCE
CONCUBINAGE
CONSOLATIONS/TANḤUMIN (4Q176)
COPPER SCROLL (3Q15)
COPTIC NEW TESTAMENT
CORINTH
CREEDS AND HYMNS
CUMAEAN SIBYL
CUMANUS, VENTIDIUS
CYNIC EPISTLES
CYNICISM AND SKEPTICISM
D
DAILY PRAYERS (4Q503)
DAMASCUS DOCUMENT (CD AND QD)
DANIEL, ESTHER AND JEREMIAH, ADDITIONS TO
DEAD SEA SCROLLS: GENERAL INTRODUCTION
DECAPOLIS
DECURIONS
DELPHIC ORACLE
DEMETRIUS
DEMONOLOGY
DESTRUCTION OF JERUSALEM
DEVIL
DIADOCHI
DIASPORA JUDAISM
DIATESSARON
DIATRIBE
DIETARY LAWS, JEWISH
DIONYSIUS OF HALICARNASSUS
DIVINATION
DIVORCE
DOMESTIC RELIGION AND PRACTICES
DOSITHEANS
DOWRY
DREAMS AND DIVINATION
DUALISM
E
ECCLESIASTICUS
ECONOMICS OF PALESTINE
EDICT OF CLAUDIUS
EDUCATION: JEWISH AND GRECOROMAN
EGYPTIAN, THE
ELEAZAR THE EXORCIST
ELECT OF GOD (4Q534)
EMPERORS
ENOCH, BOOKS OF
ENOSH
EPHESUS
EPICTETUS
EPICUREANISM
EPIGRAPHY
EPISTOLARY THEORY
EQUESTRIAN ORDER
ESCHATOLOGIES OF LATE ANTIQUITY
ESDRAS, BOOKS OF
1 ESDRAS
ESSENES
ESTHER, ADDITIONS TO
ETHNOGRAPHY, ANCIENT
EUPOLEMUS
EXILE
EXORCISM
EXPOSURE OF INFANTS
EXTRAMARITAL SEXUAL INTERCOURSE
EZEKIEL THE TRAGEDIAN
F
FALSE PROPHECY
FAMILY AND HOUSEHOLD
FATE
FELIX
FESTIVALS AND HOLY DAYS: GRECO-ROMAN
FESTIVALS AND HOLY DAYS: JEWISH
FLORILEGIUM (4Q174)
FOURTH PHILOSOPHY
FREEDMEN
FRIENDSHIP
G
GALATIA, GALATIANS
GALILEE
GALLIO INSCRIPTION
GAMES
GENDER ROLES
GENESIS APOCRYPHON (1QapGen)
GENRES OF THE NEW TESTAMENT
GEOGRAPHICAL PERSPECTIVES IN LATE ANTIQUITY
GNOSTICISM
GODFEARERS
GODS
GOVERNORS
GRAMMARIANS, HELLENISTIC GREEK
GREECE AND MACEDON
GREEK OF THE NEW TESTAMENT
GREEK OLD TESTAMENT
GREEK PAPYRI, PALESTINIAN
GYMNASIA AND BATHS
H
HABAKKUK COMMENTARY (1QpHab)
HALAKHA A (4Q251)
ḤANINA BEN DOSA
HARVESTING/LEQET TEXT (4Q284a)
HASMONEANS
HEAD COVERINGS
HEALING AND HEALING MIRACLES
HEAVENLY ASCENT IN JEWISH AND PAGAN TRADITIONS
HEBRAISMS
HEBREW BIBLE
HEBREW LANGUAGE
HEBREW MATTHEW
HEKHALOT LITERATURE
HELLENISM
HELLENISTIC EGYPT
HELLENISTIC JUDAISM
HERMETICISM
HEROD THE GREAT
HERODIAN DYNASTY
HERODIANS
HERODOTUS OF HALICARNASSUS
HEROES
HILLEL, HOUSE OF
HIPPOCRATIC LETTERS
HISTORIANS, GRECO-ROMAN
HISTORIANS, JEWISH
HISTORIOGRAPHY, ANCIENT
HISTORY, JEWISH
HOLY DAYS
HOLY LAND
HOLY MEN, JEWISH
HOLY SPIRIT
HOMILY, ANCIENT
HOMOEROTICISM
HOMOSEXUAL INTERCOURSE
ḤONI THE CIRCLE DRAWER
HONOR AND SHAME
HOROGRAPHY, ANCIENT
HOROSCOPE TEXT (4Q186)
HOSPITALITY
HOUSEHOLD
HOUSEHOLD CODES
HOUSEHOLD CULT
HUSBANDS
HYMNS.
I
IDOLATRY, JEWISH CONCEPTION OF
INCEST
INFANTICIDE
INSCRIPTIONS AND PAPYRI: GRECO-ROMAN
INSCRIPTIONS AND PAPYRI: JEWISH
INSTRUCTION AND DISCIPLINE
INTERTEXTUALITY, BIBLICAL
ISAIAH SCROLLS (1QISAIAHa, b)
ISRAEL, LAND OF
J
JEREMIAH, ADDITIONS TO
JERUSALEM
JESUS BEN ANANIAS
JEWISH COMMUNITIES IN ASIA MINOR
JEWISH HISTORY: GREEK PERIOD
JEWISH HISTORY: PERSIAN PERIOD
JEWISH HISTORY: ROMAN PERIOD
JEWISH HOLY MEN
JEWISH LITERATURE: HISTORIANS AND POETS
JEWISH WARS WITH ROME
JOB
JONATHAN THE REFUGEE
JOSEPH AND ASENETH
JOSEPHUS: INTERPRETIVE METHODS AND TENDENCIES
JOSEPHUS: VALUE FOR NEW TESTAMENT STUDY
JUBILEES
JUDAISM AND THE NEW TESTAMENT
JUDAS THE GALILEAN
JUDEA
JUDITH
K
KINGDOM OF GOD
KINSHIP
KISSING
L
LAND OF ISRAEL
LANGUAGES
LATIN LANGUAGE
LATIN NEW TESTAMENT
LAW/NOMOS IN GRECO-ROMAN WORLD
LEGAL TEXTS AT QUMRAN
LEGION
LEGIONARY
LEQET/HARVESTING TEXT (4Q284a)
LETTERS, GRECO-ROMAN
LITERACY AND BOOK CULTURE
LITERATURE
LITURGY: QUMRAN
LITURGY: RABBINIC
LIVES OF THE PROPHETS
LUCIAN OF SAMOSATA
M
1 AND 2 MACCABEES
3 AND 4 MACCABEES
MACEDON
MAGICAL PAPYRI
MANASSEH.
MANUAL OF DISCIPLINE.
MANUMISSION.
MANUSCRIPTS, GREEK NEW TESTAMENT
MANUSCRIPTS, GREEK OLD TESTAMENT
MARIA THE JEWISH ALCHEMIST
MARRIAGE
MARTYRDOM TRADITION, JEWISH.
MASADA.
MASADA TEXTS.
MASORETIC TEXT.
MATTHEW'S GOSPEL IN HEBREW.
MELCHIZEDEK, TRADITIONS OF
MESSIANIC APOCALYPSE (4Q521)
MESSIANIC RULE.
MESSIANISM
MIDRASHIM.
MILITARY, ROMAN.
MILK
MIQṢAT MA ˓AŚEY HA-TORAH (4QMMT)
MIRACLES AND HEALING.
MISHNAH AND TOSEFTA.
MMT.
MONOGAMY.
MOSES.
MUSIC
MUSONIUS RUFUS
MYSTERIES
MYSTICISM
N
NABONIDUS.
NARRATIVE A (4Q458)
NARRATIVE AND PSALMIC WORK (4Q371-372, 539).
NAVY, ROMAN.
NAHAL HEVER TEXTS.
NEO-PYTHAGOREANISM
NEW JERUSALEM TEXTS
NEW TESTAMENT VERSIONS, ANCIENT
NOMOS.
NOVELS.
NURSES, WET.
O
ODES OF SOLOMON
OLD TESTAMENT VERSIONS, ANCIENT
ORACLES.
ORDINANCES (4Q159, 4Q513, 4Q514).
OSSUARIES.
P
PAGAN SOURCES IN THE NEW TESTAMENT
PANTHEON, GREEK AND ROMAN.
PAPYRI, PALESTINIAN
PAPYRI.
PARABLES.
PARENTS.
PATERFAMILIAS.
PATRONAGE
PAX ROMANA
PEREGRINI.
PERSECUTION
PESHARIM
PESHER HABAKKUK.
PESHITTA.
PHARISEES
PHILIP THE TETRARCH.
PHILIPPI
PHILO
PHILOSOPHY
PHYLACTERIES/TEPILLIN, QUMRAN.
PIETY, JEWISH
PILATE INSCRIPTION
PISIDIAN ANTIOCH.
PLATO, PLATONISM
PLATONISM.
PLEBS.
PLINY THE ELDER
PLINY THE YOUNGER
PLUTARCH
POETRY, HELLENISTIC
POETS, JEWISH.
POLITICAL SYSTEM, ROMAN.
POLYTHEISM, GRECO-ROMAN
POMPEY
PONTIUS PILATE.
PORCIUS FESTUS.
PRAETORIAN GUARD.
PRAYER OF ENOSH (4Q369 + 4Q458)
PRAYER OF MANASSEH
PRAYER OF NABONIDUS (4Q242) AND PSEUDO-DANIEL (4Q243-245)
PREFECT.
PREMARITAL SEXUAL INTERCOURSE.
PRIENE INSCRIPTION.
PRIESTS AND PRIESTHOOD, JEWISH
PRISON, PRISONER
PROCONSUL.
PROCURATOR.
PROMISED LAND.
PROPHETS AND PROPHECY
PROSELYTISM AND GODFEARERS
PROSTITUTION.
PROVERBS.
PSALMS AND HYMNS OF QUMRAN
PSALMS OF SOLOMON
PSEUDO-DANIEL (4Q243-245).
PSEUDO-EUPOLEMUS.
PSEUDO-EZEKIEL.
PSEUDONYMITY AND PSEUDEPIGRAPHY
pseudo-orpheus.
PSEUDO-PHILO
PSEUDO-PHOCYLIDES
PSEUDO-PROPHETS (4Q385-388, 390-391)
PTOLEMIES
PUBLICANI.
PURIFICATION LITURGY (4Q284).
PURIFICATION TEXTS (4Q274-279, 281-284, 512-514)
PURITY
PYTHAGOREANISM.
PYTHIAN ORACLES.
Q
QAHAT.
QUMRAN CAVE 7.
QUMRAN: PLACE AND HISTORY
R
RABBINIC LITERATURE: MIDRASHIM
RABBINIC LITERATURE: MISHNAH AND TOSEFTA
RABBINIC LITERATURE: TALMUD
RABBINIC LITERATURE: TARGUMIM
RABBINIC PARABLES
RABBINIC PROVERBS
RABBIS
READING.
REBUKES BY THE OVERSEER (4Q477).
RELIGION, GRECO-ROMAN
RELIGION, PERSONAL
RESTORATION OF ISRAEL.
RESURRECTION
REVOLUTIONARY MOVEMENTS, JEWISH
REVOLUTIONARY PROPHETS.
REWORKED PENTATEUCH (4Q158, 4Q364-367).
REWRITTEN BIBLE IN PSEUDEPIGRAPHA AND QUMRAN
RHETORIC
RITUAL OF MARRIAGE (4Q502).
RITUAL PURITY A & B (4Q414, 512).
ROMAN ADMINISTRATION
ROMAN EAST
ROMAN EMPERORS
ROMAN EMPIRE
ROMAN GOVERNORS OF PALESTINE
ROMAN LAW AND LEGAL SYSTEM
ROMAN MILITARY
ROMAN POLITICAL SYSTEM
ROMAN SOCIAL CLASSES
ROMAN TRIUMPH
ROMANCES/NOVELS, ANCIENT
ROME: OVERVIEW
ROSETTA STONE.
RULE OF THE COMMUNITY/MANUAL OF DISCIPLINE (1QS)
RULE OF THE CONGREGATION/ MESSIANIC RULE (1QSA)
RULER CULT
S
SABBATH
SABBATH SACRIFICE, SONGS OF THE
SACRED SPACE.
SACRIFICE AND TEMPLE SERVICE
SACRIFICES, PAGAN.
SADDUCEES
SAMARITAN LITERATURE
SAMARITAN, THE.
SAMARITANS
SANHEDRIN
SAPIENTIAL WORK A.
SATAN.
SCHOLARSHIP, GREEK AND ROMAN
SCHOOLS.
SCRIBES
SECRET OF EXISTENCE (4Q412-413, 415-421)
SECTS, JEWISH.
SELEUCIDS AND ANTIOCHIDS
SEMITIC INFLUENCE ON THE NEW TESTAMENT
SENATORIAL ORDER.
SENECA
SEPPHORIS.
SEPTUAGINT/GREEK OLD TESTAMENT
SHAME.
SHAMMAI, HOUSE OF
SHEM, TREATISE OF.
SHIPS.
SIBYLLINE ORACLES
SIBYLLINE PROPHECY.
SICARII.
SIGN PROPHETS.
SIMON BAR GIORA.
SIMON BEN KOSIBA
SIRACH
SLAVERY
SOCIAL BANDITS.
SOCIAL CLASSES, ROMAN.
SOCIAL MOBILITY.
SOCIAL VALUES AND STRUCTURES
SOLOMON.
SON OF GOD TEXT (4Q246)
SONGS OF THE SABBATH SACRIFICE (4Q400-407, 11Q17, MASIK)
SONGS OF THE SAGE (4Q510-511).
SPORTS.
STOICISM
SUETONIUS
SUPERSTITION.
SYMMACHUS.
SYNAGOGUES
SYNCRETISM.
SYRIAC BIBLE
SYRIAC NEW TESTAMENT.
T
TACITUS
TALE OF BAGASRAW (PSEUDO-ESTHER) (4Q550a-f)
TALMUD.
TANAK.
TANHUMIM.
TARGUM OF JOB (QUMRAN).
TARGUMIM.
TAX COLLECTORS.
TAXATION, GRECO-ROMAN
TAXATION, JEWISH
TEACHER OF RIGHTEOUSNESS.
TEMPLE, JEWISH
TEMPLE INSCRIPTION.
TEMPLE SCROLL (11QTEMPLE)
TEMPLE SERVICE.
TEMPLES, GRECO-ROMAN
TESTAMENT OF ABRAHAM
TESTAMENT OF JOB
TESTAMENT OF MOSES
TESTAMENT OF QAHAT (4Q542)
TESTAMENTS OF THE TWELVE PATRIARCHS
TESTIMONIA (4Q175)
TESTING AND TRIAL IN SECULAR GREEK THOUGHT
TEXTUAL CRITICISM
THANKSGIVING HYMNS (1QH)
THEATERS
THEODOTION.
THEODOTUS.
THEODOTUS INSCRIPTION.
THEOLOGIES AND SECTS, JEWISH
THERAPEUTAE
THESSALONICA
THEUDAS.
THREE TONGUES OF FIRE.
THUNDER TEXT (4Q318)
TIBERIAS
TOBIT
TOHOROT (4Q274, 276-277).
TORAH
TOSEFTA.
TOUBIAS THE AMMONITE.
TRADE.
TRAVEL AND TRADE
TRAVELOGUES.
TREATISE OF SHEM
TWELVE PATRIARCHS.
U, V
UNCLEAN.
URBAN CENTERS.
VICE AND VIRTUE LISTS
VINEYARD TEXT (4Q500)
VIRTUES.
VISIONS OF AMRAM (4Q543-548)
W
WAR SCROLL (1QM) AND RELATED TEXTS
WEDDING.
WISDOM LITERATURE AT QUMRAN
WISDOM OF BEN SIRA.
WISDOM OF SOLOMON
WISDOM PERSONIFIED.
WIVES.
WOMEN IN GRECO-ROMAN WORLD AND JUDAISM
WORDS OF MOSES (1Q22)
WORDS OF THE LUMINARIES (4Q504-506).
WORKS OF THE MESSIAH.
WORSHIP, JEWISH.
WRITING AND LITERATURE: GRECO-ROMAN
WRITING AND LITERATURE: JEWISH
X, Y, Z
XENOPHON.
YEARS.
YOUTH.
ZEALOT MOVEMENT.
ZENON PAPYRI
ZODIAC.