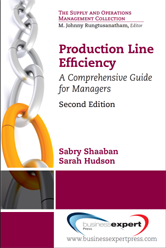 Production Line Efficiency: A Comprehensive Guide for Managers
Production Line Efficiency: A Comprehensive Guide for Managers
Editor/Author Shaaban, Sabry and Hudson, Sarah
Publication Year: 2013
Publisher: Business Expert Press

Single-User Purchase Price: $65.00

Unlimited-User Purchase Price: $97.50
ISBN: 978-1-60-649718-0
Category: Business, Finance & Economics - Management
Image Count: 38
Book Status: Available
Table of Contents
Inside this book, you will learn new designs for these lines that can lead to more efficiency by taking advantage of inherent imbalance--for example, operators who work at different speeds--a concept that has traditionally been seen as an obstacle to efficient production. The authors have included a series of experiments that illustrate the issues involved in improving performance through production line imbalance, as well as some surprisingly easy ways to improve performance with low or zero costs.
Table of Contents
List of Illustrations
Abbreviations and Acronyms
Chapter 1 Introduction
Chapter 2 The Unpaced Production Line
Chapter 3 Unbalanced Lines Studied
Chapter 4 Considerations in Unbalancing Your Line
References.