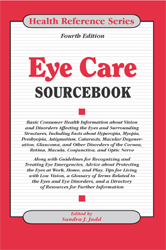 Health Reference Series: Eye Care Sourcebook
Health Reference Series: Eye Care Sourcebook
Editor: Judd, Sandra J.
Publication Year: 2012
Publisher: Omnigraphics, Inc.

Single-User Purchase Price: $85.00

Unlimited-User Purchase Price: $127.50
ISBN: 978-0-7808-1228-4
Category: Health & Medicine - Health
Image Count: 2
Book Status: Available
Provides basic consumer health information about the diagnosis and treatment of eye diseases and disorders and the prevention of eye injuries, along with tips for coping with low vision. Includes index, glossary of related terms, and other resources.